Ha! Gotcha!  You might think Texas elected officials would pass online voter registration, but session after session Republicans and Democrats sign onto the bill symbolically with no intention of ever allowing the bill out of committee.
The League is fighting at the Texas Capitol for free and fair elections for all citizens. There are some very scary shenanigans being pushed by powerful people whose agenda is to control election outcomes in Texas. These elected officials need to know voters in Texas believe in freedom and democracy and we won't stand for any barriers between the voter and the ballot box.
You are vital in our fight for democracy in Texas. Push your elected officials into action! Get everyone you know from all over Texas to call or email their senators and representatives with this message.
Together, we can do this!
Advocacy & Issues!
Monday, April 1st, is election bill day at the Capitol! The House Elections Committee meets at 8 am and the Senate State Affairs Committee at 9 am.
Scary April Fools day election bills:
The following bills: Senators Fallon (
SB 1568
) Hughes (
SB 901
 &
 SB 903
) Bettencourt (
SB 966
 &
 SB 1255
) and Hall
 (
SB 1611
) 
make voting more complicated, require more bureaucratic processes, greatly increased penalties for any mistakes in following those complicated processes, eliminate mobile early voting locations, harass voter registrars and roadblocks to implementing county wide vote centers.
Especially concerning for educators Sen. Fallon's
SB 1569
which prohibits ISD school boards or employees from "electioneering" or involvement in advocacy "for or against a political philosophy or matter of public interest." Translation, don't advocate for school funding?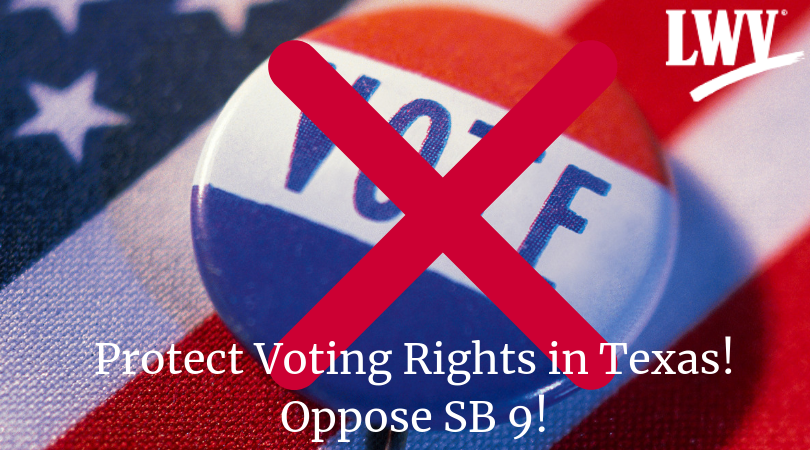 1.  
Oppose SB 9!
 This bill would make it more difficult to vote, and create new barriers on those needing assistance to vote, loosen safeguards protecting voter's private information, and bolster an ongoing campaign of selective criminal prosecutions.
2.  If your senator is a Democrat, 
thank them
 for opposing David Whitley's confirmation for Secretary of State! If your senator is a Republican, encourage them to support voting rights and 
oppose 
David Whitely for Secretary of State.
Find more Action Alerts here.
The League In Action!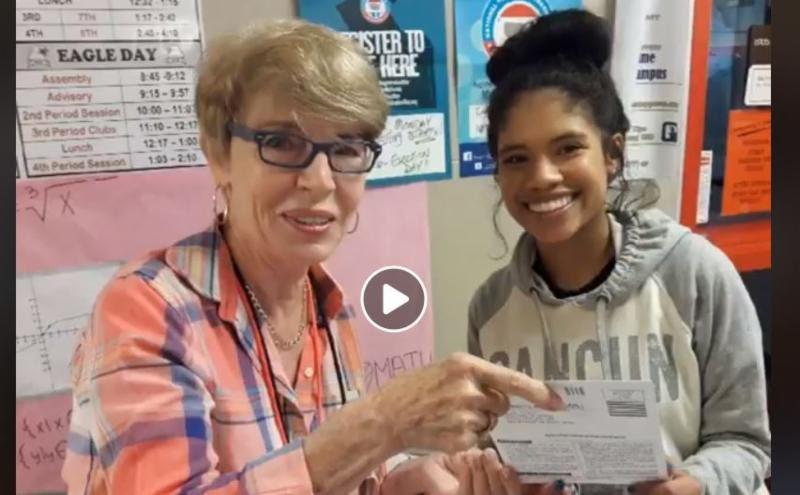 LWV of the Comal Area members have been busy empowering voters! In addition to voter registration, voters guides, candidate forums and issue forums, this year they are introducing a Youth Empowerment Voter Education to expand outreach to young voters with in-class presentations at Comal ISD high schools. To see their slideshow click here.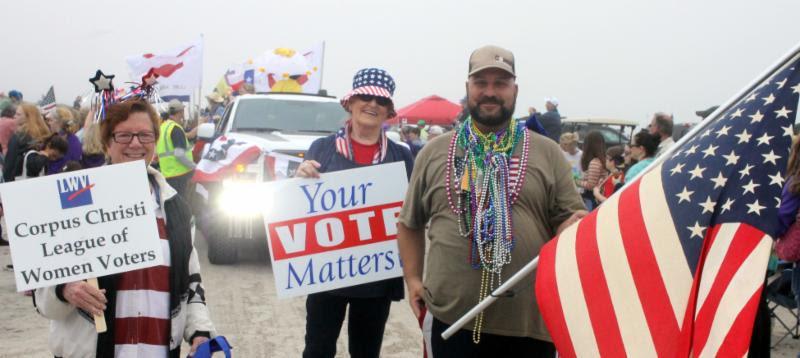 LWV Corpus Christi representing! And registering voters at the Barefoot Mardi Gras!
Calendar & Upcoming Events
June 28: Suffrage Centennial: Texas Women And The Right To Vote at the Bob Bullock Texas History Museum. This free event will commemorate the centennial of Texas' ratification of the 19th amendment. Celina Stewart, LWVUS Director of Advocacy and Litigation is a featured speaker.
October 19
: 
100 Year Anniversary Luncheon
: 
The Texas League will be commemorating 100 years of 
"organizing agitating & 
educating" at the 
St. Anthony Hotel
 in San Antonio where the League was founded in 1919! Speakers include: Patricia (Trish) Cunningham Nicholson, the great grandniece of Minnie Fisher Cunningham will speak on the "Power of Women" and Dr. Jessica Brannon-Wranosky, Ph.D.  will address the heroic struggle to achieve full voting rights for all women in Texas.
Save the date! More details to follow!
League to which this content belongs:
Texas