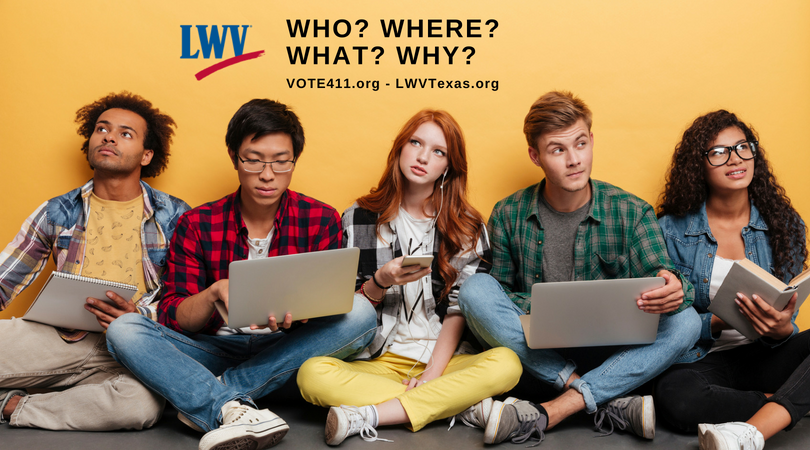 The League of Women Voters of Texas 

Releases the 2018 Nonpartisan Voters Guide!

The upcoming November 6th General Election is competitive, exciting and important. Many incumbents in Texas have challengers for the first time in many years. A record number of 256 women are running nationwide in this election. Voters have a chance to make a difference for their family, community, state and nation.

The League of Women Voters of Texas (LWVTX) is excited that Texas has achieved a new voter registration record -- 15.6 million registered voters!

"It's great seeing people excited for the November elections. We must remember to have an informed vote and make our voice be heard," said Grace Chimene, President of the League of Women Voters of Texas. 

The League makes it easy for all voters to compare candidates and find what is on their ballot with the nonpartisan Voters Guide. The LWV Texas Voters Guide covers statewide candidates, State Board of Education, Supreme Court Justices, Court of Appeals Justices, US Representative and Texas House Representative districts that did not have a local League. Communities with a local League can also compare local candidates in the elections.

The League is nonpartisan - it does not support or oppose any candidate or party. Therefore, the candidate's responses to questions are in their own words and are not edited. The League reached out to each candidate three times during production.

The Voters Guide can be found online at VOTE411.org or LWVTexas.org. VOTE411.org allows voters to compare candidates, create a personalized ballot and find a polling place. The Voters Guide will be available in many libraries all across Texas.

Early Voting

: Tuesday, October 22, 2018 - Friday, November 2, 2018

Last Day to Apply to Vote by Mail

: Friday, October 26, 2018 (Received, not Postmarked)

Election Day

: Tuesday, November 6, 2018

 

The League of Women Voters of Texas represents over 6,000 grassroots advocates across the State of Texas. The Texas League has been "educating and agitating" since 1919. The League is a nonpartisan organization - it does not support or oppose any candidates or parties. Instead, the League encourages active and informed civic participation in government and increased understanding of major public policy issues. The League of Women Voters' nonpartisan Voters Guide is highly respected and sought after by voters in local and statewide elections in Texas.



League to which this content belongs:
Texas