We have two new Action Alerts this week!  Scroll down to the Capitol Actions for This Week section to see one for 
Child Health 
by Issue Chair Celia Kaye, and one on
 Redistricting 
by Issue Chair Stephanie Swanson. The Child Health Action Alert asks us to support three bills which would allow kids enrolled in Medicaid to stay enrolled for 12 consecutive months and the Redistricting Action Alert calls on the House Redistricting Committee to hear any bills that reform the process. Take Action!
Just Fund It TX
 is a new non-partisan, grassroots group of parents and students which has formed to urge the Legislature to properly fund public education. It "aims to educate Texans about how far behind we are in supporting our students, and how much it would take to bring us up to even the national average in per-student spending," says Laura Yeager, founder and recent honoree at the League's Making Democracy Work Dinner. Their goal is the same as ours - more funding for public education!
Issue Chair Vacancies!
We still have three program areas that need Issue Chairs to follow bills, write action alerts and testimonies, and keep us posted about what is going on in their areas. 
 The vacancies are in Juvenile Justice, Health Care for the Elderly, and Water Resources.
 If any of those areas interest you and you have the time, please contact me.
Janet Imhoff, Vice President 
SOCIAL MEDIA ACTIONS FOR THIS WEEK!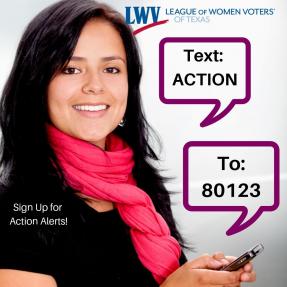 See this graphic to the left? SHARE with your friends on Facebook so they too can sign up for Action Alert text reminders!
And while you are at it, make sure to 
FOLLOW 
our 
Facebook 
page to get fast updates on news, legislation, and activities of the League!
Last but not least, make sure your friends and family are signed up for action alerts! Follow the link in the button below and share!
CAPITOL ACTIONS FOR THIS WEEK!
ACT NOW!
With just a few clicks, contact your representatives and let your voice be heard!
NATIONAL ALERT!
 Send an email to your US Representative in support of HR1. This bill comprises a bold, transformative set of reforms to strengthen our democracy and return political power to the people. NOW is the time for a comprehensive package of democracy reforms.
Texas has the highest uninsured rate for kids and it's getting worse! Tell your legislators to vote for these bills.
72% of Americans want the Supreme Court to place limits on lawmakers' ability to manipulate voting maps. 
Email House Redistricting Committee Chair Phil King, Vice Chair Chris Turner and Speaker Bonnen today!
The attempted voter purge has not gone away. It is another reason to support our top priority of passing electronic voter registration.
Tell your legislators that the Texas school finance system must provide adequate funding and the equitable distribution of funds.
Women's access to contraception and healthcare services is being threatened. Contact your legislators to tell them how important this issue is to Texas Women.
Click 
here 
to see all active action alerts!
LEAGUE PRIORITY ISSUES!
Learn how YOU can make an impact on legislation in Texas!
Keep up on important issues by reading updates from our fantastic League volunteers from around the state!
More news on the nomination hearing of the Secretary of State, as committee work begins!
Legislators' positions on the issues, requests and suggestions!
A new abortion bill and a Supreme Court action!
NEW ISSUE UPDATES FOR THIS WEEK!
Governor Abbott identifies children's mental health as an emergency priority!
The legislative priorities of Texans Care for Children.
More information behind this week's new Action Alert calling for 12 month enrollment for children in Medicaid.
Bail bond reform is a hot item in the press.
Criminal consequences for violence committed in the presence of children!
Bills are filed which would limit, or repeal, SB 4, the Immigration bill from last session.
New important information given to the House Transportation Committee!
KEEP UP WITH ALL THE ISSUES!
A promising new bill which would create a Climate Change Mitigation and Adaptation Commission.
Legislators are interested in marijuana for medical use according to Issue Chair.
Compare the Senate and House plans for education funding and the Rainy Day Fund.
30 House bills and 7 Senate bills have been filed!
Reports on Human Trafficking Prevention month!
TX Supreme Court Chief Justice Nathan Hecht calls for merit selection of judges with retention elections! A League position!
New bills on Eminent Domain and funding for state parks.
The League is working with partners in coalition to introduce new provisions that strengthen Texas' Sunshine Laws and improve public oversight.
The League is an active member of the Fair Maps Coalition.
CALENDAR
February
Black History Month
March
Women's History Month
8 - International Women's Day
8 - Deadline for filing of bills and joint resolutions (other than local bills, emergency appropriations, and emergency matters submitted by the governor).
May
27 - Last day of 86th Legislature (sine die) (140th day)
League to which this content belongs:
Texas