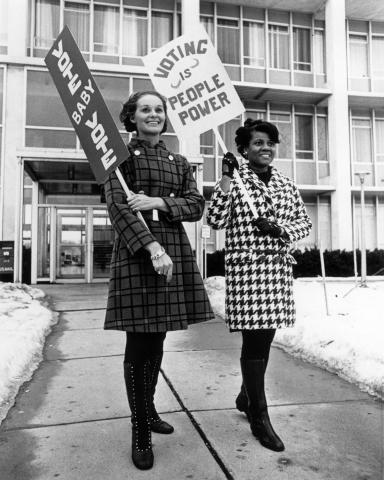 Celebrate Martin Luther King Jr. Day! President Ronald Reagan signed this holiday into law in 1983. Communities all over Texas have a Day of Service. Google to find an opportunity to get involved! Do something special to celebrate the life of Dr. King who gave his life for Civil Rights!  Join with your community at a parade! Discover something new about the history of civil rights in your community. Go to a museum. Attend a parade! Enjoy a history channel show with your family. Be inspired in your advocacy by those who fought for civil rights!  
Then read the article by the Texas Tribune that Once again, the Texas Legislature is mostly white, male, middle-aged.   
Oct. 19, 2019 is the 100th anniversary of the League of Women Voters of Texas. Our work empowering voters and defending democracy is incredibly important today. You and I can build better and healthier democracy -- where everyone's voice is heard -- by staying involved and letting our Texas elected officials know our views.
Janet Imhoff, Advocacy Chair
CAPITOL ACTIONS FOR THIS WEEK!
Action Alerts!
Modernize Texas Elections!
Your State Senator & State Representative Wants to Hear from YOU – Tell Them Texas Needs Modern & Secure Elections!   Send your elected officials an email by clicking here!
Support Democracy Nationwide!
Sign the petition! Show your support of the For The People Act (H.R. 1)! Read LWVUS' letter supporting For The People Act (H.R. 1). LWVUS has joined with a coalition of groups collecting signatures in support of H.R. 1. Add your name to the petition and help us build support for this comprehensive piece of democracy reform legislation. For the League talking points on H.R.1, click here.
Support Redistricting Reform!
Check out Redistricting/Census Issue Chair Stephanie Swanson's update on the League Advocacy webpages and click here to send a message to your legislators. Over 400 emails have already gone out to Texas legislators on this issue last week. Keep it going!
League Priority Issues
Learn how YOU can make an impact on legislation in Texas! Keep up on important issues by reading updates from our fantastic League volunteers from around the state!
Voting Rights & Election Laws - Cinde Weatherby (Austin)
Our two top priorities for major improvements this session are: 1) Passage of electronic voter registration and 2) Improved voting equipment systems which include a voter-verified paper receipt.
Financing Public Education - Diann Andy (San Antonio)
Texas is 41st in the nation in the School Finance and 42nd in the Chance for Success categories per the 2018 "Quality Counts" report.
Women's Health - Louise Hytken (Dallas)
One of our priorities is to ensure funding for women's preventive healthcare, including contraception, to fully meet the need among low-income, uninsured women.
New updates this week!
Climate Change - Michael Imhoff (Collin County)
Reports on a new bill and a concurrent resolution to address climate change.
Criminal Justice Elaine Talarski (San Antonio) We are following bills relating to reform in the criminal justice system for individuals arrested and charged with a misdemeanor and improvement in the care of the mentally ill individual arrested and jailed.
Drug Laws and Policies - Elaine Talarski (San Antonio)
Legislators are interested in marijuana for medical use according to Issue Chair.
Human Trafficking -Meg Scott Johnson (Hill Country)
Reports on Human Trafficking Prevention month!
Immigration - Gloria Suarez Sasser (Comal County)
The treatment of immigrants and refugees at the border, "the wall" and changes to the Sanctuary Cities legislation are some of the bills that have already been filed.
Keep up with all the issues!
Behavioral Health - Alissa Sughrue (Austin Area)
Highlights the relationship between maternal mortality and behavioral health.
Child Abuse - V'Anne Huser (Lavaca County)
Delineates 3 areas of bills that have been introduced regarding child abuse: punishment for crimes against or involving children, directives for child protective services, and good faith reporting of child abuse.
Child Health - Celia I. Kaye, MD, PhD (Collin County)
Reports on Texas' high rate of uninsured, as well as children affected by gun violence.
Domestic Violence - V'Anne Huser (Lavaca County)
Notes bills related to problems with evidence handling in sexual assault cases and protective orders.
Financing State Government - Ernie Wittwer (San Antonio Area).
Find out how much money is available for the Texas Budget.
Judicial Selection - Julie Lowenberg (Dallas)
Posted a review of judicial selection.
Land Use - Jensie Madden (Comal)
Eminent domain, flood control & planning and appropriations & planning for the Texas Parks and Wildlife Department are the key issues.
Open Government - Linda Pavlik's (Tarrant County)
The League is working with partners in coalition to introduce new provisions that strengthen Texas' Sunshine Laws and improve public oversight. Watch the Capitol Action Minute video.  
Transportation - Britin Bostick (Austin)
We are tracking almost 200 transportation bills that have already been filed! Toll roads, drivers' licenses, vehicle and trailer registrations, child safety seats, memorial highways, and the creation of regional transportation authorities are all on the list.
Resources
Calendar
January
21 - Martin Luther King, Jr. Day - Participate in events in your community.
February
4 & 5 - League of Women Voters of Texas Lobby Days
League to which this content belongs:
Texas