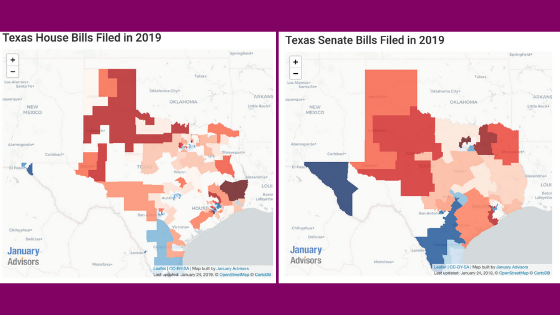 The big news this week is that both the Senate and the House have named their committee chairs and committees! The 
Senate
 will have 16 Standing Committees and the 
House
 will have 34. 
The committees that are working hard now are the House Appropriations and Senate Finance, both of which write the budgets for the next two years. They will soon begin holding hearings on 
HB1
 and 
SB1 
respectively, and soon the two budgets will have to be reconciled.  After the budget for 2019-21 is passed, the other committee work will begin.
In non-legislative news from Austin, the Secretary of State issued an  Advisory to County Voter Registrars and Elections Administrators about the use of non-U.S. citizen data obtained from the Department of Public Safety. It alleges a large number of non-citizens are registered and voting. LWVTX President Grace Chimene and Voting Rights/Election Law Issue Chair Cinde Weatherby spent the weekend looking into the issue. Click here to see more information about it. It's one more reason to use the easy One-Click action to contact your State Rep. and Senator about voting systems!
By Janet Imhoff, Vice President
MAPS OF BILLS FILED BY THE 86TH TEXAS LEGISLATURE (2019)
Hey! This 
Texas Bill Map
 is so cool -- at least for political nerds like us! 
The intensity of the color varies based on the number of bills filed.
 Curious about what bills your elected officials have filed? Check it out 
here
!
 Kudos to Jeff Reichman, a member of the LWV Houston Area! 
#txlege
LEAGUE PRIORITY ISSUES:
Hot news this week deals with alleged voter registration and voting by non-U.S. Citizens.  It is another reason to support our top priority of passing electronic voter registration.
When it comes to funding public education in Texas, everyone agrees on two things:
1) The public education funding system is incredibly complex, inequitable and completely inadequate and must be fixed and 2) property taxes, the major source for public education funding, are rising too high. However, how we fix these two problems remains elusive.
One of our priorities is to ensure funding for women's preventive healthcare, including contraception, to fully meet the need among low-income, uninsured women.
NEW ISSUE UPDATES THIS WEEK!
New Budget proposals show less money for mental health and child abuse prevention.
A new article on the crisis caused by the high number of children and adults in Texas without health insurance.
A promising new bill which would create a Climate Change Mitigation and Adaptation Commission.
A new bill could harm women trying to escape domestic abuse, and one would help victims of economic abuse.
The first-ever state flood plan proposed in the Senate!
CAPITOL ACTIONS FOR THIS WEEK!
There will be new Action Alerts as bills move forward in the House and Senate. For now, we are asking you to let your legislators know these are issues you care about.
1.   Modernize Texas Elections!
2.  Support Redistricting Reform!
3.   Social Media Action: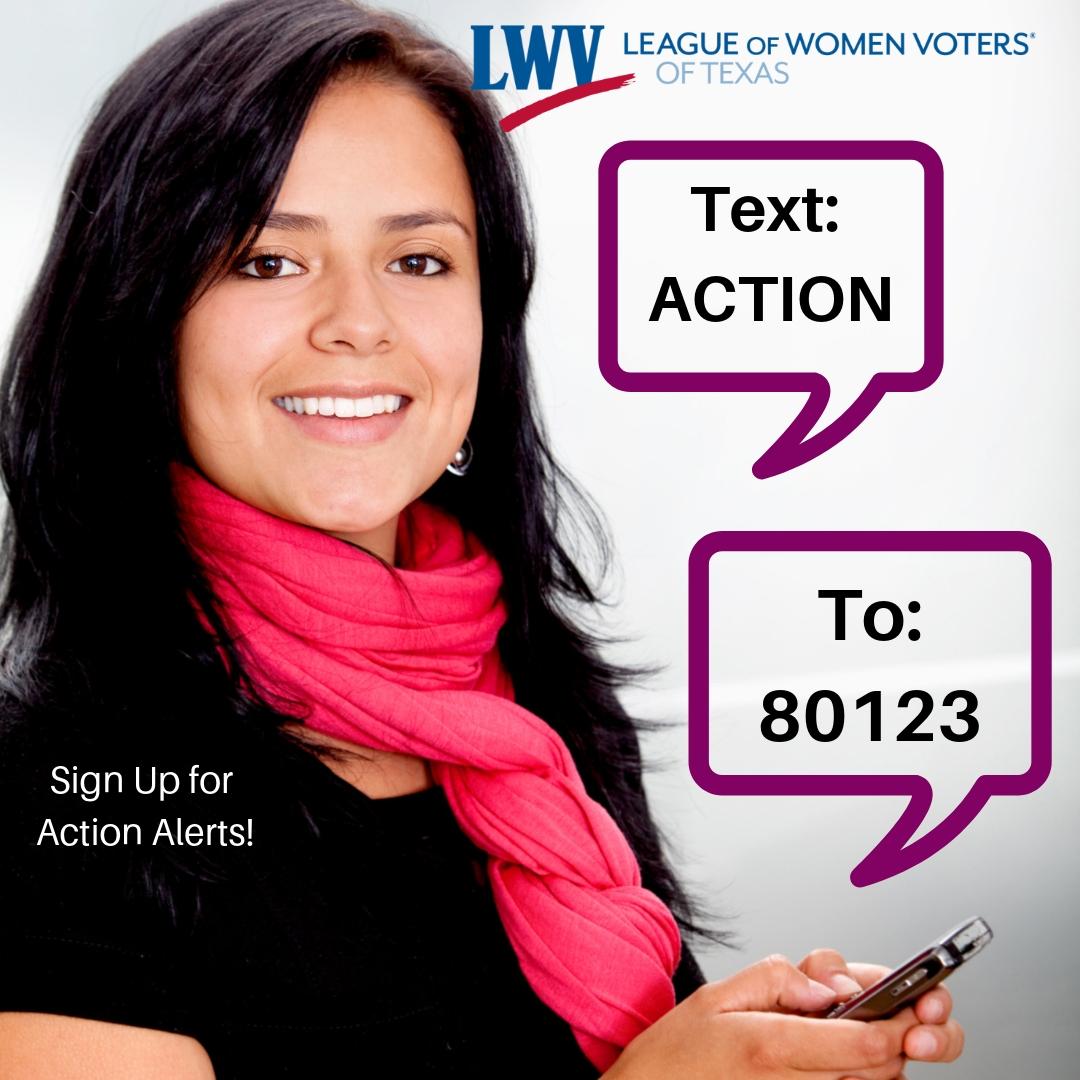 4.   Texas Star Action:
Have 5 friends sign up for League text Action Alerts! Ask them to Text: ACTION, To: 80123. 
OTHER TEXAS ISSUES: 
Keep up with all the issues you care about!
Legislators are interested in marijuana for medical use.
Reports on Human Trafficking Prevention month!
The treatment of immigrants and refugees at the border, "the wall" and changes to the Sanctuary Cities legislation are some of the bills that have already been filed.
Highlights the relationship between maternal mortality and behavioral health.
We are following bills relating to reform in the criminal justice system for individuals arrested and charged with a misdemeanor and improvement in the care of the mentally ill individual arrested and jailed.
Reports on Texas' high rate of uninsured, as well as children affected by gun violence.
Find out how much money is available for the Texas Budget.
Posted a review of judicial selection.
Working with partners in coalition to introduce new provisions that strengthen Texas' Sunshine Laws and improve public oversight is the focus of Issue Chair 
) work in this area. See last week's 
Capitol Action Minute video
. 
We are tracking the almost 200 transportation bills that have already been filed! Toll roads, drivers' licenses, vehicle and trailer registrations, child safety seats, memorial highways, and the creation of regional transportation authorities are all on the list.
RESOURCES
CALENDAR
February
Black History Month
4 & 5 - League of Women Voters of Texas Lobby Days
14 - Susan B. Anthony's Birthday & 99th Anniversary of founding of LWVUS
March
Women's History Month
8 - International Women's Day
8 - Deadline for the unrestricted filing of bills and joint resolutions other than local bills, emergency appropriations, and emergency matters submitted by the governor. (60th day)
May
27 - Last day of 86th Legislature (sine die) (140th day)
League to which this content belongs:
Texas