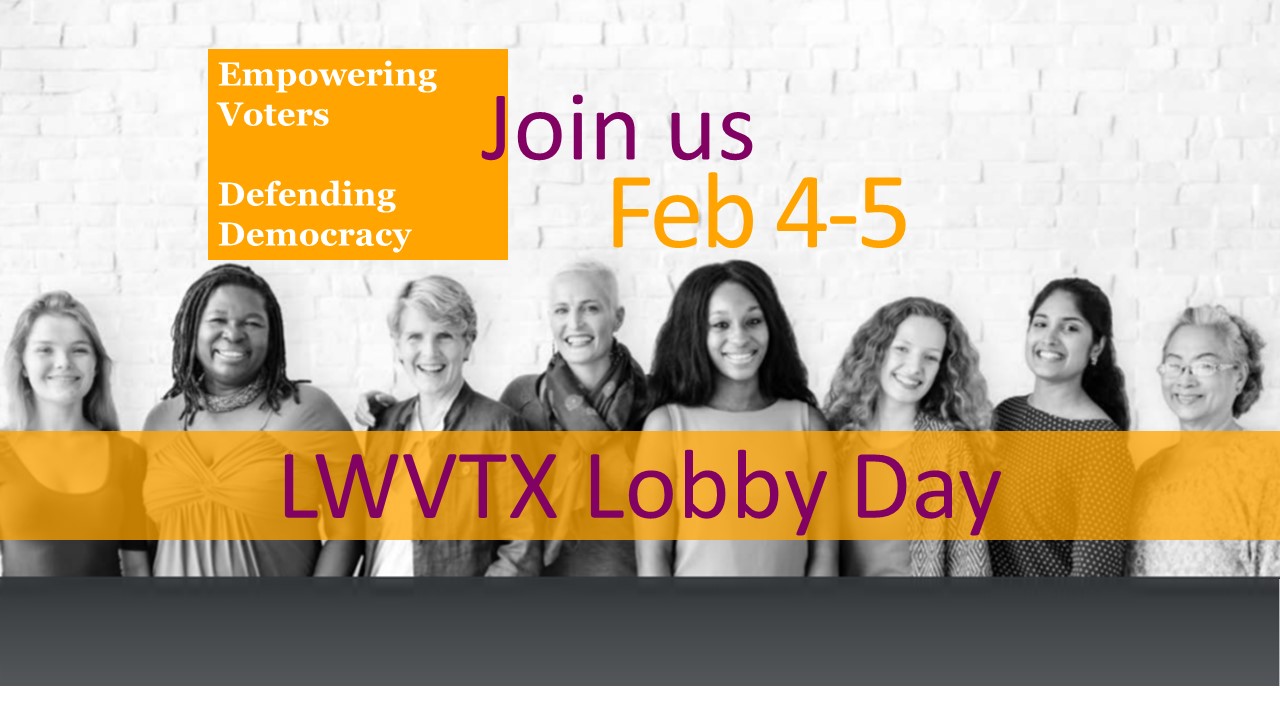 President's Message, 

Grace Chimene
The Nov. 6th General Election was competitive and exciting! It was a big win for democracy. Texas has not had a truly competitive election at the statewide level since the 90s. Texans registered and voters showed up in record-breaking numbers to vote making this election tight! Nonofficial numbers indicate that just under 6M people voted early, and 8.2M people voted overall. That is 51.8% of registered voters who participated many of them young and new voters! That is a big win for democracy!
The League will continue to fight elected officials who, instead of celebrating the huge voter turnout, will use this healthy new competitive democracy to call for new barriers to voting and new attempts to keep eligible citizens from registering. We need your help more than ever to fight in this upcoming legislative session to ensure Texas has fair and free elections where everyone's voice is heard.
Thank you all for Empowering Voters and Defending Democracy!
"Bigger, Better Lobby Days" will be Feb. 4-5, 2019
"Bigger, Better Lobby Days" will be Feb. 4-5, 2019
 in Austin at the Holiday Inn Austin Town Lake. Save the dates and prepare for a new larger venue for lodging and training with free parking, and a shuttle to the Capital! We will all fit in the training room this year! Make plans to go to Austin and meet your State Senators and Representatives. Join Texas Leagues' members on February 4th and 5th to advocate for the issues we all care about.
The 
workshop will be on Monday from noon to 5:00 pm. G
uest speakers will include:
Bob Popinski, Director of Policy at Raise Your Hand Texas is a school finance expert,
Beth Stevens, 

Voting Rights Program Director, 

Texas Civil Rights Project, and
Evelyn Delgado, President of Healthy Futures of Texas and Chair of the Texas Women's Healthcare Coalition.
Tuesday morning League members will visit their legislators. Making a visit to a legislator's office in the Texas Capitol can have a great influence on how leaders think about issues. A visit is an opportunity for you to supply our leaders with valuable information. The willingness to make a visit to a legislative office tells leaders how important League issues are to you and your community.
Victoria M. DeFrancesco Soto is the guest speaker for our 2019 Making Democracy Work Dinner. She is a political scientist who works at the LBJ School of Public Affairs and engages in political talks with MSNBC, NBCNews.com, and Telemundo.
Her areas of expertise include immigration, Latinos, women and politics, political psychology, and campaigns and elections. 
When looking at diverse groups within the electorate, Victoria focuses on how women, Latinos, and other minorities influence policies. Underlying all of her policy interests and research agenda is the intersection between campaigns, elections, and policies—in other words how politics shapes every aspect of our day-to-day lives.
Victoria is a Lecturer at the University of Texas' LBJ School of Public Affairs where she was selected as one of the University's Game Changing faculty. She is also a faculty affiliate of the Department of Mexican-American and Latino Studies and the Center for Mexican American Studies. Victoria received her Ph.D. from Duke University and did her undergrad work at the University of Arizona. She's a diehard Arizona Wildcats basketball fan and when she's not political sciencing Victoria is hanging out with her family in beautiful Austin, Texas and perfecting her green chile and cheese tamale recipe.
The Making Democracy Work Dinner will be at the historic Austin Club again.
VOTE411.org is a Smashing Success!
This year VOTE411 had nearly 7 million sessions from Jan 1
 st 
 through Election Day, and over 5.5 million of those sessions included the online voters' guides! That represents a 100% increase in sessions nationwide to voters' guides on VOTE411 as compared to 2016 cycle, and a 490%increase over the 2014 midterm election cycle (the most comparable election cycle). These are amazing numbers and show just how much the voters turn to the League to find the information they need on Election Day. As you can see from the map, voters from all across Texas used VOTE411!
We are so thankful for all the volunteers and supporters in the League of Women Voters of Texas who work so hard to provide the nonpartisan Voters Guide to communities across the state. Not all communities in Texas have wifi or a local League, so donations also allow the League to provide printed copies of Voters Guides to 129 libraries across the state.
Advocacy & Issues
Delegates to the 2018 LWVTX Convention voted to review and update two program positions. These were the position on 
Criminal Justice
, as it relates to "the current bail bond system," and the 
position on Land Use,
as it relates to "eminent domain" and "its impact on the environment."
Elaine Talarski (San Antonio Area) was chair of the Criminal Justice Reform Program Review Committee. The board approved the committee's recommendation to update the position by concurrence at a statewide conference on February 4, during Lobby Days. One recommended addition to be considered involves reforming the bail bond system to require risk assessment for certain low-income defendants who might be unable to pay the cost of bonds. A second recommendation involves requiring open hearings and the presence of public defenders at pretrial hearings. 
Click here for recommended position change with pros and cons
.
Jensie Madden (Comal Area) was chair of the Land Use Program Review Committee. Committee members were Evelyn Bonavita (San Antonio Area) and Britin Bostick (Austin Area). The board approved the committee's recommendation of, "Retain as is," and no vote of the membership will be required. In addition to a report to the board, the review committee produced an "
Eminent Domain Issue Paper
,
" which is accompanied by a bibliography.
Calendar & Upcoming Events
Did you know your purchases can make a difference? AmazonSmile donates to League of Women Voters of Texas Education Fund when you do your holiday shopping at 
smile.amazon.com/ch/74-6076962
.
League to which this content belongs:
Texas