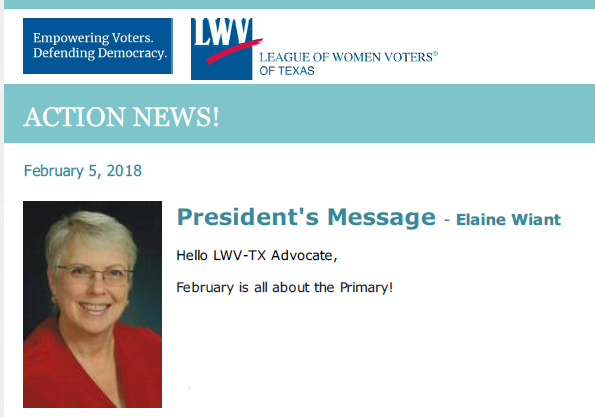 Voter turnout in Texas is bad and it is exceptionally bad in primary elections. The League's task is to inform and motivate people to vote. We must educate voters about the candidates and the process through Voters Guides and VOTE411 and get out the vote (GOTV).
Many people think that only "members" of the parties can or should vote in primary elections. You and I know this is just not true! All eligible voters should participate in choosing the candidates who will be on the November ballot. Our message for this election: "Voters who don't strongly identify with any political party can and should carefully consider the choices and participate in one of the primaries or conventions."
Let's make sure that we use every tool in our toolbox to Get Out The Vote! We have excellent resources on our GOTV webpage. Please use them.
Thank you for your commitment to Empowering Voters and Defending Democracy in Texas!
Download and read the full Feb 2018 Action Newsletter.
League to which this content belongs:
Texas