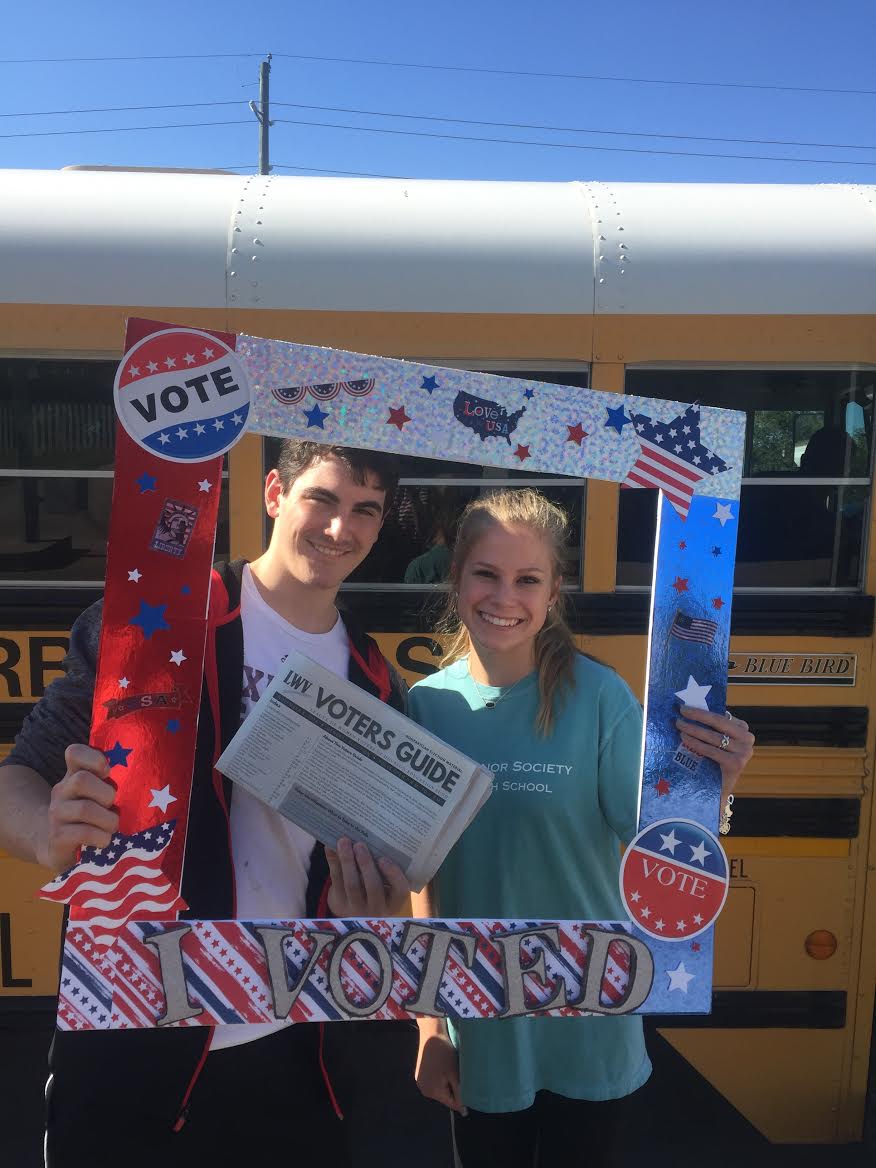 Date of Release or Mention:
Friday, August 10, 2018
The League applauds the important work of educators who are determined to create a culture of voting in Texas.
The 2018 League of Women Voters of Texas's 
High School Voter Registration Survey Report with the table of results provides insight into the many ways Texas schools - rural and urban, small and large - provide voter registration opportunities for their students. The survey found that 73% of the schools who responded to the survey reported that they offered voter registration opportunities twice a year, as required by Texas statute. (Recommended Checklist for Complying with High School Voter Registration)
Grace Chimene, president of the Texas League said, We are especially pleased that the survey results indicate the many ways high schools are registering voters around Texas. The League of Women Voters of Texas understands that this survey, conducted in the spring of this year, is a snapshot of voter registration efforts high schools are using around the state. We acknowledge the representation of schools in the study included a high number of schools with a student population under 500. We hope that future surveys include even more schools in order to represent the broad range of schools in Texas, states Chimene.
Whether or not schools use the special high school voter registration form provided by the Texas Secretary of State's (SOS) has been in the news recently. Local efforts to empower student voters aren't always visible in reported counts of specific voter registration forms because there are multiple registration forms used to register voters. The responding schools obtain voter registration forms from their County Voter Registrar (37%), as well as from the SOS's office (27%), and 17% report obtaining their forms from both offices.
The study found that almost 60% of schools reported using a high school deputy registrar (HSDR) to offer voter registration opportunities to students. While 33.9% of schools use staff as Volunteer Deputy Registrars (VDRs) and 36% of schools report using outside organizations to register students. Nearly twice as many schools with more than 2000 students reported using outside organizations than schools with 500 or fewer students.
Relevant motivational speakers from local Non-Partisan Organizations speaking on real issues that policy makers and elected officials impact that directly relate to the school's demographics and community.
Response from an urban high school with 2000 or more students

Top recommendations to increase numbers of students registering to vote include offering voter registration in class with lessons and curriculum, providing online voter registration (not currently available in Texas), emphasizing the importance of voter registration and providing transportation to vote.
I meet with each individual as they approach 18, they are familiar with a similar form and I talk them through the process and explain what they need to do when they move to a new town for college or work.
Response from a rural high school with 500 or fewer students
I have secured bus transportation to take my students to ... and actually participate in the voting. Schools should pay for buses and take students to vote. Plan to have voter poll station close to campuses.
Response from an urban high school with 1000 - 2000 or more students
While preferred voter registration methods and tools vary with the size of the schools, all schools prefer to use curriculum and classroom time to register voters.
Implement more practical lessons during government classes. At the conclusion of STAAR/EOC testing have teacher spend 2 weeks on student civic responsibility (i.e., voting, jury duty, etc.)
Response from an urban high school with 1000 - 2000 or more students
Repeated efforts. As with any concept or skill development, repetition is the key to mastery/accomplishment.
Response from rural high school with 500 or fewer students
The League of Women Voters is taking steps to provide resources to educators and advocate for systemic changes to facilitate voter registration for high school students. 
The League of Women Voters of Texas, in partnership with Dallas County Community College, recently launched BeATexasVoter.org, a web-based voter education series to help young people better understand their role as citizens in our state.
The six modules are prepared in compliance with the Texas Essential Knowledge and Skills (TEKS) social studies requirements and the Texas Higher Education Coordinating Board (THECB) Common Core standards. The materials are designed to teach high school, dual credit, and college level students about the importance of voting and to provide tools for becoming informed voters. Each module has appropriate activities to reinforce learning. Find materials to promote BeATexasVoter.org to schools and community colleges in your community.
The League has requested the SOS's office to coordinate with counties to provide trackable high school deputy registration forms and/or county voter registration forms automatically to high schools. The SOS office could improve communication with high schools by sending timely reminders encouraging high school voter registration, sharing election laws impacting high schools and students, promoting upcoming statewide important election dates and the high school student voting day on the first Friday of early voting.
The League applauds the important work of educators who are determined to create a culture of voting in Texas. The League encourages all high school principals to understand and follow current election law, to provide curriculum and classroom time for voter registration and civics, to emphasize the importance of voting. Local Leagues in Texas will continue to work closely with high schools to register student voters.
In Texas, we are all responsible for empowering voters and defending democracy. We need to ensure all Texans; especially our young and new voters have the desire, the right, the knowledge and the confidence to participate in our democracy, affirms Chimene.
The League of Women Voters of Texas represents over 6,000 grassroots volunteer advocates across the State of Texas. The Texas League has been "educating and agitating" since 1919. The League is a nonpartisan organization - it does not support or oppose any candidates or parties. Instead, the League encourages active and informed civic participation in government and increased understanding of major public policy issues. The League of Women Voters' nonpartisan Voters Guide is highly respected and sought after by voters in local and statewide elections in Texas. Click here for more information about the League and Texas voting.
League to which this content belongs:
Texas