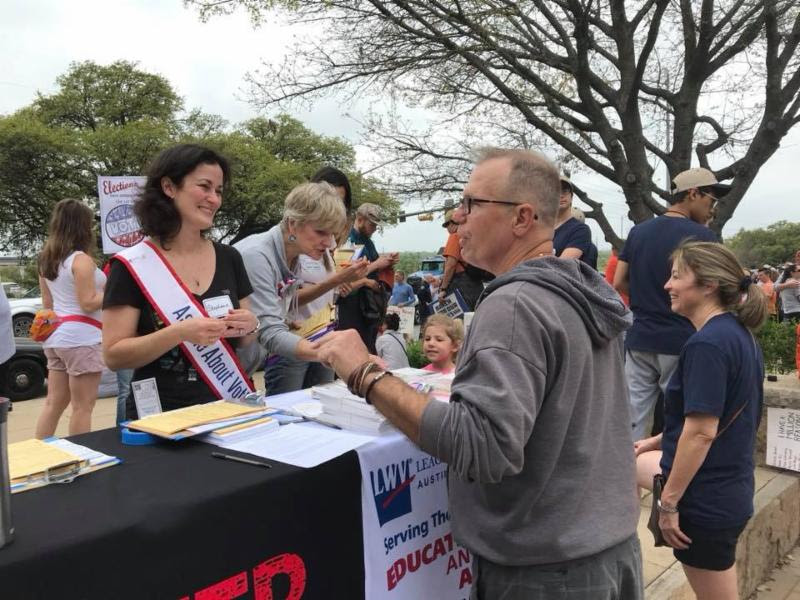 Date of Release or Mention:
Friday, September 21, 2018
AUSTIN, Texas – As a leading organization in voter registration, the League of Women Voters of Texas (LWVTX) strives to educate and engage Texans in the election process. There are 30 local Leagues in Texas working to increase voter involvement in the November 6th midterm elections. The first step to increasing turnout is to increase voter registration. Leagues across the state will be out in full force to register voters on September 25th, National Voter Registration Day (NVRD).
Now in its seventh year, National Voter Registration Day has been a game-changing annual nonpartisan campaign to register hundreds of thousands of voters in communities across the United States. Embraced by a host of celebrities, bipartisan elected officials and organizations, NVRD leverages the collective impact of thousands of community partners, including hundreds of League of Women Voters groups, nationwide, every year. More than 400 local League of Women Voters affiliates are participating in this year's NVRD.  
National Voter Registration Day is a key component of the League's civic engagement strategy. "The League wants all Texans to do the "Texas Three-Step". The first step is to register, second compare candidates, and third vote," said Grace Chimene, President of the League of Women Voters of Texas.  
In addition to registering new voters, the League of Women Voters is well known for its gold standard, nonpartisan Voters Guide which is highly sought after because of its fair and impartial information about candidates seeking elected office in Texas. Print Voters Guides are distributed to libraries across Texas. Voters can compare candidates with the Leagues online Voters Guide available at VOTE411.org and LWVTexas.org.
The League needs your help to Get Out The Vote for the November 6th election. Talk to new voters and help them get registered as well as create a plan to vote. Help Texas voters remember important election dates by having them text LWVTX to 80123 to receive nonpartisan voting reminders. Follow @lwvtexas on social media and share our nonpartisan voter information with your friends and family.  
"Every eligible American deserves the chance to participate in this year's pivotal elections," Chimene."We believe our democracy is strongest when every voice is heard." 
League to which this content belongs:
Texas