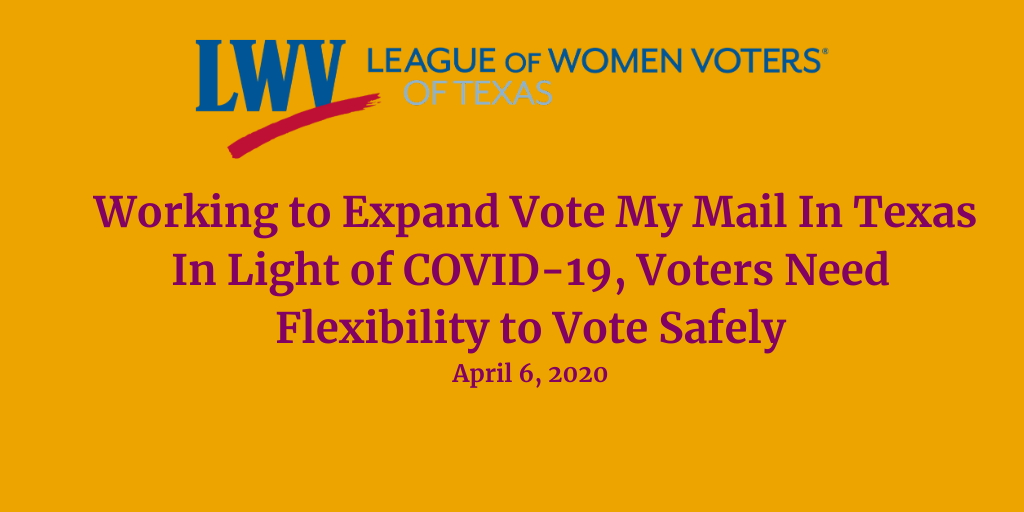 Date of Release or Mention:
Thursday, April 2, 2020
AUSTIN – Thursday April 2, 2020, the League of Women Voters of Texas and the League of Women Voters of Austin Area requested to join as intervenors in a lawsuit arguing that Texas law expressly permits expanded vote by mail options due to the COVID-19 global pandemic. The League is asking the court rule that the definition of "disability" in Texas law encompasses all registered voters, since the coronavirus prevents voters from appearing at a polling location without a real likelihood of injuring their health. 
"Voters desperately need the court to provide legal clarity that our state law permits all registered voters to vote by mail in light of this global pandemic," said Grace Chimene, president of the League of Women Voters of Texas . "We are in unprecedented times, and the need to balance public safety with administrative efficiency cannot be underestimated. Counties need to begin processing applications now." 
The League of Women Voters of Texas 
(LWVTX) 
and Austin Area League are joined by their partners, MOVE Texas Action Fund, Workers Defense Action Fund, and a Travis County registered voter. The League and partners are represented by Texas Civil Rights Project in this action.
After the League's petition was filed, the Texas Secretary of State 
issued an 
advisory 
to local election officials featuring many of the provisions suggested by the League. Additionally, Texas Governor Greg Abbott has postponed May 2nd elections to the November 3rd, and the May 26th primary runoff to July 14th.
Voters will find current elections and voting information on the League of Women Voters of Texas 
website
.
The League of Women Voters of Texas
The League of Women Voters of Texas represents over 10,500 grassroots advocates across the State of Texas. The Texas League has been "educating and agitating" since 1919. The League is a nonpartisan organization - it does not support or oppose any candidates or parties. Instead, the League encourages active and informed civic participation in government and increased understanding of major public policy issues. The League of Women Voters' nonpartisan Voters Guide is highly respected and sought after by voters in local and statewide elections in Texas.
League to which this content belongs:
Texas