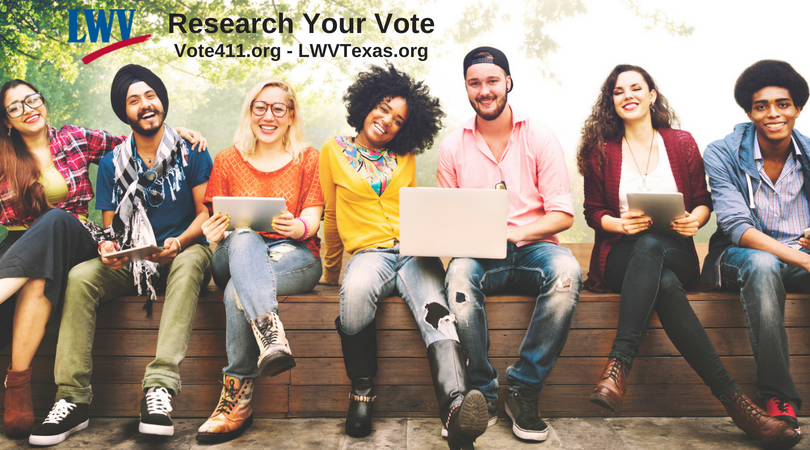 Election day is closer than it seems! The League of Women Voters of Texas (LWVTX) encourages you to make a plan to vote. With a few, simple steps all eligible voters can get to the polls and make their voices heard.
With such record-breaking voter registration numbers, the League looks forward to a record number of voters at the polls. The League's famous nonpartisanVoters Guide and the online version, VOTE411.org, make it easy for voters to compare candidates, create a ballot, and find their polling place.
A printed ballot is an easy way to remember who you are voting for. Before getting to the polls, we suggest you use your county's website to print a ballot. Voters can mark who they want to vote for once they have researched the candidates on VOTE411.org. With your ballot and acceptable I.D. in hand, you can make your way to the polls. Don't forget to bring your printed ballot! You cannot use your cell phone at the polling stations!
Voting early is a great option. Check with your local newspaper or your country clerk for your early voting times and locations. This year, early voting in Texas starts on Tuesday October 22nd and ends on Friday November 2nd. 
You can also Vote By Mail if you are over 65, sick or disabled, out of the county on election day or during early voting, or in jail but otherwise eligible to vote. You can print and fill out an application and send it to your elections official. The Vote By Mail application must be received by October 26, 2018.
On November 6th, you must vote in person at your precinct's voting site. Make a day out of voting Be sure to take 5 of your closest friends or family members to the polls with you. This is a monumental year for our democracy. Plan to participate in the elections in your community!
For more information about the League of Women Voters of Texas, please visitwww.lwvtexas.org or contact (512) 472-1100.
Important Texas General Election Dates 
Early Vote:

 Tuesday, October 22, 2018 - Friday, November 2, 2018

Last Day to Apply to Vote by Mail: 

Friday, October 26, 2018 (Received, not Postmarked)

Election Day

: Tuesday, November 6, 2018 
"Like" the League on Facebook: facebook.com/LWVTX.
Follow us on Twitter: @LWVTexas. 
Watch LWVTX Election Videos on Youtube. 
The League of Women Voters of Texas represents over 6,000 grassroots volunteer advocates across the State of Texas. The Texas League has been "educating and agitating" since 1919. The League is a nonpartisan organization - it does not support or oppose any candidates or parties. Instead, the League encourages active and informed civic participation in government and increased understanding of major public policy issues. The League of Women Voters' nonpartisan Voters Guide is highly respected and sought after by voters in local and statewide elections in Texas. Click here for more information about the League and voting in Texas.
League to which this content belongs:
Texas