11.2.2020 The large numbers of votes by mail means tallying the election results will obviously take longer than it has in the past. We want ALL votes to be counted fairly. A
 complete and accurate ballot count is more important than a fast ballot count. 
We rely on all the helpers in our democracy to ensure all votes are counted and that a fair process is used. Encourage everyone you know to be patient.
I spent 30 years as a pediatric nurse practitioner working with teams of health professionals dedicated to helping patients. 
Naturally, when our presidential election occurred during a massive pandemic, I relied on a team of democracy helpers like you.
Sometimes my patients were very sick. I reassured worried parents to give the medication time to work. 
Now, I want to reassure worried Texans that to ensure a healthy democracy, we need to wait for a complete, and accurate count before announcing the results of the election.
While we wait patiently, for the results of the election, join me in celebrating the team of democracy helpers: 
civic educators who teach our students about democracy 

volunteer deputy registrars 

election workers

election protection volunteers

professional journalists and reporters who share reliable election news

candidates who step up to run for leadership positions in our government

campaign workers, an invaluable part of the process

our county and state election officials who 

have worked

 so hard during this challenging election season. 

 
With every election, we get the chance to shape our democracy with our vote. Even through the stresses that 2020 has brought, the League encourages you to take a moment to celebrate our democracy. What a beautiful thing it is!
Thank you for continuing to Empower Voters and Defend Democracy!
Grace Chimene, president, League of Women Voters of Texas
PS: Breaking News! 
Drive-thru voting was established as a safe early voting option for individuals, including many disabled voters who did not want to enter a polling site during this pandemic. It was tested with great success during the Texas run-off and special election in July. This last-minute attack on voters demonstrates a desire by some to silence Texas voters and we will not stand for it.
PPS: Wow! 
Young voters are turning out! 
"
The numbers are especially dramatic in a state like Texas, where more than 1 million young people have already cast ballots, nearly approaching the 1.2 million total votes cast by youth (both early and on Election Day) in 2016
."
Tips for Voting on Election Day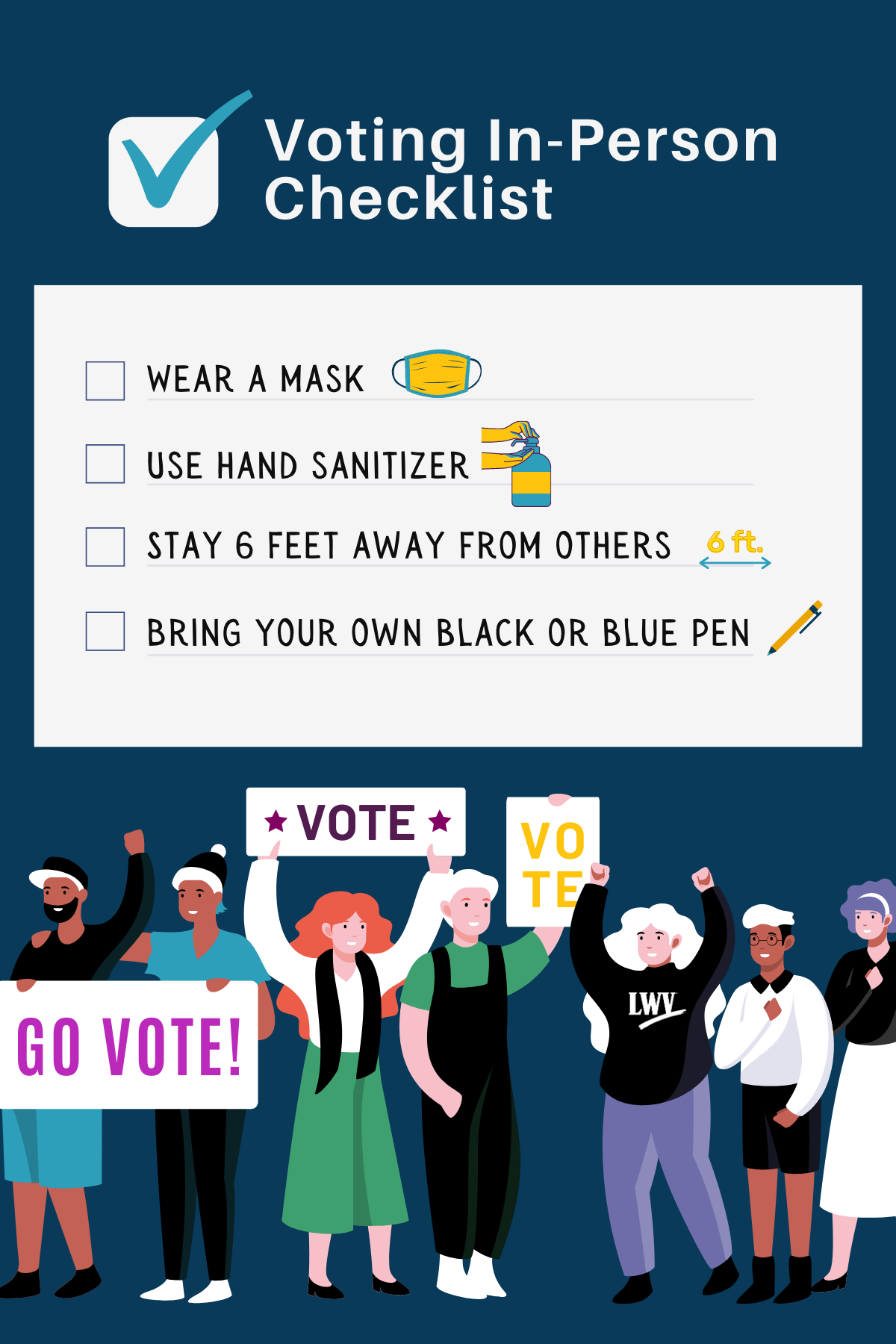 To avoid the lines, vote during non-peak hours. If you are in line by 7:00 pm, you will be allowed to vote.

Research the candidates with VOTE411.org. Bring a written or printed list of the candidates you wish to vote for to the polling place.

Curbside voting is available on Election Day for voters who are physically unable to enter the polling place.

Voters with a disability and their helper may request to move ahead of other voters in line. 
 Please share with your family, friends and colleagues!
Who Are These People at the Polls?
Electioneering and Intimidation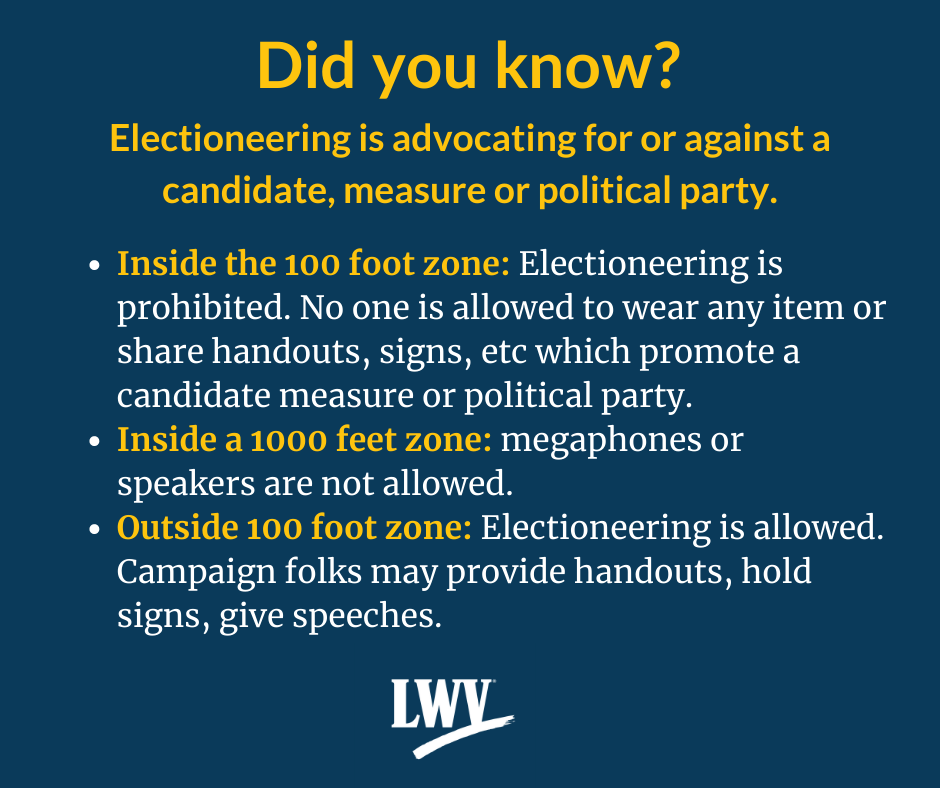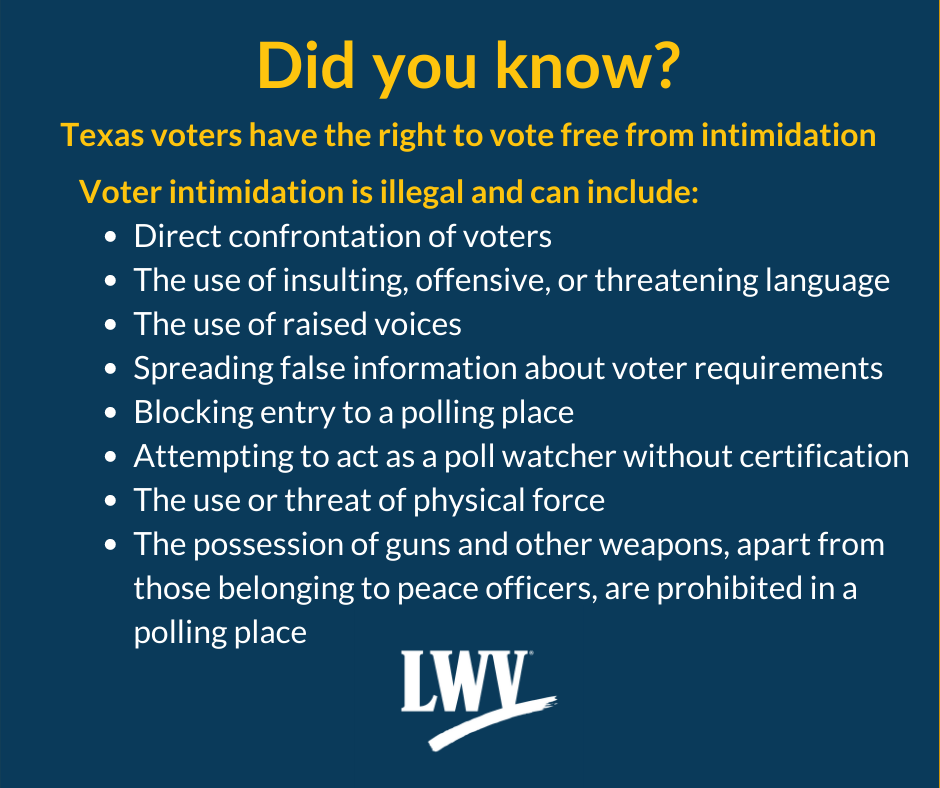 League to which this content belongs:
Texas