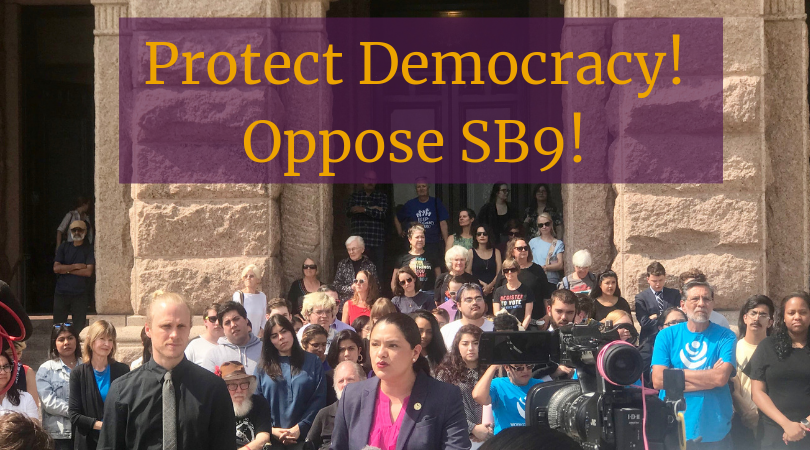 Protect voting rights in Texas! Take action today! 
Despite hours of testimony by those opposing SB 9, this bill was voted out of the House Elections Committee. 
Email your legislators telling them to vote against SB 9!
NEWS FROM THE CAPITOL - May 20, 2019
By Janet Imhoff, Vice President
So Many Action Alerts!
Does it seem like you are seeing the same Action Alerts that you have already responded to? It's true! We are sending them out again because they are now redirected to another chamber or committee. You still need to act now!
Act now on these Alerts:
Protect voting rights in Texas! Urge your legislators to vote against this bill!
This bill would reduce the rate of maternal mortality in Texas!
Allow local governments to make laws that are best for their cities!
We may be able to save CSHB 342 by attaching it to another piece of legislation!
One out of 8 Texas students attempted suicide in the past year alone!
Why has the suicide rate in Texas increased 23% since 2000?
This bill has passed the Senate and passed the House State Affairs Committee! We must stop it now.
Mr. Whitley is the wrong man for the job of Secretary of State!
Some of the bills we support, some we oppose, but all of them are important to our mission of 
Empowering Voters and Defending Democracy!
 If you receive an Action Alert in the next week, please respond to it, even if you have already done it before. Your voice really does count! The legislative offices tally the number of emails and calls they get, pro and con, on every bill and every issue.
One Week to Go!
This is the last week of work for the House and Senate. Committees have pretty much finished up and this week will be dedicated to 2nd and 3rd floor votes on the lucky bills that got through the process. 
House committees stopped hearing bills on Saturday, May 18. The Senate has until Wednesday, May 22.
 The last day of the 86th Legislative session is Monday, May 27.
This is the last Capitol Action Report. After sine die, we will be sending out a final wrap-up with details from the Issue Chairs on successes and failures during the session. Watch for this report!
LEAGUE PRIORITY ISSUES:
Grace,
 k
eep up on important issues by reading updates from our fantastic League volunteers from around the state!
High drama with the SB 9 hearing in House Elections Committee! Read all about it!
The HB 3 Conference Committee has been appointed!
Extend Medicaid maternity coverage to 12 months! We need to pass HB 744!
Other New Blogs This Week:
The latest on the bail bond reform bill!
The Medical Cannabis bill is still alive! (HB 3703)
How to design and fund a statewide flood management plan nears completion!
League to which this content belongs:
Texas