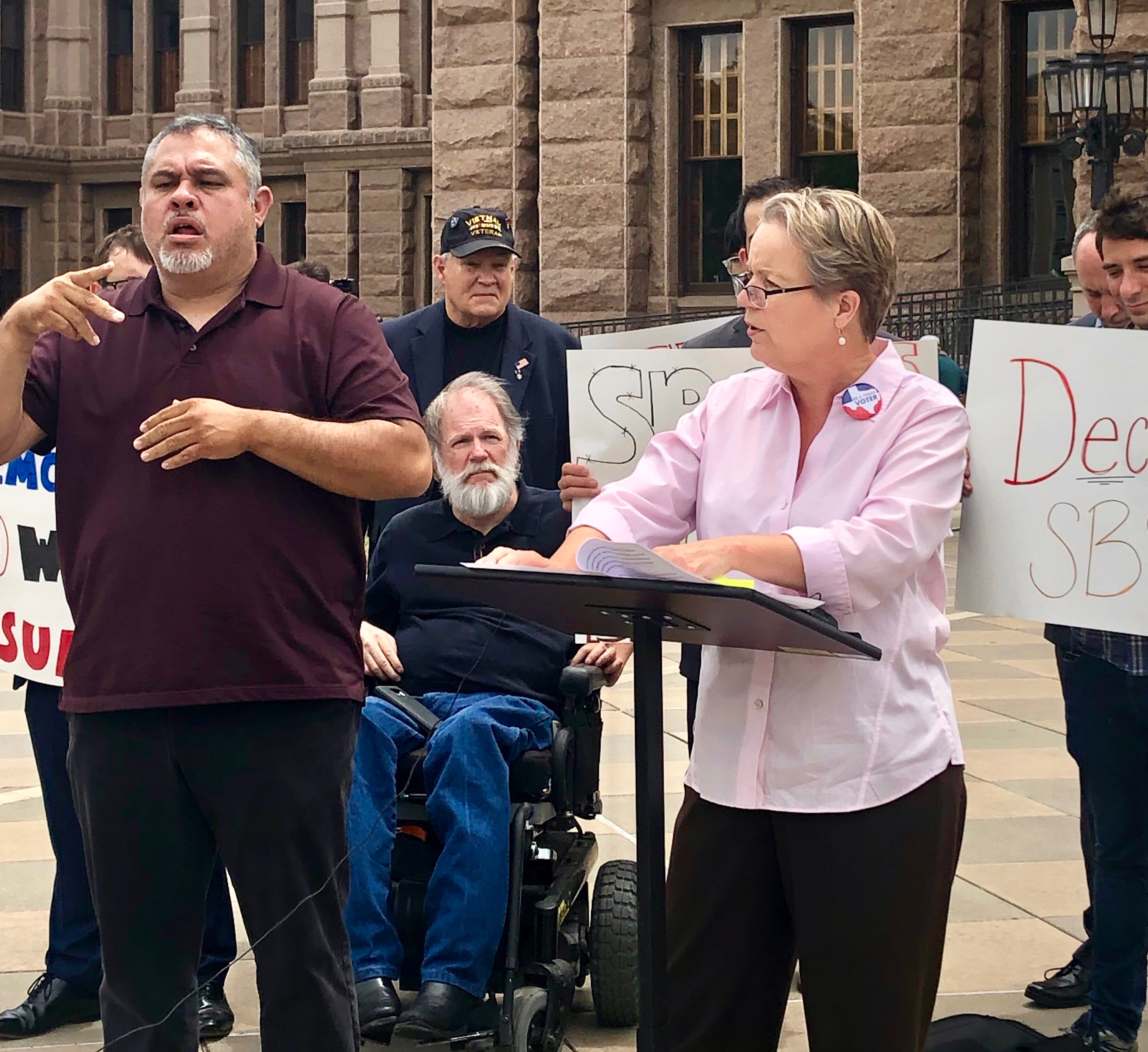 Press Conference Statement: Grace Chimene, League of Women Voters Texas President
The League of Women Voters of Texas is disappointed SB 9 - an insidious voter suppression bill - passed the Senate yesterday. This bill is bad for our democracy! It is bad for voters all across Texas. The League of Women Voters of Texas is always working to protect the voting rights of all Texas citizens. SB 9 is not in the best interest of Texas voters.  
We are a nonpartisan organization dedicated to voter registration and supporting voters with facts and information. Our election laws should empower all voters and respect their rights. We join with other nonpartisan organizations across the state to stop SB 9 and similar bills from passage in the Texas House of Representatives.  
SB 9 concentrates on criminal penalties for an imagined problem of widespread in-person voting irregularities. The bill further complicates our already overly complicated voting process.  It makes it more difficult for counties to conduct elections. Counties already have a huge challenge in recruiting and training the volunteer election workers to conduct elections. Increasing their responsibilities and adding possible penalties for wrongdoing is unrealistic and expensive.
Voters already ask us, "Why is voting so hard in Texas?" This bill continues the recent trend of making it more and more difficult.  It sends a message to many voters that they are not welcome to exercise their rights as Texas citizens to participate in our democracy. Furthermore, SB 9 violates registered voters' personal information. 
This bill creates more barriers for voters who are elderly and disabled. Making it harder for our elderly or those with disabilities to access the polls. This should NOT be a priority for the Texas legislature. Our democracy should be accessible to ALL eligible voters.

Any voter can make an innocent mistake when filling out a voter registration application. SB 9 threatens those voters with jail time and enormous fines which are

hugely disproportionate to the "crime" of an "unknowing mistake".

Both Republican and Democratic voters, often find, when they show up at the polls, for some unknown reason they are not on the registration rolls.  These voters rely on voting a provisional ballot. SB 9 will scare voters from using a provisional ballot.

Placing a 500-foot bubble -- which is just under two football fields -- around each polling place to stop anyone from committing the newly created crime of "impeding a walkway, parking lot, or roadway" is unenforceable and unnecessary.  The 100-foot barrier for electioneering is well-established and existing laws and enforcement can adequately address any impediment concerns.
SB 9 creates a dangerous

overreach of law enforcement's involvement in elections. It grants investigators

legal immunity in advance for election-related crimes they may commit.  

SB 9 allows access to ALL Texas voters' private information, including Social Security Numbers, Driver License Numbers, and other personal information to the Attorney General's office, who is the chief legal officer in the State of Texas. The League, other nonpartisan groups, many county election officials and voters across Texas have lost trust and confidence in this office due to the recent Secretary of State/Attorney General Office actions related to the Texas voter registration purge.
The League of Women Voters of Texas has rural members and urban members -- as far north as Amarillo and as far south as the Rio Grande Valley, west to El Paso and east to Tyler. We volunteer before and during elections, registering voters, volunteering for Election Protection, getting out the vote and working at the polls. We are nonpartisan.  We never support or oppose parties or candidates.
We are very disappointed that the Texas Senate has passed SB9.  We thank the organizations who joined with us today and the Texas legislators who understand that there are so many things the Texas House needs to be working on. Right now there are bills about education funding, taxes and so many other issues facing our great state. Making it harder for our elderly or those with disabilities to access the polls is NOT a priority for Texans.
Our 8,000 members and supporters stand firmly against legislation like SB 9. We will continue to educate and organize against this and similar legislation that limits citizens' voting rights. We will empower voters and defend democracy in Texas.
League to which this content belongs:
Texas