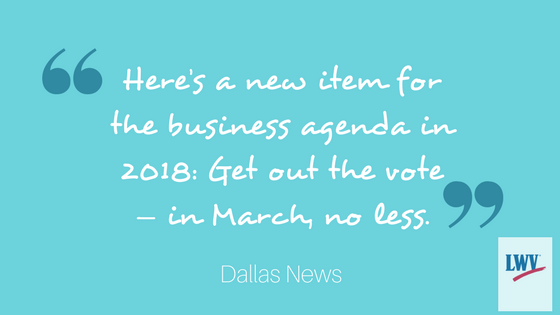 "Here's a new item for the business agenda in 2018: Get out the vote — in March, no less."  The North Texas Advocacy Coalition is looking at increasing voter turnout for the March primaries. They believe "that a larger, more informed electorate — led by local employees — will lead to less-extreme, more business-friendly candidates."
"Wouldn't it be wonderful if business created a culture of voting?" asked Grace Chimene, vice president of the League of Women Voters of Texas. "That would be so patriotic."
We are thrilled Texas businesses are stepping up and empowering voters! The League collaborates with businesses, organizations, and educators providing nonpartisan League resources: the trusted Voters Guide and VOTE411.org, Get Out the Vote materials, voter registration, voter education and enthusiastic volunteers from Leagues in Texas communities.
Read the entire Dallas news article 
League to which this content belongs:
Texas