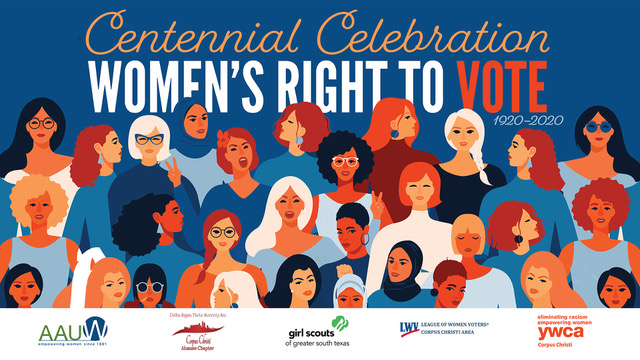 Wednesday, August 26, 2020 - 6:00pm
Join the 100 year celebration
of the 19th amendment
giving women the right to VOTE!
Join us on FB Live and YouTube to celebrate the 100th anniversary of the ratification of the 19th Amendment. It's a drop-in event with great speakers, door prizes, opinion polls, trivia and good times! 

Our emcee is the wonderful Liza Wisner and our esteemed speakers include Ruth Hughs, Texas Secretary of State; Kaitlynn Thakkar, Girl Scout from Harlingen High School; Janet Blanke, community volunteer and IBM retiree; Coretta Graham, local activist and attorney; and Alejandra Castillo, CEO of YWCA USA.   
Sponsored by Corpus Christi
League of Women Voters,