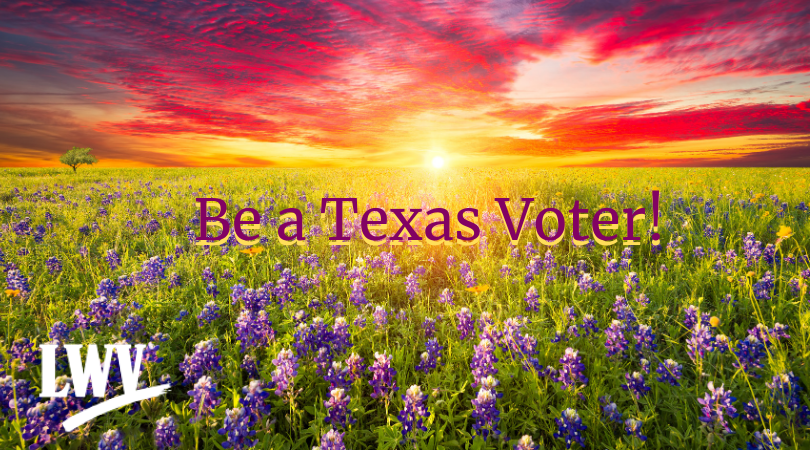 Be a Texas voter in the Constitutional Amendment Election November 5, 2019
Last Day to Register to Vote

Monday, Oct. 7, 2019

 Vote Early

Monday, Oct. 21 - 

Friday, Nov. 1, 2019

Last Day to Apply for Ballot by Mail 


(Received,

 not Postmarked)

Friday, October 25, 2019

Last day to Receive Ballot by Mail

Tuesday, November 5, 2019 (election day) 
The Constitutional Amendment Election Voters Guide provided by the League of Women Voters explains each amendment and provides pros & cons and a short video for each proposed amendment. You decide which will become part of the Texas Constitution. 
The League's nonpartisan Voters Guide will be available before early voting on at VOTE411.org. Leagues and organizations can order Voters Guides here by September 15th.
Proposed Constitutional Amendments


The Texas Constitution
The current Texas Constitution was written in 1876 and has been amended nearly five-hundred times. Compare that to the United States Constitution, which has only twenty-seven amendments. 
Why does the Texas Constitution have so many amendments?  Rules for how state and local governments should run are very specific in the Texas Constitution, unlike in the US Constitution.  Therefore our state lawmakers often have little freedom to make changes to laws without amending the state constitution. The proposed changes must pass both houses of the Legislature by a ⅔ vote, and then the voters must approve all changes.
All potential amendments that appear on your ballot must originate in the Legislature. The Texas Constitution cannot be amended by citizen-led ballot initiatives, referendums, or petitions, as in some other states.
We vote on a slate of amendments in the fall of odd-numbered years, following the spring Legislative session.  Topics vary, and can cover a wide range of topics, and some may affect only a few counties.
Voting on amendments fulfills your right and duty as a Texas citizen.  This approval or disapproval of changes to our Constitution gives you a direct voice in our state government.