The famous League of Women Voters nonpartisan Texas Primary Voters Guide for the March 3, 2020 election is available now! 

The 2020 Texas Primary Election Voters Guide in English. 
The 2020 Texas Primary Election Voters Guide in Spanish 
The 2020 Texas Primary Election Voters Guide online VOTE411.org
Share the League's nonpartisan Voters Guide with your friends and family and be sure to visit your local League of Women Voters website for local voting & election information.
Go to 
VOTE411.org
  for  your very own nonpartisan Voters Guide 
The League appreciates the sponsors of the 2020 Texas Primaries Voters Guide.
Who should vote in the Texas Primaries?
The upcoming Texas primary is an extremely important election in Texas!
Voters in the Texas primaries and conventions choose who will run for office in the General Election. For many communities in Texas, their elected officials are chosen in the primary election because many districts heavily favor one party over the other.
The Republican and Democratic Parties choose their candidates in a primary election. The Libertarian and Green Parties choose their candidates in party conventions.
Texas has open primaries. That means that ALL Texas voters can participate in one of these events.
Voters who don't strongly identify with any political party can and should carefully consider the choices and participate in one of the primaries or conventions. But you can only
participate in one. Once a voter has voted in one party, that voter cannot participate in another party's election or convention.
The League encourages all registered voters to participate in the Texas Primary Election and vote for the best candidates. Don't forget, voting in a primary does not commit you to vote for a particular candidate in the General Election.
A short video explanation of state elected offices
A short video explanation of county elected offices
More about Texas government
Quick links
Follow and share voting and election information from trusted sources like the League of Women Voters.
The following is a list of the official websites and verified social media accounts associated with the Office of the Texas Secretary of State:
To report suspicious activity, misinformation, or a fraudulent account, e-mail elections@sos.texas.gov or to the Texas Election Protection Coalition.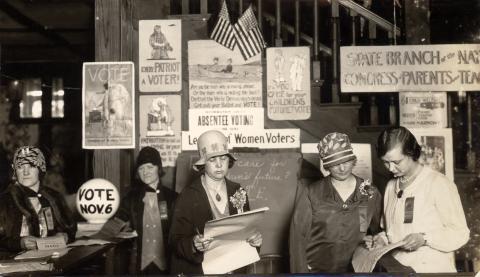 1928 League of Women Voters Get Out the Vote Campaign