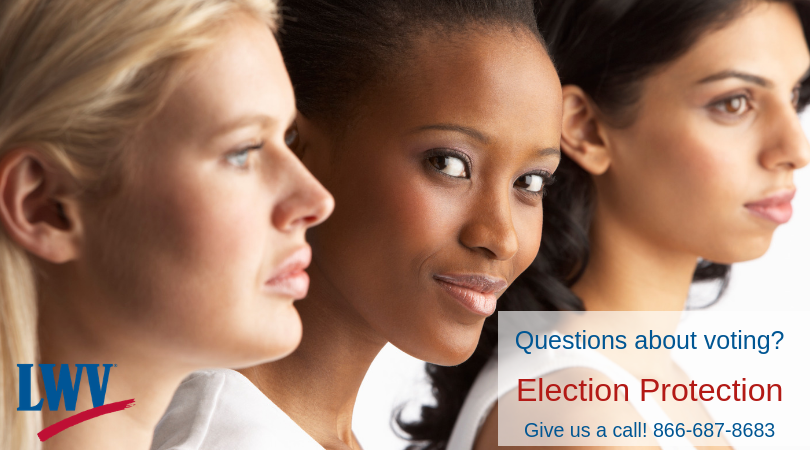 The League of Women Voters of Texas is a leader in the Texas Election Protection Coalition. 
We offer voter protection!
● Thousands of non-partisan volunteers working to ensure that every eligible voter can cast a ballot that counts.
● We help voters when they encounter problems at the polls.
● We operate a statewide hotline to empower voters with information about how to vote.
How Can I Help?
Join us as a Voter Protection volunteer for the 2020 elections so that all Texas voters can be part of a free and fair election? 

Join with thousands of volunteers who are needed to help assist new, young, and experienced voters at polling locations in their communities.  Our volunteer attorneys will help you take questions from voters to ensure that every single voter can cast a ballot that counts. 
Share our hotline numbers! Our statewide hotline is staffed by highly trained legal volunteers who answer voters' questions.
Share trusted League voting and election information Election info, Voter ID, Vote by Mail, Register to Vote, First Vote etc.
Call us if you have any voting questions or concerns?
866-OUR-VOTE (866-687-8683) English
888-Ve-Y-Vota (839-8682) Spanish
888-API-VOTE (888-274-8683) English, Mandarin, Cantonese, Korean, Vietnamese, Bengali, Urdu, Hindi, and Tagalog
844-YALLA-US (844-925-5287) Arabic
301-818-VOTE (301-818-8683) American Sign Language (video call)
888-796-VOTE Disability Rights Texas 
 The League of Women Voters of Texas fights for your right to vote!