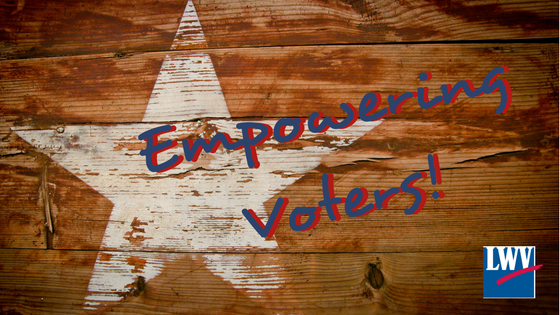 Organizations, businesses, and schools can & should register voters & promote voting in Texas! Get help from your local League or find an organization on the list on the left menu!
10 actions to mobilize Texas voters!
Talk to your friends, family, and coworkers about voting - stay nonpartisan!

Help create a culture of voting in Texas!

Take a child, a friend or a loved one with you to the polls
Learn the dos and don'ts with the Best Practices for GOTV.

Provide voter registration opportunities.
Get Out the Vote with League nonpartisan resources (designed for your use).
Find a Local League and collaborate with the League in providing your school or organization with voter registration, voter education, voter mobilization, and candidate forums.
Review the availability and adequacy of voter and elections information on your local official county website.
Promote voting at your place of work!

Teachers: Draw on ready-to-use lessons, activities, and supplemental materials to prepare students to be responsible voters and citizens, found at
Organizations:

Promote voting within you social network!

Post messages that work on your personal Facebook page and Twitter account.
Follow and share League social media posts. Here are the links to national, state, and local League social media sites.

Have your elevator speech ready!