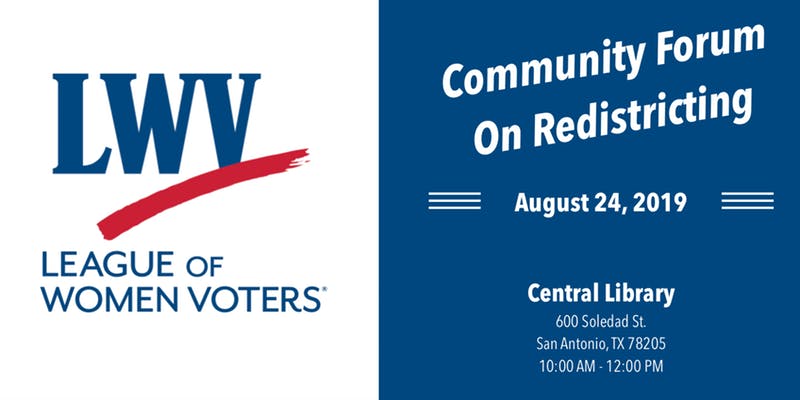 Location
Central Library
San Antonio
78205
US
Saturday, August 24, 2019 - 10:00am
The League of Women Voters of San Antonio invites you to take part in a Community Forum on Redistricting aimed at mobilizing our community for the Texas Legislature's upcoming public input hearings.
Texas is beginning the process for the 2021 re-drawing of state and federal legislative districts. Starting in the fall of 2019, the Texas House Redistricting Committee is planning Public Input Hearings for the 2021 redistricting. A hearing is tentatively scheduled for San Antonio on Thursday, September 12, 2019.
Public comments at the hearings will be used to assist the Legislature when it draws district boundaries. The focus of public testimony is to provide suggestions about improving the redistricting process and information about a region's unique geographic and demographic characteristics from those residents most familiar with their own neighborhoods.
Speaking up about your community is critical to ensuring district lines are drawn to keep your community whole and grouped with nearby communities with similar interests. This ensures that your voice is heard by your elected leaders across all kinds of government decisions.
We will be hosting a Community Forum to help citizens prepare testimony for the House Redistricting Committee's hearing. The event will be broken down into three sections:
10:00 AM Panel Discussion
State Sen. José Menéndez, Dist. 26, Member of the 2021 Senate Redistricting Committee

Rogelio Sáenz, Former Dean of the College of Public Policy at UTSA, Demographer and Sociologist

Joaquin Gonzalez, Attorney and Fellow, Texas Civil Rights Project

Jose Garza, Voting Rights Counsel for the Mexican American Legislative Caucus

Stephanie Swanson, Issue Chair of Redistricting & Census, League of Women Voters of Texas
11:00 AM Breakout Sessions to Prepare Testimony
12:00 PM Mock Panel to Practice Giving Testimony
If you would like to get a head start on preparing your testimony, please check out the Redistricting Toolkit on our website: https://my.lwv.org/texas/public-input-hearings
If you have any questions about the event, please contact Evelyn Bonavita, LWV San Antonio, ebonavita@satx.rr.com