The Elections Office has begun mailing out mail-in ballots. The governor's order extending the time period for early voting also made it possible for those who vote by mail to deliver them in person to the Elections Office from the time they are received.
You do not have to wait until Early Voting begins to return Vote by Mail (VBM) ballots in person. Voters can hand-deliver ballots to the Hays County Government Center, 712 S. Stagecoach Trail, San Marcos, TX 78666.

To the left of the main entrance is a door marked Election Entrance.
Park at the end of the government center closest to Stagecoach Trail, then enter the building from that outside door to the left of the main entrance.

Rather than entering the elections office on the right, there will be a station there in the hallway for voters to return mail-in ballots.
 
Your ID (drivers license, passport, or other allowable ID) is required, and you will be asked to sign a form. You will be able to turn in your ballot without ever entering the elections office.  You cannot drop off anyone else's ballot, only your own. 

Voters do not have to wait until in-person early voting begins.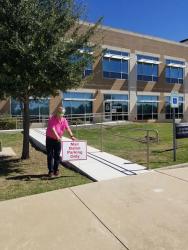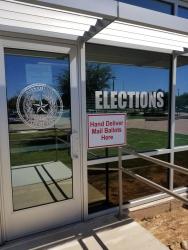 Hours for the Elections Office is 8:00 a.m. to 5:00 p.m. on weekdays. After Early Voting begins on October 13, they will have expanded hours for voting.
NOTE: YOU CANNOT DROP OFF ANYONE ELSE'S BALLOT, ONLY YOUR OWN.
Prefer to vote in person even though you received a mail-in ballot? Here's what you need to know.
Take your mail-in ballot with you to the polls to be voided by the Elections Judge. After completing the paperwork you can vote in person.
If you forget your mail-in ballot, you can be allowed to cast a provisional vote. That will require documentation by the Election Judge as well. It the Elections Office does not receive your mail-in ballot by Election Day (November 3), your provisional ballot will become your official vote.