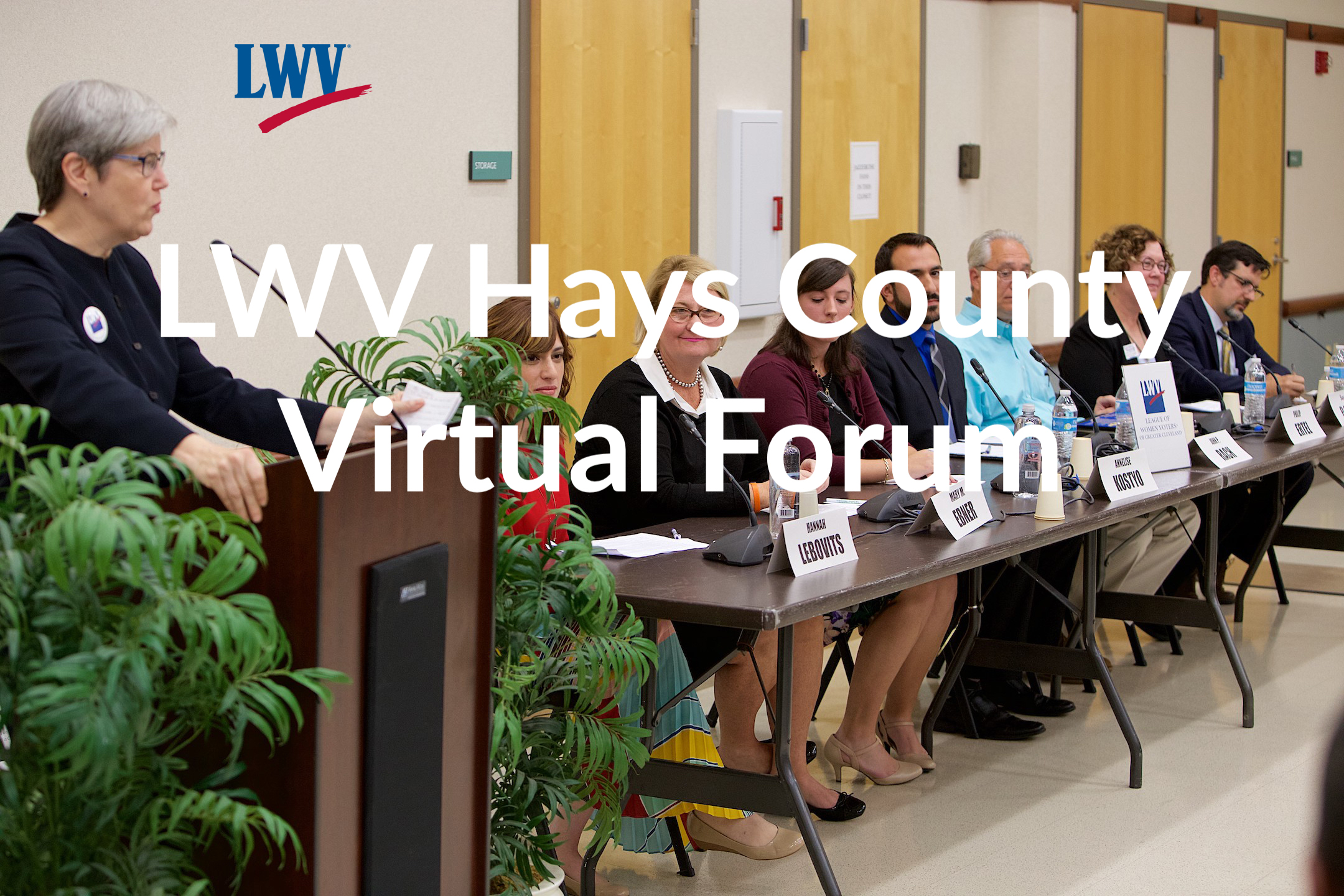 Hays County, TX –– The League of Women Voters of Hays County will hold 6 virtual candidate forums for Hays County positions. In addition to the city and county races, there will be a forum for the Texas House 45 candidates. You may watch the forums in a live webinar with the candidates or from recordings on the Hays County League website: lwvhaysco.com posted within 48 hours following the event. Space is somewhat limited in the Webinars so pre-register promptly to each event by copying the links from the schedule table below and pasting or typing them into a web browser. Once you have registered, you will receive a confirmation email with access links to the event. The forum schedule will also be on the lwvhaysco.com site and the Hays League of Women Voters' Facebook page. Mark your calendars. 
Modeled on previous LWV Hays County face-to-face election events, candidates will be asked questions prepared by the League of Women Voters with input gathered in advance from the community. You may submit questions up to one week in advance of the event date to lwvhaysco [at] gmail.com. Please put the RACE and the word "QUESTIONS" in the subject line (ex.: Constables Forum Questions). Or use our form at http://bit.ly/Q4Candidates.
Schedule: All forums will begin at 7:00 CST on the following dates. To virtually attend a live virtual event, use the bit.ly links in the schedule below to pre-register. You may view completed events, recorded, within 48 hours of each forum at www.lwvhaysco.com on the Forum Recordings page (under the Resources tab).
(Note: If the bit.ly link does not work for you, try an alternate browser.)