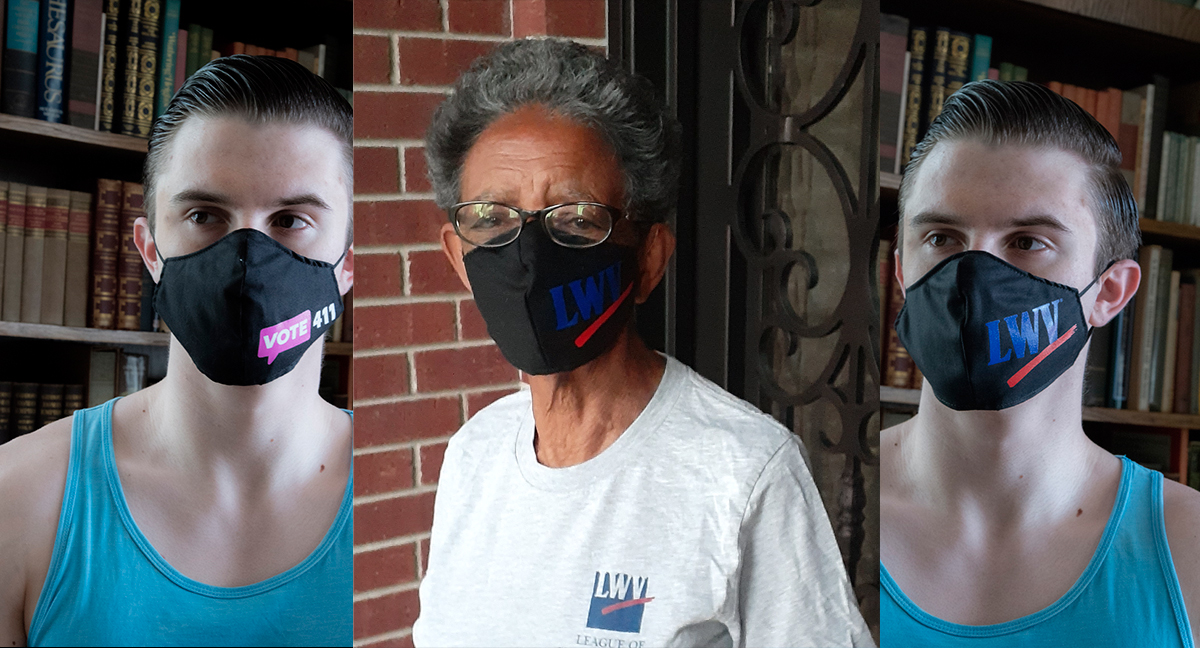 Our models above show the two styles of League face masks, one with VOTE411 and the other with the logo of the LWV – on different faces with and without glasses.
Your gift is a donation that helps support vital League initiatives. With restricted ability to fundraise in person, to register voters safely, and to turn out the vote, we are innovating. 
Our weekly print ads in three newspapers in the county (the San Marcos Daily Record, The Wimberley View, the Dripping Springs Century News) are part of our "Hey Hays Voter" messaging campaign, running each week for six months. We have a related Hey, Hays Voter campaign on Facebook as well. Messages include how to register to vote safely through Register2Vote.org which will mail voters a ballot filled out except for their signature, and even include an addressed, stamped envelope for voters to send their application in without any cost to them. Eligibility for voting by mail and a link to get the application is a second major message as are reminders on completing the census.
A postcard campaign for the runoff election succeeded in increasing the turnout among voters who had not voted since 2019.
Our Deputy Voter Registrars are preparing to hit the road with a pop-up voter registration campaign using a mobile contactless voter registration set-up in the trunk of their car. So far four vehicles are being outfitted with flags, signs, containers, forms, and registration material. They are set to hit the road in several Hays County towns.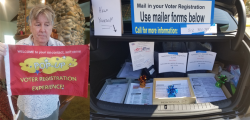 Then there are candidate forums to ensure voters will have the information they need to feel well-informed when they go to the polls. This year we are moving them online using Zoom Webinar technology.
We have had to get creative to carry out our mission.
When we budgeted for the 2020-2021 fiscal year, we had no idea of the many changes that would be required in our plan. We still hoped that the summer's heat would bring a reprieve. But nothing less will allow us to carry out our mission this year. Each of these cost money, money not budgeted.
The LWV HaysCo received a substantial donation allowing us to advertise in three county newspapers. But there are others we would like to include in the campaign, particularly the Hays Free Press and the Dripping Springs Dispatch-News.
So we hit upon a fundraising plan that also spreads the word about this important voting and civil rights organization and our nonpartisan online (and award-winning!) voters guide, VOTE411.org. Unique LWV and VOTE411 face masks.
Please complete the order form below so we have all the details.