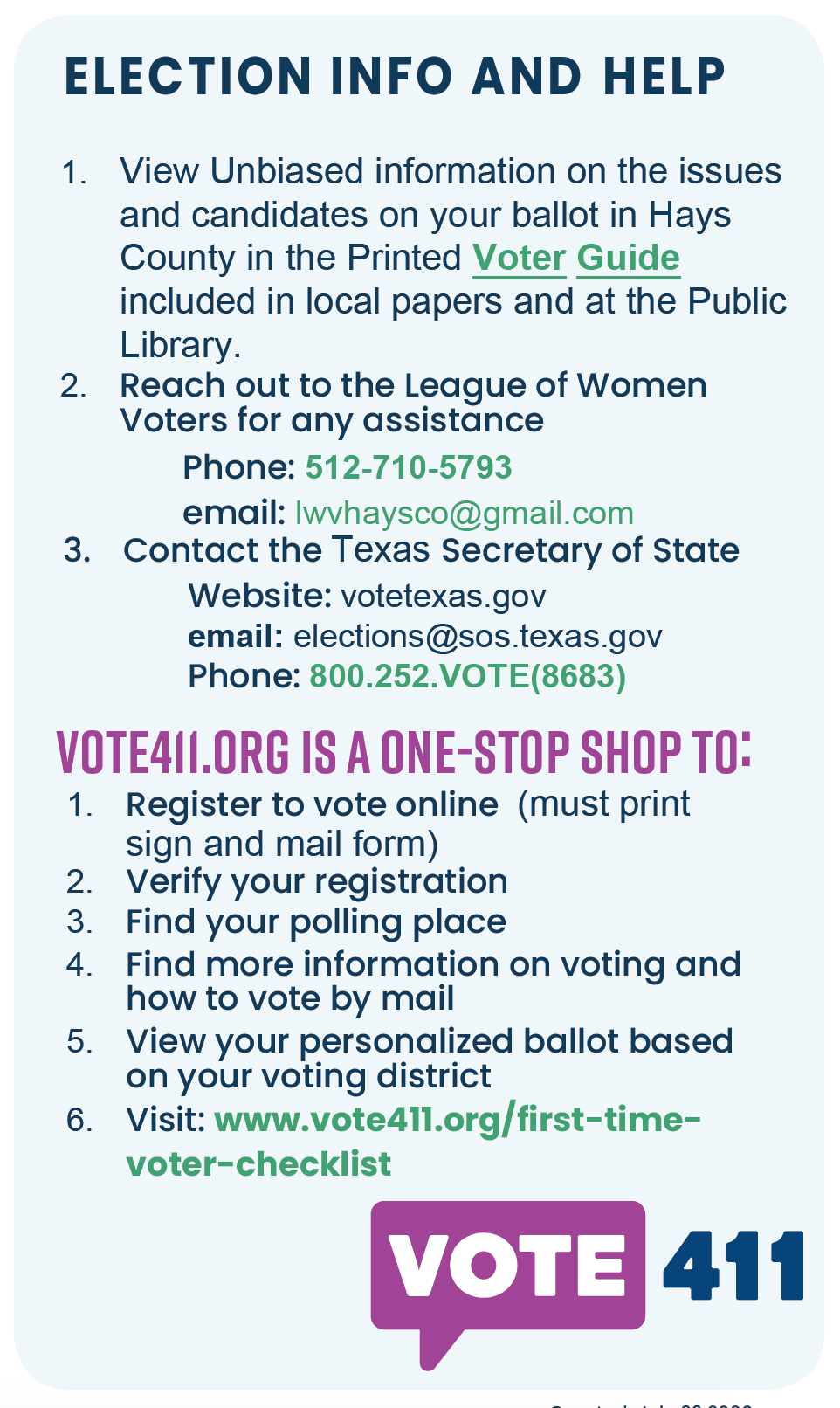 The League of Women Voters provides VOTE411, a free, non-partisan voters guide as a service to the voting public.
Perhaps one of the best known and most important offerings from the League is the Voters Guide.  Less familiar but equally important is Vote 411, where you can simply put in your address and obtain a wealth of election information including a copy of your own ballot.  (www.Vote411.org) 
In addition to providing general election information, Vote411 and the Voters Guide poses the same questions to each and every candidate running for a given office. Their responses are printed, without editing, typos and all, so you can compare responses and use that information to help make your decisions about voting.  Voters can take the Voters Guide and any other written materials they want into the polling place. Cellphone use, however, is not allowed.  The Voters Guide (Guía de Votante) is available in English and in Spanish, as is Vote411.org.
After getting a sample ballot from the Elections Administrator's Office, viisit www.VOTE411.org prior to each election to compare the viewpoints of the candidates for those races, select the candidate you prefer, and text or email yourself your candidate selections to take with you when you vote.
The website also offers links to general election information for the state of Texas, such as election dates, registration deadlines, and polling places in Hays County. You can check to make sure you are registered to vote in your county through a link to the state database available on the Vote411.org website.
Visit Vote411.org to find all the facts before you vote.
Enter your address to find the races on your ballot, your polling place, create your personalized voters' guide and find everything you need to vote! With your personalized guide, you will:
see everything that will be on your ballot,
compare candidates' positions side-by-side,
print out a personalized ballot with your choices to take with you on Election Day.
see other polling locations in Hays County that may be more convenient for you to vote at due to your daily commute*
* Hays County now uses Vote Centers on Election Day. Vote Centers allow voters to vote at any polling location in the county. (Early Voting already could be done at any Early Voting polling location.) A number of other, but not all, counties in Texas use Vote Centers on Election Day.
Are you a military or overseas voter? Overseas Vote Foundation provides nonpartisan voter services for U.S. citizens overseas and for uniformed services members.