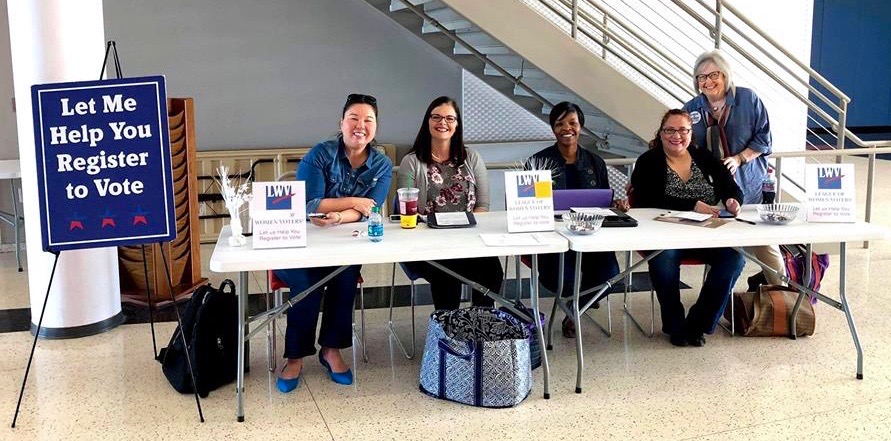 No League in your community? Start one!
You can use the "League at Large" (LAL) process to begin empowering voters and defending democracy in your community! 
With the League at large process the League of Women Voters of Texas takes on administrative functions so your League can get started registering voters, getting out the vote, educating voters, having forums and debates etc. for your community.  That means skipping typical start-up steps of establishing by-laws, incorporating, seeking non-profit status, and establishing financial management policies.
When you are ready, you can find out what the next steps are by becoming a free-standing local League.   Ask your coach or the state League office to find out what's involved.  
Here are 4 steps to follow to form a League using the League at large process:
Step 1. Learn about the League of Women Voters
Step 2. Take the first steps

Contact the state office at 

lwvtexas

[at]

lwvtexas.org

or call 

(512) 472-1100 to

let us know you are interested in forming a new League and to get help with any questions you may have.

We will be happy to assign someone to help you with the League at Large process. 

Fill out the "Start a League Interest Form." 
Find at least four other people who share your interest in starting a new League in your community and ask them to join as a state member and write in the county, city, or community where your group is starting a League.
From this group of people, form a Leadership Team consisting of a chairperson (who speaks for the League) and at least two other team members. 
At a meeting of your Leadership Team, share, discuss and commit to the League's nonpartisanship policy.  Vote to seek recognition as a new Texas League through the League at large Process.
Step 3. Formalize the relationship with the LWVTX
Complete a short stack of paperwork to formalize the relationship with the LWVTX
Email these items to the LWVTX office at lwvtexas [at] lwvtexas.org with your request for recognition as a new League. The League of Women Voters of Texas Board will vote on your request and if approved will fill out the LWVUS application for your new League! Watch for a welcome packet with some helpful "getting started" tips and tools.
Call the state League office at (512) 472-1100 with any questions or concerns that come up along the way.
Step 4: Get to work as a new League!
Activate your leadership team to:
Get together regularly over the next 3 months to put plans in place to get the ball rolling
Share and discuss nonpartisanship and diversity policies and any other necessary LWVTX policies.
Decide how you want to divide up the work – assigning roles and tasks to make democracy work© in your community.
Develop communication channels for members and the public, such as a website, Facebook, Twitter, an online newsletter, etc. (Be sure to follow League social media guidelines)
Be sure to read the monthly Action News!

 Take advantage of the information shared by LWVTX and LWVUS

Follow LWVTX

 and 

LWVUS

 on Facebook and 

@lwvtexas @lwv

 on twitter. Find great content to share and ideas for what you might do.

Receive email updates for League Presidents with news, reminders and resources.
Leagu

e team leaders should ask to join the LWVTX Leadership Facebook group

.
Sig

n up for  LWVUS League Update you can sign up to receive it. 

Use this form

.

 
Set some priorities for the year, with specific ideas about how your League wants to approach membership recruitment, voter education, voter services, get out the vote, advocacy, voter registration, and publicity.
Build your working calendar for the year around these priorities.
Decide how you want to introduce your League and the programs and priorities of the LWVUS and LWVTX to others in your community.
Develop a plan to take advantage of leadership training, mentors from other Leagues, the LWVTX board.
Grow your League by being visible, doing good work, and inviting others to join!
Thank you for making democracy work in Texas©!