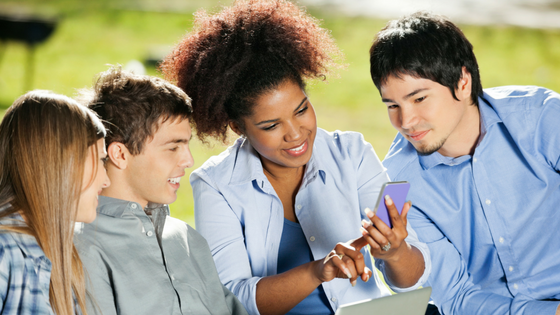 Promote the League's mission with social media and online technology. Check out the Social Media Playbook!
Increase the visibility of your League
Name your Facebook page "League of Women Voters -----"
Share: League events 

(city-specific redistricting training, program meetings, candidate forums, etc.)

, voter registration events, elections, government

communications and announcements

, pertinent community information and partner events

Follow and share LWVTX, LWVUS, and local League posts

In order to promote or advertise anything to do with voting and elections on Facebook, the administrator must

become verified
Policy & procedures
 

The League of Women Voters does not support or oppose any political party or candidate.

All Leagues shall follow LWVUS brand standards, VOTE411.org brand standards and ensure that the LWV brand is represented correctly, consistently, and professionally whenever it appears in print or online.
The president appoints administrators for websites and social media and determines who may post for the League without approval.
Postings should 

reflect support or not oppose League issue positions and 

be nonpartisan.
Administrators should
Use a photo/video release 
Images and postings should reflect your community

L

isten and respond to questions and feedback in a timely manner

Post frequently providing valid, relevant, and useful content

Use the official logo in avatar and postings

Use the full name of the League, ie League of Women Voters (name of League)

Use consistent hashtags #lwv, #LWVTexas, #LWVCollinCounty

Use consistent @lwvtexas @lwvhouston @lwvaustin

With the official League logo and use the full name of the League

Heed copyrights and fair use regulations

Stay gender-neutral when possible
Create a social media plan for your League
LWVTX resources
Voting & League history
Texas voting and election resources 
Official government resources
The following is a list of the official websites and verified social media accounts associated with the Office of the Texas Secretary of State: 
To report suspicious activity, misinformation, or a fraudulent account, email elections [at] sos.texas.gov or to the Texas Election Protection Coalition.
LWVUS resources
Nonpartisan resources
Leagues
 on social media
@LWVofDallas  @LWVHouston  @lwvkerrville  @LWVRichardson  @LWVSAA  
@lwvatx @lwvmidlandTX @LwvCCTX @lwvdenton @LWVCyFair 
@lwvfortbend  @lwvlavaca @lwvcomal @LWVTXMoCo
Facebook
League websites
Leagues may choose to have a website.  LWVUS and LWVTexas highly recommend using the MyLo website which provides an easy to use League template and fantastic customer service. Email 

tomylo

[at]

lwvc.org

 or call the MyLO Team: 916-442-7215 for more information
With MyLO, you can...
Have your state AND National League content automatically posted to your local League website when you sign up for a MyLO website
Co-host events with the state LWV as well as other local LWVs so the event appears on their websites as well
Choose from several new designs and menus!
Check out the local Leagues sites in Comal Area, Hill Country, and Hays County already using MyLO!