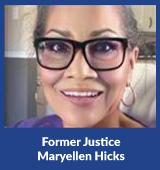 Former Justice Hicks was invited to participate in an interview about her political career, but was unavailable due to scheduling conflicts.
Awardee Selection Process
The Tarrant County Democratic Party joined with the League of Women voters this year to honor women in elected office. Women considered for the award included those currently serving in elected office and one who had served in the past. The League stipulated that awardees must currently live in Tarrant County. The Party put forward Former Justice Hicks for recognition as a 2020 Democracy Star.
Professional Honors
Named by the Houston Area Bar Poll in 1999, 2001, and 2003 as the number one Judge including District, Texas Supreme Court and Federal Judges.
Honored as an Outstanding Alumnae by Texas Woman's University and the Texas Tech School of Law.
Recognized as "Woman of the Year" by the Fort Worth Star-Telegram. Experience
First African American and first female justice on the Texas Second Court of Appeals, 1993-1994
First and only African American female to serve as a State District Judge in Fort Worth, Judge of the 231st State District Court, 1983-1993.
First African American Probate Court Master in Tarrant County, 1983
First African American and first female Municipal Court Judge and Chief Municipal Court Judge for the city of Fort Worth
Member of the National Bar Association, the State Bar of Texas, and former director of the Judicial Section.
Fellow of the Texas Bar Foundation
Currently a mediator and arbitrator in private practice and a Retired Visiting Judge for the state of Texas
President of the Black Women Lawyers of Tarrant County
Education
First African American to earn a Doctor of Jurisprudence from the Texas Tech University School of Law.
BA from Texas Woman's University.
Attended Texas Woman's University Graduate School.
Attended continued education courses at Harvard University Law School, University of Colorado, and Golden Gate Law School.
Family and Community
Proud parent of an adult daughter.
Served on the Advisory Board of Directors for the Campaign for Human Development and AIDS Outreach Center.
Served as co-chair of the Sister Cities Africa Committee.
Hosted Speak Out talk show on the KKDA Radio Station, for twenty years.
Founder of the African-American Summit for Peace, Justice and Equality.
Member of Delta Sigma Theta Sorority, The Chums Inc., and Lone Star Sista's,
Golden Heritage Life Member of the NAACP.
Federated Club member serving the Odessa Social, Civic and Arts Club, of which her mother was a founder.
*The League of Women Voters does not support or endorse any party or candidate.