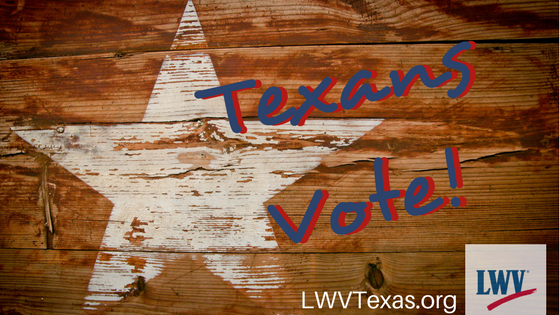 Empower Texas Voters!
Organizations, businesses, and schools can & should register voters & promote voting in Texas! Get help from your local League or find an organization on the list to the left!
10 actions to encourage Texans to vote!
One:  Talk to your friends, family & co-workers about voting! Stay nonpartisan!
Two: Provide voter registration opportunities! 
Three:  Get Out the Vote with League nonpartisan GOTV resources!
Four: Share League Voters Guide! or VOTE411.org 
Five: Support your local League! Contact to provide your school or organization with voter registration, candidate forums, issue education, local voters guide.
Six:  Review your county website for up to date voter & election information. Advocate for improvements!  Check out the League's evaluation of 254 Texas County Election Websites.
Seven: Help create a culture of voting in Texas! 
Eight:  For schools use League voting resources for educators!
Nine: For organizations use  
Be a Texas Voter Toolbox for Community Organizations  Learn more: NonProfitVotes.org
Ten:  Promote voting &  elections on your website & social media!