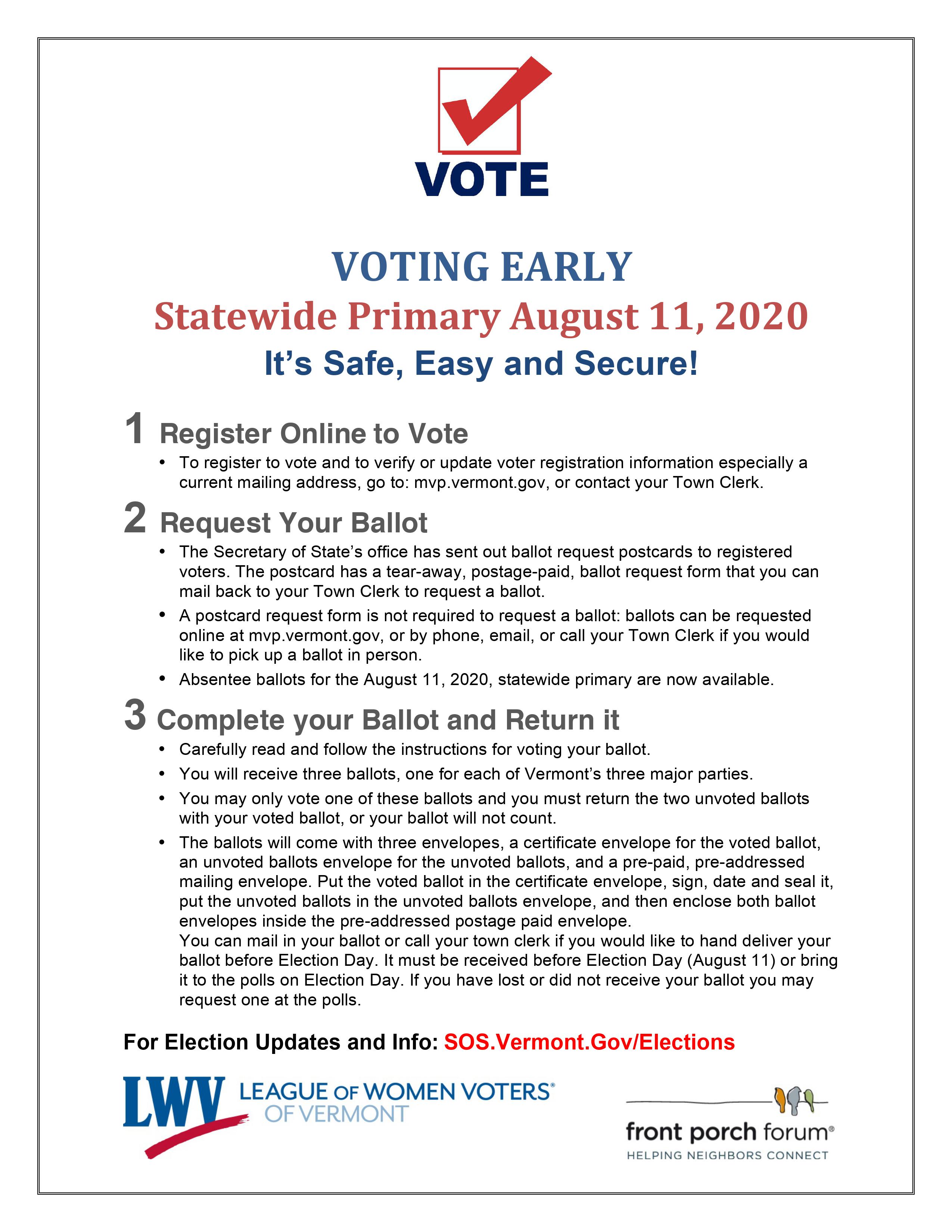 VOTING EARLY
Statewide Primary August 11, 2020
It's Safe, Easy and Secure!
1) Register Online to Vote 
To register to vote and to verify or update voter registration information especially a current mailing address, go to: mvp.vermont.gov, or contact your Town Clerk.
2) 

Request Your Ballot 
The Secretary of State's office has sent out ballot request postcards to registered voters. The postcard has a tear-away, postage-paid, ballot request form that you can mail back to your Town Clerk to request a ballot. 

A postcard request form is not required to request a ballot: ballots can be requested online at mvp.vermont.gov, or by phone, email, or call your Town Clerk if you would like to pick up a ballot in person. 

Absentee ballots for the August 11, 2020, statewide primary are now available.
3) 

Complete your Ballot and Return it
Carefully read and follow the instructions for voting your ballot. 

You will receive three ballots, one for each of Vermont's three major parties. 

You may only vote one of these ballots and you must return the two unvoted ballots with your voted ballot, or your ballot will not count. 

The ballots will come with three envelopes, a certificate envelope for the voted ballot, an unvoted ballots envelope for the unvoted ballots, and a pre-paid, pre-addressed mailing envelope. Put the voted ballot in the certificate envelope, sign, date and seal it, put the unvoted ballots in the unvoted ballots envelope, and then enclose both ballot envelopes inside the pre-addressed postage paid envelope. You can mail in your ballot or call your town clerk if you would like to hand deliver your ballot before Election Day. It must be received before Election Day (August 11) or bring it to the polls on Election Day. If you have lost or did not receive your ballot you may request one at the polls. 
For Election Updates and Info, visit SOS.Vermont.Gov/Elections