Here you will find important documents such as our Membership Application, Newsletters, Agendas and more!
Position on Affordable Housing Low-Income Seniors
Click here to read our local League adopted position on affordable housing for low-income seniors in the Fredericksburg area adopted in March of 2019.
2020 Facts for Voters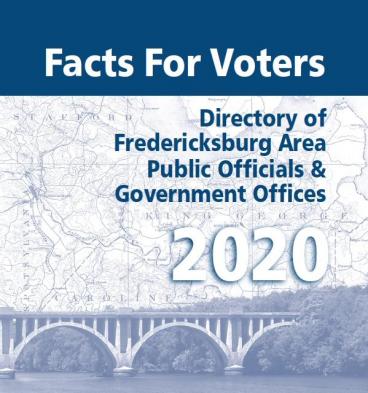 Now available in digital format, download the 2020 Facts for Voters! Compiled by the League of Women Voters of the FredericksburgArea, the Facts for Voters guide serves as a directory of Fredericksburg Area Public Official & Government Offices. In addition to the digital version, individual copies of the guide can be picked up at your local branch of the Central Regional Rappahannock Library!
Click here to download the 2020 Facts for Voters!
We would like to thank the following contributors for their generous support of Facts for Voters: Fredericksburg Area Association of Realtors®, Central Rappahannock Regional Library, Sue Botts, Lena Gonzalez Berrios, Elaine Diepenbrock, Marie Gozzi, Janet Kimbrell, Kay McKinney and Becky Reed.
Newsletters
2019-2020 Board Members
*you must be logged in to view this page.
Board Meeting Agendas
General Meeting Agendas 
General Meeting agendas will be published 4 days prior to the meeting.
Membership Application
We hope you will join our League!
Bylaws
Non-Partisan Policy
LWVFRA Flyer
Feel free to print our flyer as a way to share key information about our League!