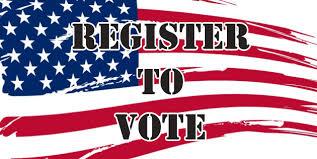 Click here to register online to vote via the Washington Secretary of State website. It's fast and easy! You can also confirm that your registration information is correct, and update your address at Vote WA. Ballots are NOT forwarded to new or temporary addresses. In-person voter registration is available at the Clallam County Auditor's Office at the County Courthouse. 
Back-to-School Voter Info Flyers
Feel free to download, print, and distribute these LWVCLA-created flyers in the community!
2020 Back to School - Voter Info flyer - WA original
2020 Back to Middle School - Voter Info flyer
2020 Back to High School - Voter info flyer
Helpful Voting Links
The Clallam County Auditor Voter Information: provides info about voting and voter registration in Clallam County.
The Clallam County Online Voter's Guide provides information on Federal, Legisilative, State, and County Candidates, as well as infomation on Measures. 
Washington State Voter Eligibility from the Secretary of State: find out if you are eligible to vote in Washington State.

Young Citizen Resource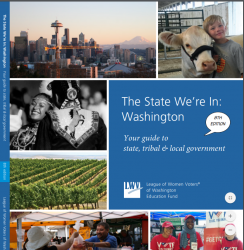 The League produces a highly acclaimed civics textbook, The State We're In: Washington - Your Guide to State, Tribal and Local Government, a friendly, easy-to-read primer that covers the basics of what government is, how it works, and why we should care about it. It is generously illustrated with graphs, photos and drawings.
The State We're In is the only book that includes historic and current Tribal government as an integral part of civics education. It's telling of Washington state's history is fully inclusive of all the peoples of our state.
Written for grades 7- 12, it is also a useful tool for ELL, GED and Basic Education programs. Its Teacher's Curriculum Guide is coded to all current state standards. Teachers, librarians and the Washington State Indian Education Association endorse it, and over 22,500 copies have been distributed statewide.
Online versions of The State We're In are available here.