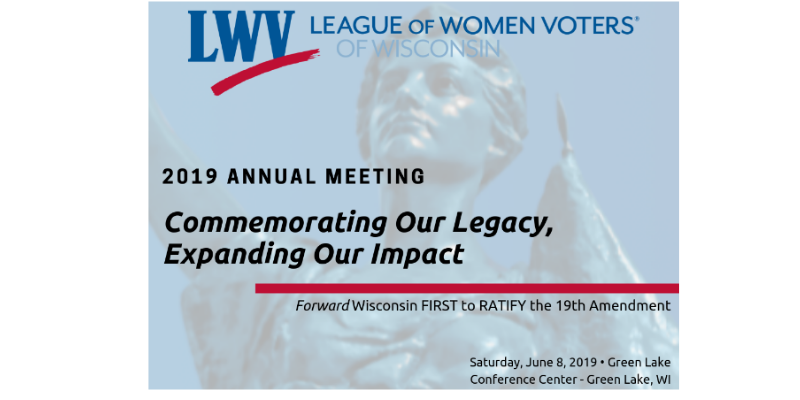 Location
Green Lake Conference Center
Green Lake
Wisconsin
54941
Wisconsin US
Saturday, June 8, 2019 -

8:30am

to

5:00pm
LWVWI 2019 ANNUAL MEETING
Saturday, June 8, 2019
Green Lake Conference Center
W2511 State Road 23 - Green Lake
Hosted by LWV Ripon Area
Commemorating our Legacy, Expanding our Impact
Members and friends of the League of Women Voters of Wisconsin are invited to attend the LWVWI's 2019 Annual Meeting on Saturday, June 8th, at the scenic Green Lake Conference Center, in south central Wisconsin. The one-day event will be filled with intra-League discussion on membership expansion efforts and best strategies for candidate forums, statutory plenary sessions, Meg McLane and Membership and Leadership Development (MLD) award presentations, and a contextual lecture on Wisconsin Suffrage history - kicking off the League's Centennial celebrations leading into 2020.   
Tentative Agenda
Saturday, June 8  - MoreHouse Hall in Bauer Lodge
8:30 - Continental Breakfast, Registration
9:00 - Welcome, Introductions, Announcements
9:15 - Parade of Leagues
10:15 - Plenary Session, Part I
11:15 - Break
11:30 - 6th Annual Zabelle Malkasian Guest Lecture
12:30 - Lunch and Networking - Buffet in Kraft Centre Dining Room
1:45 - Award Presentations: 2019 Meg McLane Award for Advocacy and 2019 Membership & Leadership Development (MLD) Awards
2:00 - LWVWI Staff Presentation: Candidate Forums and Voter Guides - Exploring Effective Tactics and Procedures
2:45 - LWVWI Staff Presentation: League Membership Expansion Efforts
3:30 - Break
3:45 - Plenary Session, Part II
5:00 - Adjourn
We are grateful to have LWV Ripon Area as host for this year's meeting. The small town of Ripon, just 10 miles down the road from the Conference Center, is rich in political history. It's home to the birthplace of the Republican Party (1854) and the birthplace of Carrie Chapman Catt (b. January 9, 1859). Chapman Catt was a leading voice in the final campaign for women's suffrage and key founder of the League. Plan to stop by her historical marker during your stay! Members of the LWV Ripon Area, will help you find your way.
We are very excited about gathering together amid so much relevant and influential local history to conduct the League's business, be inspired, and launch the Centennial celebrations of the League and the passing of the 19th Amendment. Please plan to join us on June 8th!
LODGING INFORMATION
The Green Lake Conference Center, site of LWVWI 2019 Annual Meeting on JUNE 8, is now taking lodging reservations for our group. Individual overnight reservations can be made by calling Guest Services at 920-294-3323. A block of guest rooms for Annual Meeting attendees will be held by the Conference Center through Friday, April 12th. Be sure to identify your affiliation with LWVWI Annual Meeting when making your reservation. Room pricing is $129/night unless you want to take additional meals at the Conference Center while you are there. Please note: Registration for Annual Meeting includes light breakfast fare on Saturday morning and a Saturday lunch buffet.
EVENT REGISTRATION INFORMATION
Registration for the LWVWI Annual Meeting on June 8 is open and available to the public as well as League members. 
FAQs
What is the Registration Fee and Registration Deadline?
Tickets for Annual Meeting are $50 for full attendees and $20 for students. The registration deadline for this event is Thursday,May 23, 2019.
What's included in the registration fee?
The registration fee provides access to the full day's events and includes light breakfast fare with regular and decaf coffee and hot tea, and an all-you-can-eat buffet lunch that meets all dietary needs.
Do I need to be a member of LWVWI to attend this Conference?
Anyone can attend on Saturday. We welcome members and nonmembers, men and women. No, you don't need to be a member of LWVWI, but we encourage you to join your local League or become a member at large. You can find out more information at Annual Meeting.
Where do I park and enter the building for the event?
The Annual Meeting will be held in Morehouse Hall in the Bauer Lodge building on the grounds of Green Lake Conference Center - see grounds map. Onsite parking is available.
If you have any questions, please contact our office - email: lwvwisconsin [at] lwvwi.org or phone: 608-256-0827
Watch for updates about the Annual Meeting on the website, in the state League's e-news updates, or from your local League. Sign up for the LWVWI State office updates and E-Action Alerts.