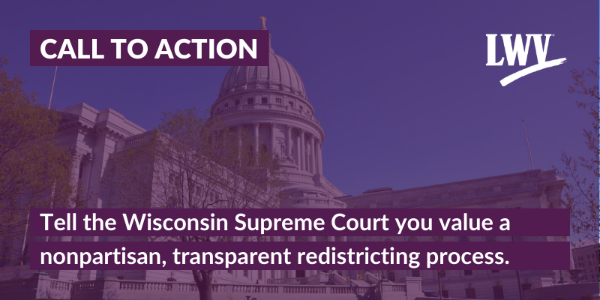 Time Range For Action Alert:
November 19, 2020

to

November 22, 2020
Submit a Public Comment to the Supreme Court
You deserve to choose your elected representatives, not the other way around. Currently, Wisconsin's gerrymandered districts allow for the latter, and a petition in the Wisconsin Supreme Court threatens the possibility of this happening for another 10 years.

In June, the Wisconsin Institute for Law and Liberty (WILL) filed a petition requesting that the state Supreme Court should claim jurisdiction on any future redistricting legislation, effectively limiting the review of fair maps and rushing the process altogether.

This guidance is undermines judicial process and is harmful to the public interest. For example, it requires that political parties be heard by the Court in a dispute about new maps, but doesn't give the same rights to nonpartisan groups like unions or membership organizations such as the League of Women Voters. This means groups who have in the past challenged gerrymandering on behalf of their members could be excluded from the Court's process.

Finally, the proposed rule also gives the Court the option to disregard the processes and requirements set forth in the rule itself — making the procedures optional. This does not provide a fair set of rules for everyone to play by, or an inclusive legal process that will ensure the Court has the necessary facts and viewpoints it needs to conduct an appropriate legal review. 

Join us in holding the Supreme Court of Wisconsin accountable by submitting a written comment on this proposed rule change. We recommend highlighting the fact that this rule will harmfully politicize the Court, exclude nonpartisan groups from full participation, and limit judicial transparency. The deadline to comment is November 22 at 5 p.m.
Click here to submit a comment:   https://www.fairmapswi.com/comment
Issues referenced by this action alert: