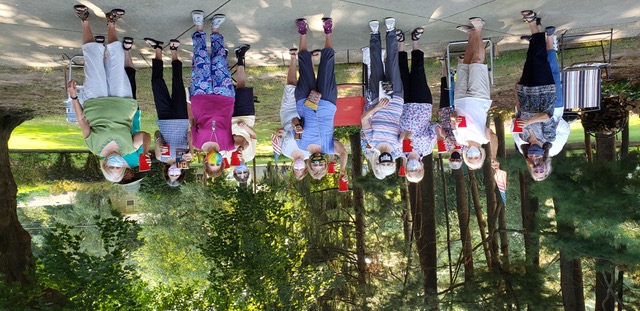 Date of Release or Mention:
Friday, September 11, 2020
Sias                                                                    Kalvitis
BELOIT—The League of Women Voters Beloit continues to celebrate the 100th anniversary of women's right to vote by holding educational events to increase voter turnout and more.
The League will hold upcoming webinars, assist voters with getting absentee ballots and host a candidate forum in October via Zoom.
"Lots of League members are interested in getting people registered and out to vote," Beloit League of Women Voters President Susan Adams.
Next week the League along with NAACP Beloit will be stufng envelopes with absentee ballots for Beloit City Clerk Lori Stottler Sept. 14-16. One of the League's youngest members, Sam Erickson at Beloit College, is on the League board and is getting involved in efforts to get out the vote on campus.
A League webinar will be held at 930 a.m. Saturday, Sept. 12 with the airing of "The Woman's Hour Has Struck: Wisconsin's Role in the Women's Suffrage Movement." Speaker Jenny Kalvaitis, formerly of the Wisconsin Historical Society, will take a march through suffrage history exploring the stories of leaders, tactics, losses, and victories as women worked for the right to vote. People can register at: https://attendee.gotowebinar.com/register/6562984215849121552
The second webinar will be held at 930 a.m. Saturday, Sept. 19 with the airing of "Exchanging the Baton of Political Leadership from Him to Her." Speaker Thelma A. Sias, a retired executive, will talk about making sure everyone's right to vote is ensured, as well as actively encouraging all people to make sure their voice is heard. Following her presentation, a panel of local organization leaders from the League of Women Voters, NAACP Beloit, and others will share their plans for voter education and ask for involvement in this work.
Lisa Johnson of League Janesville will talk about reaching out to inmates at the Rock County Jail, Dorothy Harrell of the NAACP will talk about what NAACP is doing to get out the vote and League Beloit Voters Services Chair Pat Zody will speak about Sept. 22 in person voter registration day at the Beloit Public Library and other ways to get involved. Rock County Clerk Lisa Tollefson will answer questions.
People can register at: https://attendee.gotowebinar.com/register/8230339723301849104
Both webinars are free and open to the public. People can also make reservations for one or both on League of Women Voters Beloit's Facebook page.
The League of Women Voters Beloit also will be holding a candidate forum from 6—8 p.m. on Wednesday, Oct. 7 via Zoom.
The event is sponsored by the League of Women Voters of Beloit and Janesville, the Greater Beloit Chamber of Commerce, NAACP Beloit Chapter and Wisconsin Health Professionals for Climate Action.
The first segment will be for the 31st Assembly District with Rep. Amy Loudenbeck, R-Clinton, and opponent Democrat Elizabeth Lochner-Abel. Wisconsin Assembly District 45 Rep. Mark Spreitzer, D-Beloit, and Republican opponent Tawny Gustina will be at 705 p.m.
The forum will be made up of prepared and audience questions. The audience questions will have to be submitted ahead of time. More information on registration will be coming soon.
Article by Hilary Gavin of the Beloit Daily News. Published on September 10, 2020
League to which this content belongs:
Beloit