Home
News and 

Announcements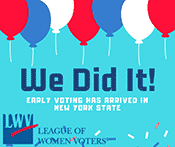 LWVNYS Statement on Voting Reform Package
We did it! We have passed a package of comprehensive voting reforms in New York State! After more than three decades of fighting for election modernization, the state legislature has finally passed a package of voting reforms that includes early voting, same day voter registration, no-excuse absentee voting, primary consolidation, pre-registration for 16 and 17 year olds, state-wide voter registration transfer, and closure of the LLC loophole.  The League will continue to advocate for funding for many of these reforms. Stay tuned for updates on the statues as the session continues.
Governor Cuomo 2019 Justice Agenda
In a speech on 12/17/2018, Governor Cuomo unveiled a 20 point agenda for the first 100 days of the upcoming legislative session. Read the 20 points here. 

2019 NYS Legislative Calendar
The NYS Legislature released its session calendar on 12/12/2018. 

Teaching High School Students How to Engage in Politics


The state League and the NYS Social Studies Supervisory Association (NYS4A) are pleased to announce the publication of seven lesson plans on state and local government for teachers of the New York Grade 12 Participation in Government course. 
Legislative Action
FIND OUT WHAT CURRENT LEGISLATIVE ACTION THE LEAGUE IS TAKING
On January 29th the League testified before the Joint Budget Committees on Public Protection in favor of $9 million in funding for early voting in New York State. Read Testimony.
League Joins Lawsuit Challenging 25 Day Voter Registration Deadline
The League of Women Voters of NYS joined The New York Civil Liberties Union, American Civil Liberties Union, and the law firm Latham & Watkins LLP  to file a lawsuit today challenging New York's 25-day voter registration cutoff for arbitrarily disenfranchising tens of thousands of eligible voters. See the press release and the complaint. 
Make every day Thanksgiving. VOTE with your consumer dollars to prevent food waste.
Beth Radow, chair of the NYS League's committee on energy, agriculture and the environment has prepared a BE EARTHWISE

guide for you to VOTE with your consumer dollars and daily practices to toss less food & feed more people while saving money and our natural resources. Also, watch Beth Radow's interview with League member Ina Aronow on the environment and making a difference against climate change--with a focus on food. 
League Communication