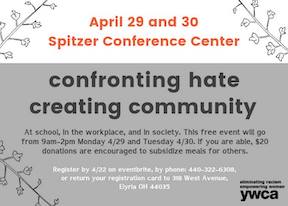 Location
Spitzer Conference Center LCCC
Elyria
Ohio
44035
Ohio US
Monday, April 29, 2019 - 9:00am
APRIL 29TH AND 30TH
9:00am-2:00pm each day
Lunch included
Presented by the YWCA
Co-sponsored by numerous organizations including the LWV of the Oberlin Area
Join us to live our values and sow seeds for peace in our community. This timely event includes speakers, Break-outs, and table dialogues to help us build a healthy community that affirms differences at school, in the workplace, and in our broader society. Professional development CEU's will offered.

Attend for one or both days of the conference. This event is being offered for free to those who are not able to pay, however a $20 free-will donation is suggested for those who are able to subsidize meals. Registration is required and will be limited. Please RSVP by April 22nd.

Register on Eventbrite, by phone at 440-322-6308, or by returning your paper registration form to the YWCA at 318 West Ave., Elyria OH 44035.
View this flyer for additional information: confronting hate flyer.pdf