Location
LCCC Spitzer Conference Center—Reaser Grand Room
Elyria
Ohio
Ohio US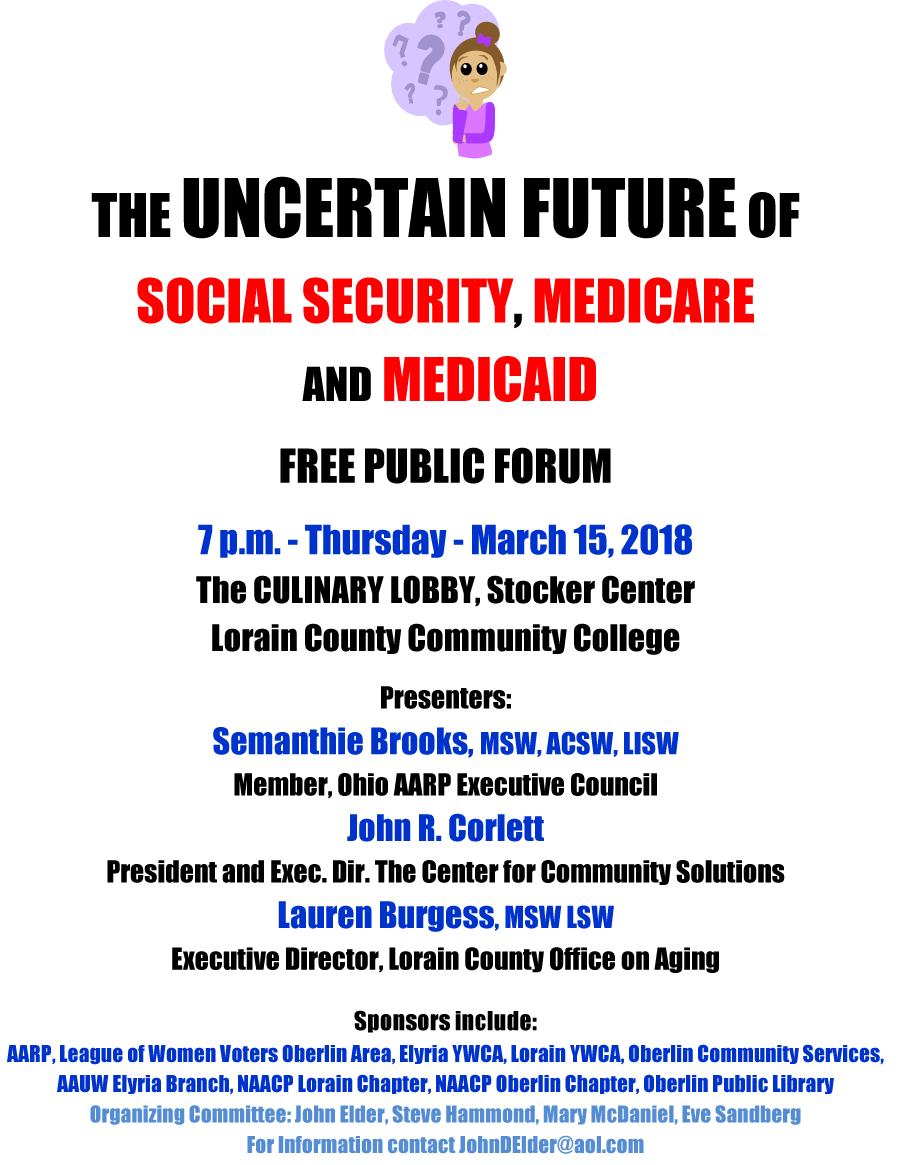 Thursday, March 15, 2018 - 7:00pm
 Future of Social Security, Medicare and Medicaid in question
Are you concerned about what may happen to programs you and your loved ones depend on?   Then come to the free forum at 7 p.m., Thursday, March 15 at LCCC on "The Uncertain Future of Social Security, Medicare and Medicaid."
Presenters include Semanthie Brooks, Member of the AARP Ohio Executive Council, John R. Corlett, President and Executive Director of The Center for Community Solutions, and Lauren Burgess, Executive Director of the Lorain County Office on Aging.
Semanthie Brooks, MSW, ACSW, LISW, is a retiree of the Benjamin Rose Institute on Aging.  During her tenure she held a variety of leadership positions focused on enhancing services for older adults and their care providers throughout the State of Ohio.
Mr. Corlett has served as the State of Ohio's Medicaid Director and as vice president for governmental relations and community affairs at The MetroHealth System.  He is the recipient of numerous awards for his leadership roles in community organizations focused on families, children, behavioral health and women's health.
Lauren Burgess, MSW, LSW, has served for seven years with the Lorain County Office on Aging and was appointed to the executive position in January of this year.  The Office on Aging serves the County's older adults and adults with disabilities.
The forum will be held in The Culinary Lobby connecting the Stocker Center and the Spitzer Center.  Sponsors include the Ohio AARP, League of Women Voters Oberlin Area, Elyria YWCA, Lorain YWCA, Oberlin Community Services, AAUW Elyria Branch, NAACP Lorain Chapter, NAACP Oberlin Chapter, and the Oberlin Public Library.  The organizing committee includes Rev. Steve Hammond, Mary McDaniel, Prof. Eve Sandberg, and Rev. John Elder. For more information contact Rev. Elder at 440-774-2947.