How Does The League Select Issues for Emphasis?
In League, Program means the issues that we choose for concerted study, education and action at local, state and national levels. Program can include both education and action.
The Program Planning process is part of what makes the League a grassroots organization; each League member has the opportunity to influence the selection of issues where the local, state, and national League will focus time, talent and money.
Every two years, members of local Leagues engage in Program Planning. Based on the results of this, the Board of Directors makes recommendations to the biennial convention delegates about the program to be adopted for the coming two year period. 
 Take Action! 
January 15, 2018 
Fair Districts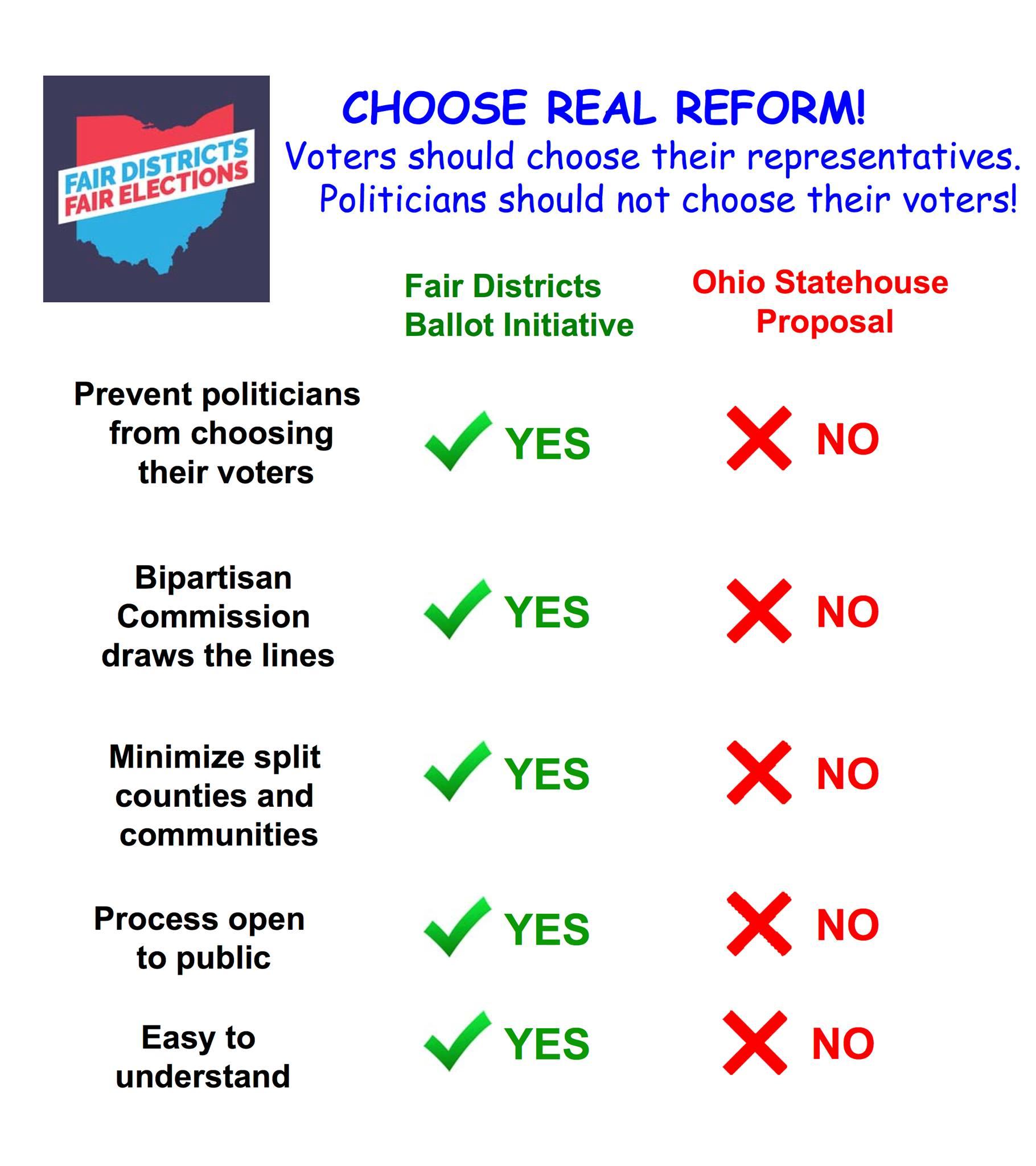 Ohio Republicans released the broad outlines of their proposal. Unfortunately, it will NOT end gerrymandering in our Congressional districts. 
Contact the Working Group members, as well as your state representative and senator. Tellthem: 
Voters want real reform. The proposal must ensure bipartisan map-making and prevent politici
ans from choosing their voters. Communities should be kept together. Large counties deserve protection just as much as small counties. 
We need a more public process. This is important, and they are trying to rush something through! The public needs to see this proposal in writing so that experts and the public can weigh in on this important change to the Ohio Constitution. 
Working Group Members:
Kirk Schuring (Repr, R-Canton) 77 High Street 14th Floor, Columbus OH 43215 (614) 752-2438
Jack Cera (Repr, D-Bellaire) 77 High Street 10th Floor, Columbus OH 43215 (614) 466-3735
Matt Huffman( Sen, R-Lima) 1 Capitol Square 1st Floor, Columbus OH 43215 (614) 466-7584
Vernon Sykes (Sen, D-Akron) 1 Capitol Square Ground Floor, Columbus OH 43215 (614) 466-7041 
Advocate for weekend voting to make it accessible for working people.
Write: House Committee on House Administration leadership Gregg Harper, 2227 Rayburn HOB, Washington, DC 20515 Robert Brady, 2004 Rayburn HOB, Washington, DC 20515 
Script: I'm a voter from [State], writing to express my enthusiasm for weekend voting which reflects 21st-century Americans' needs and increases participation. I would like you to use your position on the House Administration committee to bring the Weekend Voting Act (H.R.1094) to a vote. Thank you. 
Bonus: Write your own House rep to express support. 
Advocate for paper backups on all voting machines.
Write: Senate Rules and Administration leadership Richard Shelby, 304 Russell SOB, Washington, DC 20510 Amy Klobuchar, 302 Hart SOB, Washington, DC 20510 
Script: I am a voter from [State], writing to express my support for the bipartisan Secure Elections Act (S. 2261). Providing voting paper trails in elections increases voter confidence, improves audits, and decreases 
hacking risks. Please use your position on the SSRA Committee to bring this bill to a vote. Thank you. 
Local Issue: Landfill in New Russia Township
[Disclaimer: Linda Miller lives on Butternut Ridge Road and personally advocates againstRepublic Steel's requests to close a section of Butternut Ridge Road or expand the landfill beyond current agreement.] 
The Ohio EPA has announced that Republic Services has applied for an additional 90 footvertical expansion of the landfill on Butternut Ridge Road. The application will be presented tothe New Russia Township Trustees on February 22, 2108 at New Russia Twp. Hall, 7:30 pm.Please mark your calendars to attend and give public input. 
Or, write to the Trustees to voice your opposition to this expansion. 
Jack Hoyt 
Patti Brusker 
Kelly Cameron 440-714-0388 
http://newrussiatownship-oh.gov/contact-the-township/ 
Gratitude 
Call Sen. Dianne Feinstein's office and thank her for the release of the Fusion GPS testimony:(202)224-3841. Wait a couple of minutes and talk to a live person. They are recording the zip codes of those calling, we imagine to show that people from around the country appreciate the release of this document.