VOTE411 Update - April, 2022
The League of Women Voters of Delaware has launched its user-friendly VOTE411 online guide to the state's May 10 school board elections in hopes of reversing the historically poor turnout at these elections, which typically brings out only ten percent of eligible voters. 
To find your personalized school board ballot, go to https://www.vote411.org/ and enter your address.  You can also find your polling location and upcoming candidate forums.  If your candidate has not responded, please email them to ask that they fill out the Vote411 survey so you can learn more about them.
If you are interested in reviewing the diverse candidate responses across the state, use this link.

Help us promote Vote411 and School Board elections, by posting the attached on your Facebook Page or Nextdoor Site.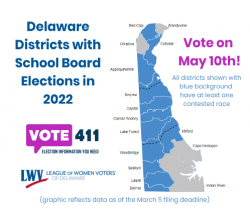 What is VOTE411?
VOTE411 is the League of Women Voters' online voter guide platform. Local Leagues from around the country gather candidate information in their area and provide it so the voters can learn about the candidates before they go to vote. In addition to candidate profiles, VOTE411 also provides general election information, now in both English and Spanish.
League to which this content belongs:
Delaware