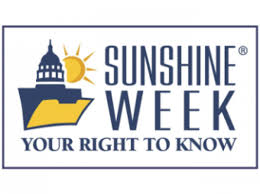 Location
Chico Branch of the Butte County Library
Chico
California
95926
California US
Thursday, March 14, 2019 - 7:00pm
In recognition of Sunshine Week's annual nationwide celebration of access to
public information, LWVBC is sponsoring a free public informational forum.
Law Enforcement Records: Public or Private?
Open to the public, the forum will be held Thursday, March 14 from 7:00 to 8:30pm (doors open at 6:30) at the Chico Branch of the Butte County Library, 1108 Sherman Avenue.
Butte County Sheriff Honea,
Margaret Swick and Emily Alma of Concerned Citizens for Justice, and Dave Waddell of ChicoSol comprise the panel.  
There will be a question and answer session following the panel.  Topics include:

 
• Public access to public records

 
• Are "your" law enforcement records public?

 
• Process to access records

 
• New SB 1421: Law Enforcement Records: Public or

 
Private

 
• Remedies if access denied

 
• Alternate means for transparency, public review and

 
oversight.