2019
January 24: LWV of Butte County Annual Potluck & Program 
What will Voting Look Like in 2020 ? 
Our County Elections Officer, Candace Grubbs reflects on voter turn-out and voting technologies used in recent 2018 elections, shares with us what's on the horizon.
We learned about voter registration, provisional ballots, and potential voter service centers. 
We are also proud to announce the winner of the LWVBC Mita Markland Award for Outstanding Community Service. Linda MacMichael.  
January 19: 
Women's March - Chico, CA 
2018
September Meeting 
Fall Coffee and  panel presentation concentrated on practical solutions to the lack of affordable housing in our community, including housing the homeless, what constitutes low-income affordable housing, and what is and will be available into the future.
Invited speakers included Robert Trausch from the Chico Housing Action Team, Charles Withuhn from Simplicity Village, Jennifer Griggs from the Butte County Continuum of Care, Ed Mayer from the Butte County Housing Authority and Ron Reed, a local attorney.
June 28-July1:
LWVUS 2018 Convention, Chicago, IL 
Delegates from LWV Butte County were Debra Barger, Elaina McReynolds and Jane Wanderer.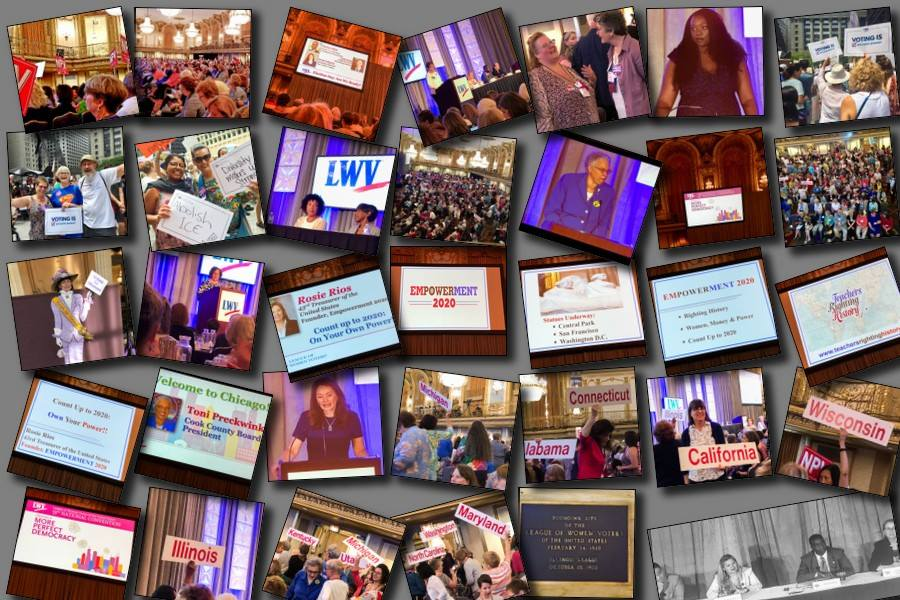 June 14:
Reminiscing about Candidate Forums following Voter Service Director Rose Kelley's Departure. Butte County benefited greatly from her efforts and LWVBC wishes her well in South Dakota.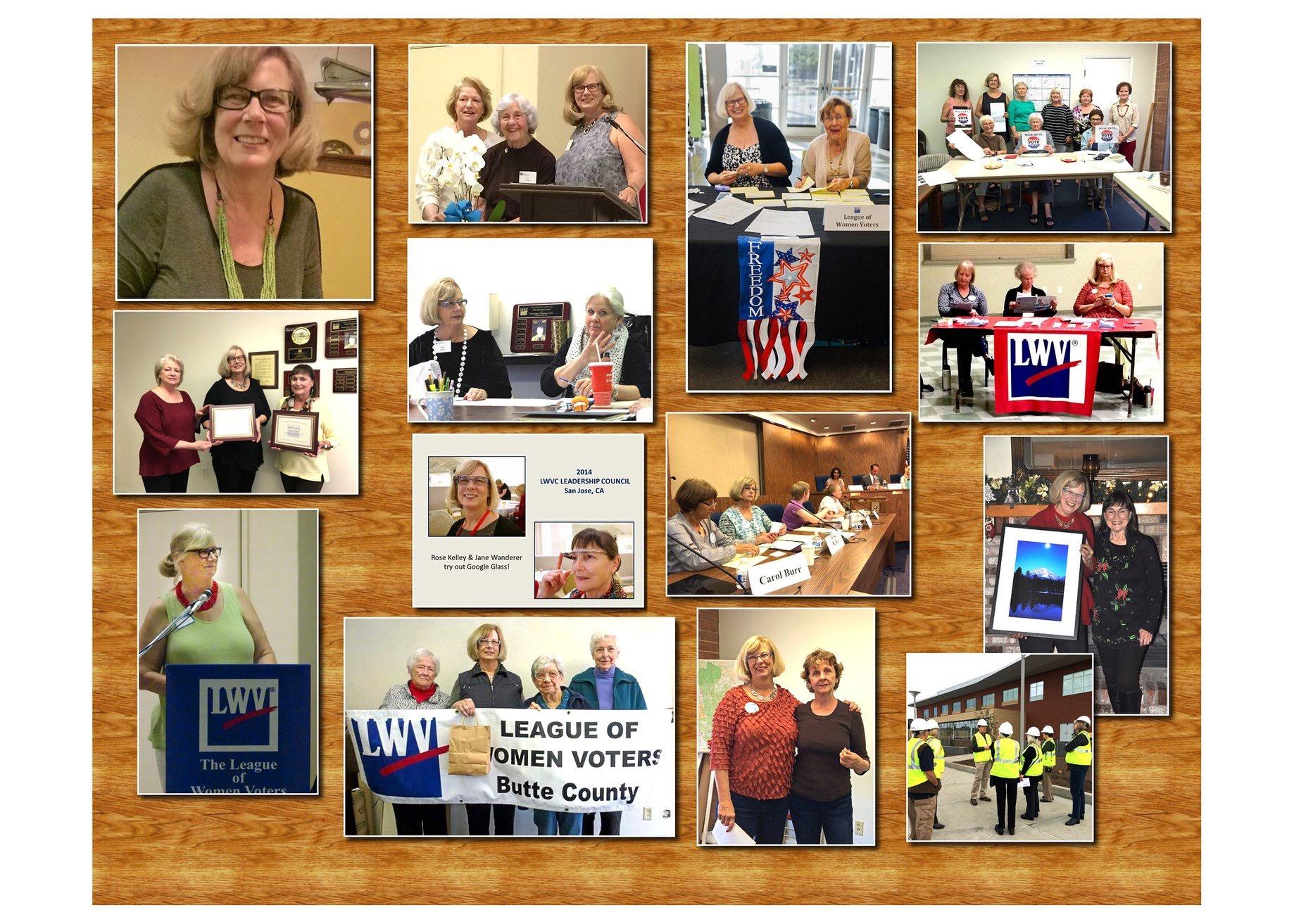 May 9: League Members Working at  Forum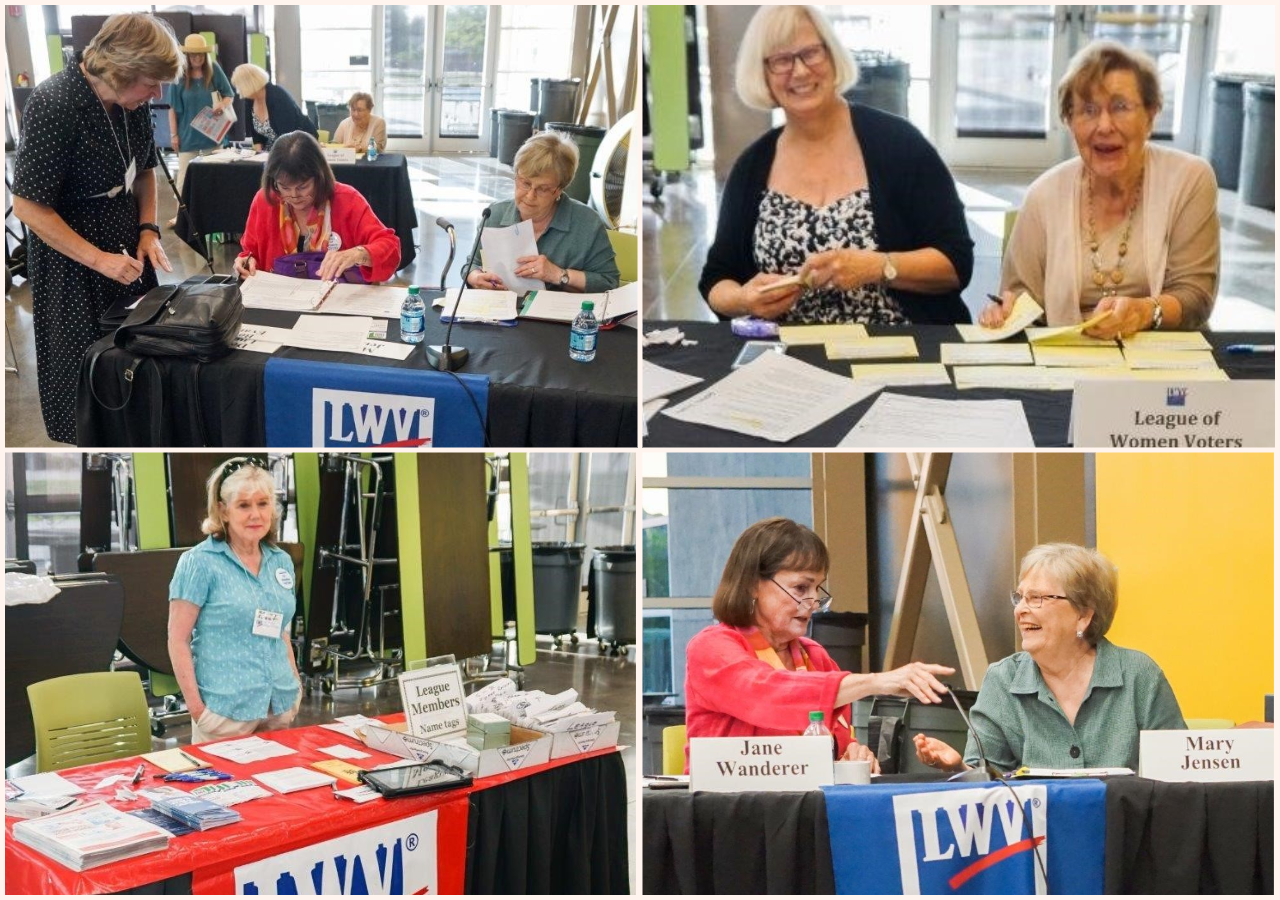 May 9:

Butte County Supervisors, District 2 and 3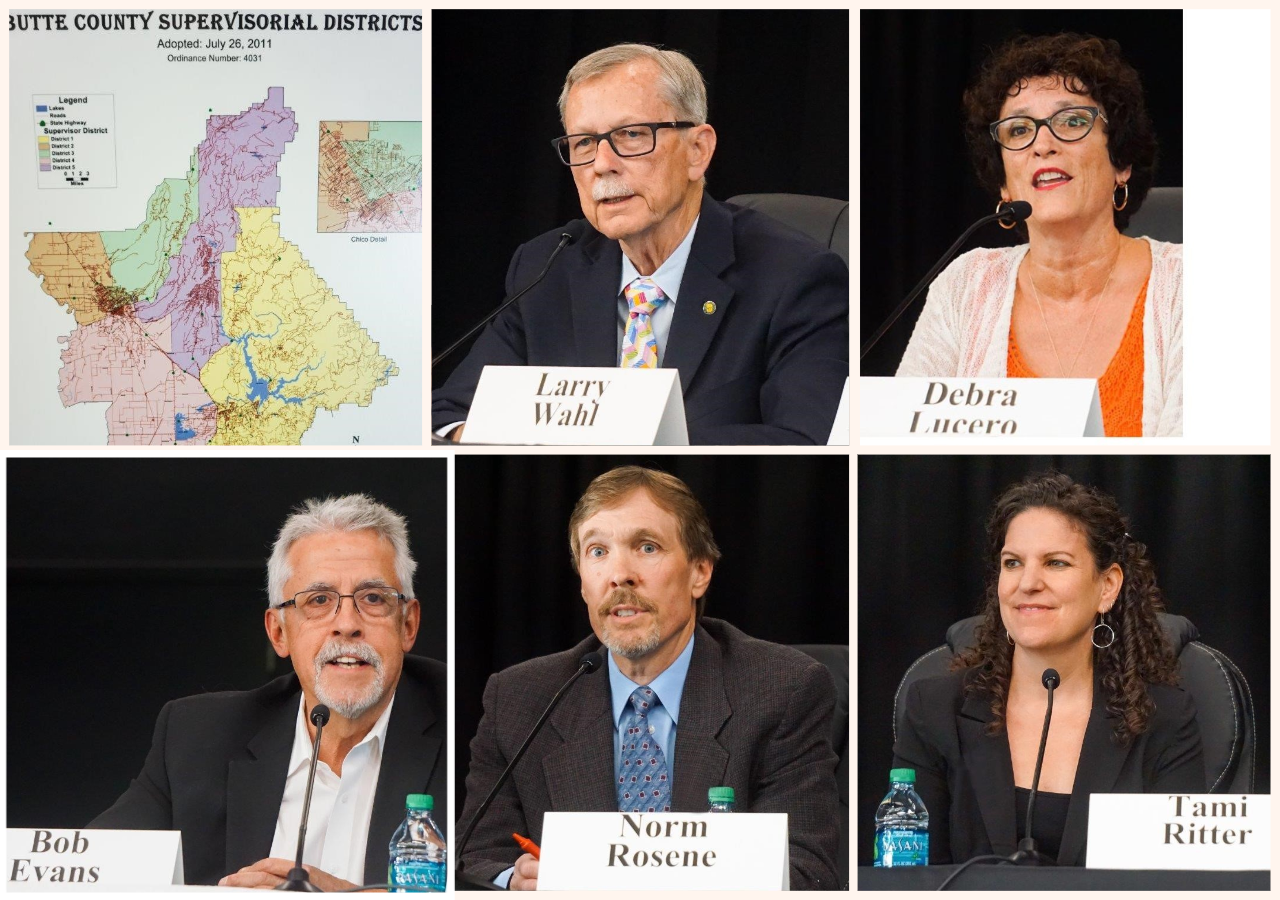 May 9: Butte County Assessor Forum
April 30: U.S. Representative District 1, Forum
March 14: Sunshine Week Public Informational Forum
David Little, Editor of Chico Enterprise Record and the Oroville Mercury Register
Mark Plenke, CSUC Journalism Professor and Orion Advisor
Tim Crews, Owner and Editor of Valley Mirror
Robert Speer, prior CN&R  Editor and Journalist
TOPIC: Transparency in government; what are we really seeing? What is the Freedom of Information Act?
WHAT: March 11 to 17 is the American Society of News Editors and Reporters Committee for Freedom of the Press's sponsored Sunshine Week that celebrates a free press. In furtherance of its public service mission, the League of Women Voters of Butte County is offering its Spring Lunch and Learn to the public at large to recognize and promote the importance of a free press in our community. Supporting reporting: use it or lose it.
February 17: Training - Communicate Effectively with Legislators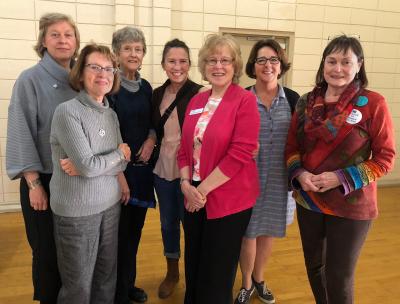 At the end of a successful afternoon of presentation and hands-on learning smart phone aps and other techniques to let their legislators hear their voices, San Jose AAUW's public policy chair and our speaker, Peg Carlson-Bowen (center), is surrounded by our local AAUW-LWVBC workshop support team. Carol Holzgrafe, Debra Barger, Helen Gesick, Marcelene Brown, Katy Azevedo and Jane Wanderer.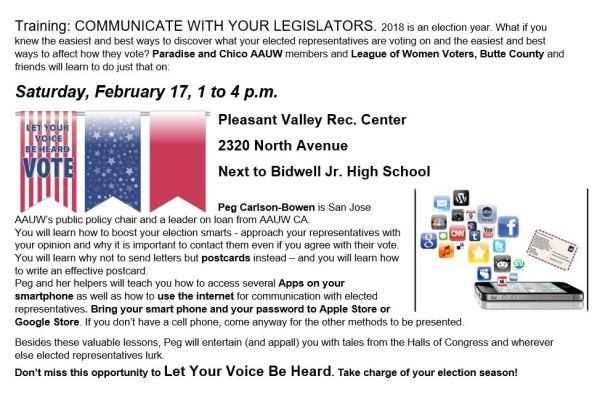 January 30: Emergency Preparedness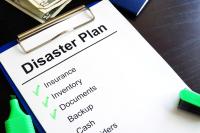 The League of Women Voters of Butte County invites citizens and representatives of organizations to an informational forum on being prepared for a catastrophic emergency or evacuation in Chico similar to the 2017 Santa Rosa Fire Evacuation and the Oroville Evacuation.
The event will be in the Fellowship Hall of the First Baptist Church, 850 Palmetto in Chico on Tuesday, January 30 at 7:00pm. A potluck dinner will be available at 6:00.
Each of the panelists will discuss their agency or department role during an emergency or disaster. The four panelists who will address the public:
Lt. James Bell, Butte County Sheriff's office
Capt. Aaron Lowe, Chico Fire Department
Cindi Dunsmoor, Butte County Emergency Service Manager
Bob Kiuttu, Enloe Hospital's Emergency Preparedness Manager
Topics will include:
What citizens can do to prepare for evacuation or a disaster
How the public will be made aware of the scope of the emergency
How citizens may help with an evacuation
What to take to a shelter
What is needed to shelter in place
What to do if separated from family members
Physical items to have prepared in case of evacuations (important documents, personal items, medications, etc.)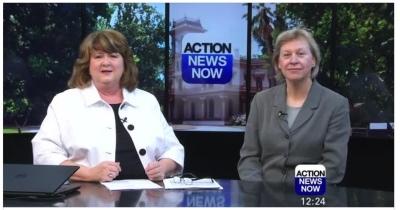 Linda Watkins-Bennett interview with Debra Barger
January 20: Women's March - Chico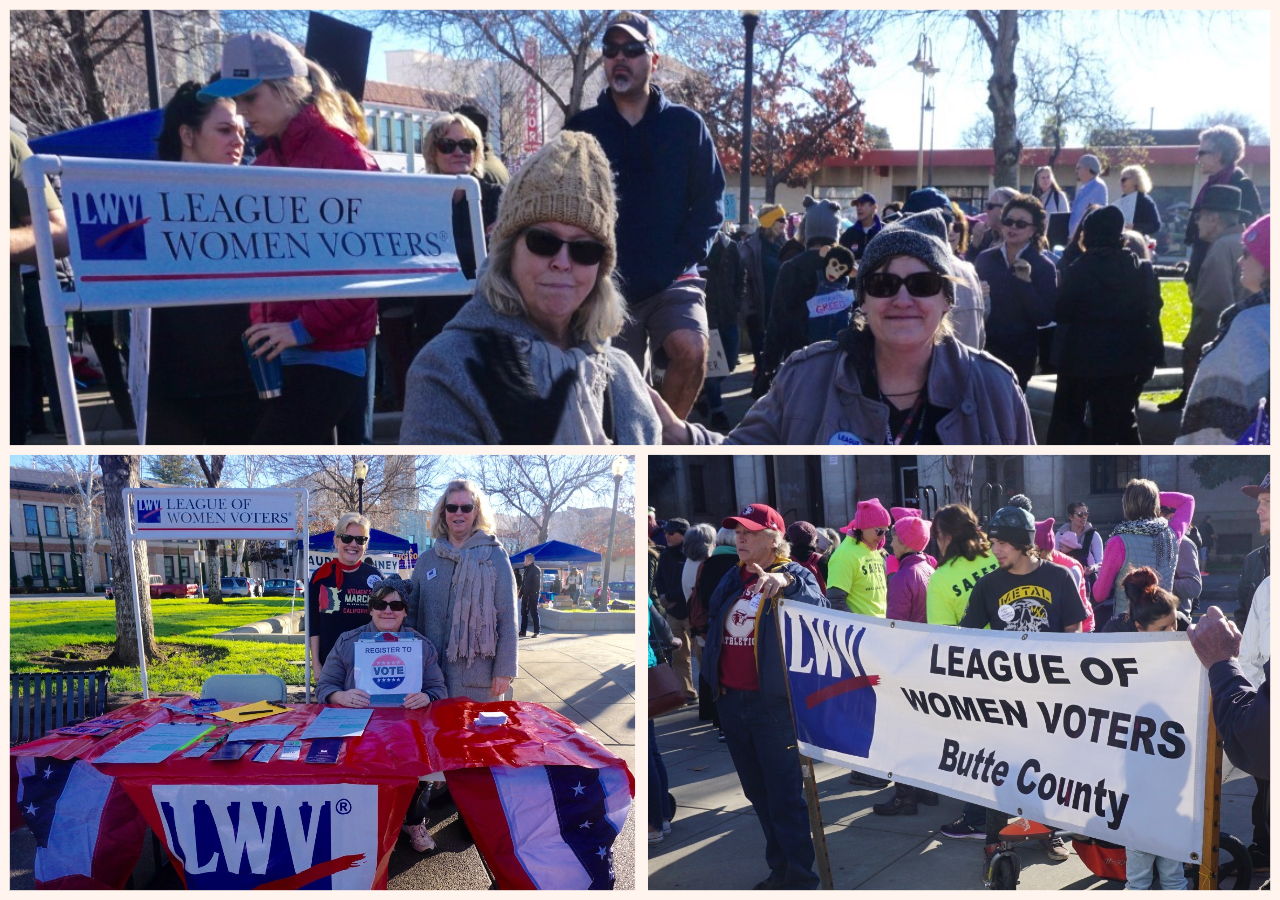 2017
November 4: A Collaborative Training - What Kind of Talk Does Democracy Need?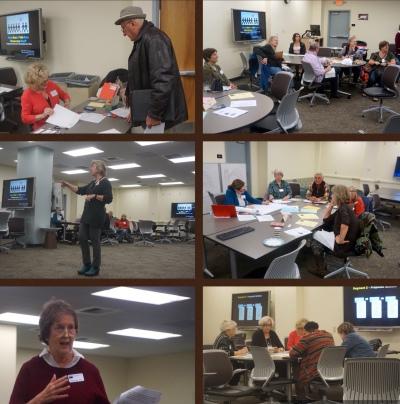 Making a commitment to be part of the solution, community and League members, in collaboration with the Office of Civic Engagement at CSU, Chico, gathered to conduct civil, community-building conversations. Discussion was facilitated by Martha Cox, First Vice President of the League of Women Voters of California Education Fund.
October 26: Government Appointees Panel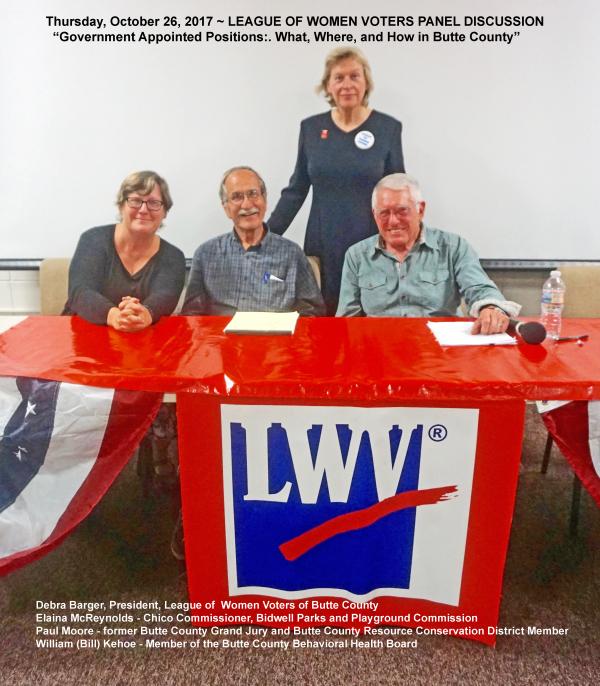 September 26: National Voter Registration Day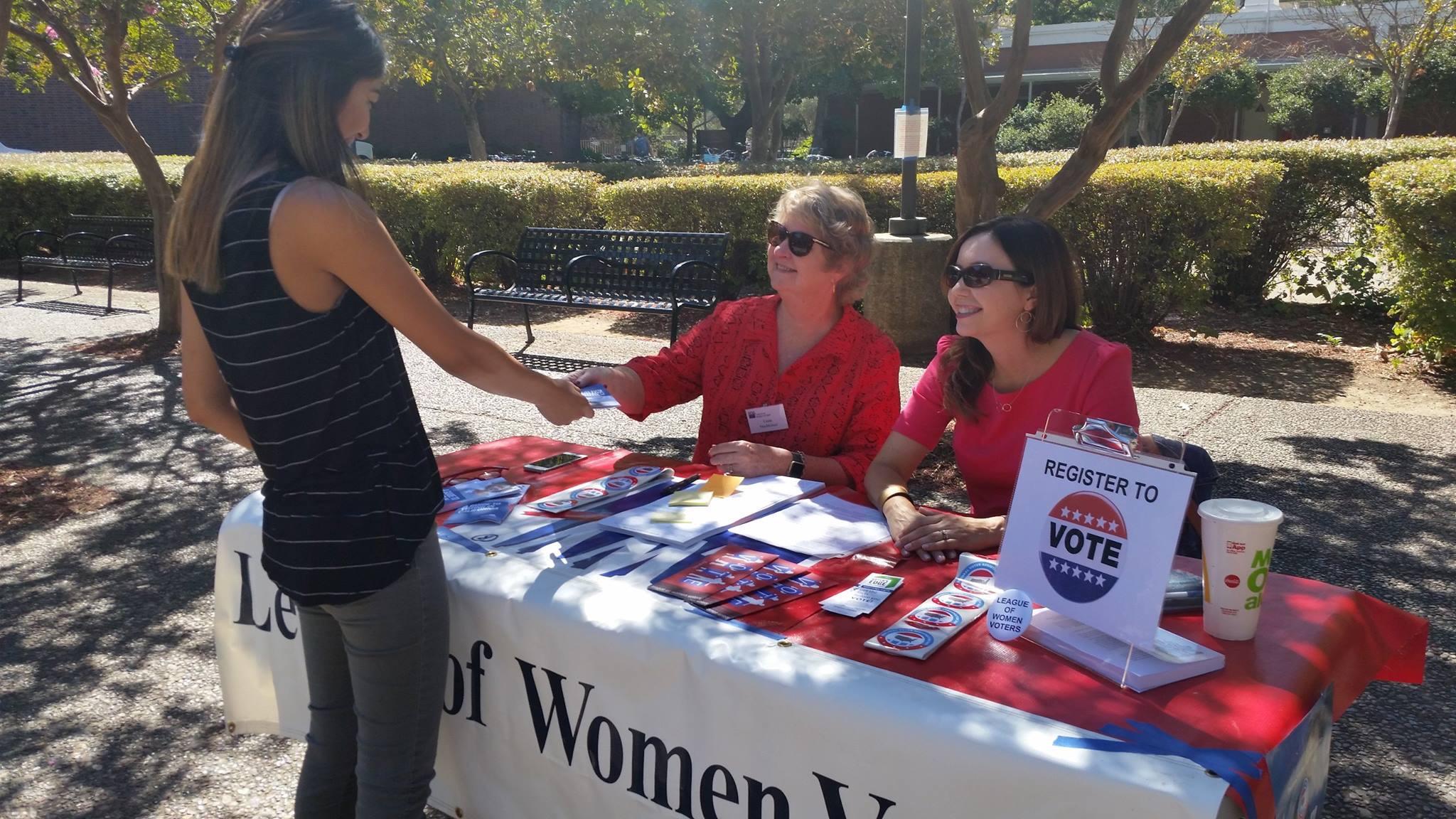 League of Women Voters of Butte County members Linda MacMichael and Mahalley Allen share information on registration and voting with an interested Chico State student.
September 16: The Economic Impacts of the Oroville Dam, Past-Present-Future
The League of Women Voters of Butte County invites Butte County citizens and organizations to an informational forum on the intent, design, building, maintenance, safety, management, licensing, recreation, and business importance of the Oroville Dam.
Southside Oroville Community Center
2959 Lower Wyandotte Road
Oroville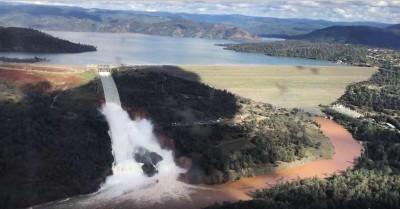 Matt Murray, Department of Water Resources View Mr. Murray's Presentation
Brian Ring, BC Assistant Chief Administrator View Mr. Ring's Presentation
Sandy Linville, Oroville Strong!
Robert Bateman, Roplast Industries
Paul Gosselin, BC Water and Resource Department
Bruce Spangler, Explore Butte County
Kevin Zeitler, Oroville Recreation Advisory Committee
League President Speaks Regarding The Observation of Proposed Property-Based Improvement District Vote
League of Women Voters of Butte County President Debra Barger Addresses City Council.