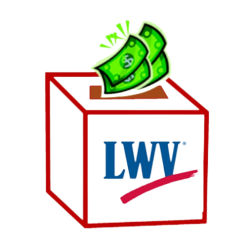 Thank you for visiting our Donation Page! 
Just in Case ... if you are wanting to renew your membership or joining us for a first time, please click here to be redirected to our membership join/renewal page. 
We rely on dues and donations to support our programs. 
We appreciate your support!
To comply with IRS regulations,
the League maintains two separate funds.
The Education Fund supports our non-partisan voter services and community activities, including local candidate forums and other voter education efforts. 
This is a 501(c)(3) fund and IS tax-deductible.
The General Fund supports our operating expenses, and, action and advocacy efforts.  
This is a 501(c)(4) fund and is NOT tax-deductible. 
Two Ways to DONATE:
1.  Send Your Donation by Mail
with Check payable to either LWVHP-HWD Education Fund or LWV HP/HWD
(depending on which fund) and send to

LWV HP/HWD, P.O. Box 396, Highland Park, IL 60035
                       OR
2.  Make your Donation Online

The PayPal Interfaceis used, but you do not need a PayPal account, PayPal allows major credit cards. 
Either way, please complete the following Donor Information.
Note:  When all required * fields are completed, don't forget to click on the Submit button.