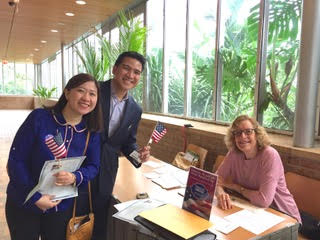 LWVHP/HWD deupty voter registrars: Debbie Brown, Gail Brown, Rose Feder, Nancy Goldberg, Barbara Mazur and Rheta Pickard, Marlene Senescu were honored to assist the Deerfield Area League on October 10, 2019 to register new citizens to vote following their Naturalization Program at the Chicago Botanic Gardens. 
Barbara Mazur recapped the ceremony:  
The ceremony began with welcoming remarks from Jamie Diatta, Supervisory Immigration Officer.  Then followed the presentation of colors and the national anthem.  The candidates for citizenship rose as their home country was read aloud.   When all were standing Judge Rebecca Pallmeyer, Chief Judge of the U.S. District Court for the Northern District of Illinois administered the Oath of Allegiance.  She spoke to the candidates and mentioned how appropriate it was to welcome them as new citizens at the Botanic Garden where the great variety of flowers all contributed to the total beauty of the garden.   She said that they were like the flowers, each unique and contributing to  the fabric of our country.   She asked that they not reject their home country culture but rather to share it and bring it into the American whole.   After she spoke, everyone rose for the Pledge of Allegiance.  
Following were remarks by Representatives Brad Schneider, Jan Schakowsky, Lauren Underwood and Sean Casten.