Deborah Hampton
Co-president
Deborah Hampton has been a member of the League of Women Voters Homewood-Flossmoor Area for ten years and is inspired by its mission of advocacy, education, and action. She has served on the League's Environmental Committee, the Voter Services Committee, and the Handbook Committee. Currently, she is one of the League Co-presidents. Deborah holds a bachelor's degree from Roosevelt University in Chicago and before retiring enjoyed a long and rewarding career in Human Resource Management at Amsted Industries, Inc. Although technically retired, it didn't take long before she realized she wanted to be more actively involved. Having failed retirement, as she puts it, she now works as a Registered Certified Tax Preparer, and part-time as a Reference Librarian at the Flossmoor Public Library. She and her husband, Robert, have lived in Olympia Fields for 25 years, and between them, they have three children and five grandchildren. Deborah has a strong sense of social responsibility, a desire to serve the community and work towards change. She has performed volunteer work for the South Suburban Family Shelter and, since 2013, served on the Chicago Southland Green Committee, an intergovernmental team focused on creating greener and sustainable communities in the Southland. She serves as Membership Chair for the Olympia Fields East Homeowners Association. She enjoys participating in Great Decisions, a discussion group that explores the most critical global issues of the day and their relationship to foreign policy. In her spare time, Deborah enjoys reading, gardening, cooking, and traveling.
Sandra Slayton
Co-President
In May 2023, Sandra Slayton was elected as co-President of the LWV HF area, having previously served as Vice-President and as Secretary.  She joined the LWV-HF in 2014, serving as Voter Service Chair and on various committees.  She attended the LWV National Convention in 2016 which helped her connect with the mission of the League. 
Sandra was recently elected for a third term as Trustee for the Village of Hazel Crest.  She is retired from the U.S. Department of Agriculture (USDA) where she was Deputy Regional Administrator of the Food and Nutrition Service.  In this capacity she was responsible for providing federal oversight and funding for USDA's food assistance programs, such as the Food Stamp Program (now known as SNAP or the Supplemental Nutrition Assistance Program), and the WIC Program (Women, Infants, and Children) nutrition program. 
Sandra has always been active in the community, serving on the board for her homeowners association for many years, volunteering for 10 years with the Illinois Department of Aging to help seniors understand the federal regulations governing their Medicare insurance benefits, and since 2007 serving on the Advisory Board for Chicago Catholic Charities to help raise funds to provide emergency financial assistance and supportive services for those in need, and advocating with State legislators to increase funding for social service programs.
Sandra and husband, Joseph, are avid golfers.  Golfing during the summer and bowling during the winter keeps Sandra active.  And, with two children and four grandchildren living out of State, she makes regular "grandma visits" to California and Georgia.    
Carolyn Cosentino
Vice President
Carolyn Cosentino is a retired social studies teacher. Her teaching career began as an elementary school teacher before moving up to secondary for a total of 37 years, primarily in Illinois public schools. She was involved in curriculum development throughout her career as well as class sponsor and student council advisor among other activities. Carolyn completed her BA in History at St. Louis University, St. Louis, MO, and her M Ed at University of Missouri-St. Louis. Since joining LWV HF Area in 2016, Carolyn served as Local League Representative to the LWV Cook County. She has been a member of the Cook County League's Board for the past 4 years and currently serves as its secretary. Carolyn was involved in research regarding the Cook County Forest Preserve Dist. and continues to serve on that interest group.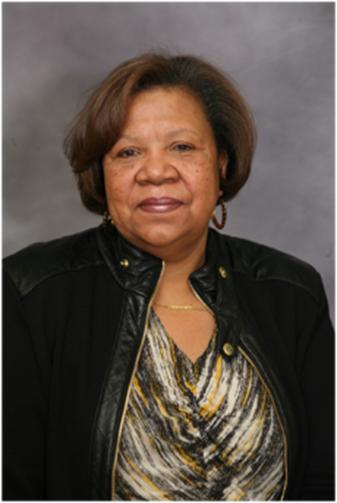 Patricia Jackson
Treasurer
Patricia Jackson is a former Director/Vice President of Planning for Sears Roebuck & Company and The Charming Corporation, with over 37 years of retail management experience. She is a seasoned professional with extensive management, planning and financial experience. Patricia attended Alabama A&M University and DePaul University, majoring in Business Administration. She has utilized her professional skills to better serve the community and government within the Village of Hazel Crest. She has lived in Hazel Crest for 18 years and for the past 11 years she has served as the President of the Club of Village West Townhome III. Patricia has been a member of the League of Women Voters for 8 years and has served the Board as the Voter Services Chair and is currently serving on the Executive Board as the Treasurer.

Pearlene Carter
Secretary
Pearlene Carter has been a member of the Homewood-Flossmoor Area League of Women Voters for 9 years. She has served as chair of the Nominating Committee, is a member of the Membership Committee, and is currently serving on the Executive Board as Secretary. She is retired from the Chicago Public Schools as an administrator in the Department of Finance. Prior to coming to CPS, she served as Director of Cash Management for Swift Independent Meat Packing. She received a B. A. Degree in Business Administration from Rust College, Holly Springs, MS and an M.B.A. from DePaul University, Chicago. She received the Tower of Leadership Award as well as an Honorary Doctorate Degree from Rust College. In addition to the LWV H-F, other activities include: Past Chairman of the Rust College Board of Trustees; Member of the Committee on Trustees (Rust College) which is responsible for evaluating the college President bi-annually, also a member of the Development Committee; Member Sheldon Heights Church of Christ. Currently a Sunday School Teacher, Member of Finance Committee, Chair of Greeters Ministry, Anniversary Committee, Ladies Retreat Ministry, Special Events Coordinator, and Leadership Staff; Member Alpha Kappa Alpha Sorority – Theta Omega Chapter. Served as Financial Secretary, Assistant Treasurer, Audit Committee Chair, and various other committees. She has lived in Olympia Fields for 29 years.

Michelle A. Hayes
Co-Chair of Program and Finance Committee
Michelle is a licensed securities broker, who has over twenty years of experience in the financial industry. She began her career in banking in 1999, became a Relationship Banker Supervisor and transitioned from banking to securities at Xpresstrade, a futures company. Michelle managed $126 million in Company assets and became a licensed securities broker, obtaining a Series 7 working at Charles Schwab. Michelle has worked in the Financial Crimes Investigation Department as an Anti-Money Laundering Senior Specialist. She has monitored clients' trading activity and money movement for signs of potential insider trading, market manipulation, elderly exploitation, account takeovers, structuring and terrorism. Michelle and her team work closely with the FBI upon detection of suspicious activity.
She has earned several awards during her career including the Charles Schwab Outstanding Community Service Award, an APEX Award, and was named MVP of the Innovation Team. Additionally, Michelle was the Founding Chair of Black Professionals at Charles Schwab - Chicago Chapter. Michelle resigned from Charles Schwab in 2019 and pursued her entrepreneurial endeavors, leveraging her knowledge, network, and skills from her years in the financial sector. She holds a Bachelor of Arts in Human Resource Management from Governors State University.
A woman passionate about giving back and volunteering within the Chicago-land area, Michelle joined the LWVHF in 2019 and currently serves as the co-chair of programs and remains very active on the finance committee.   She has taught financial literacy to Chicago high school and college students for the past 8 years. She is a corporate mentor for several Chicago teenagers and frequently returns to her former elementary, middle, and high schools to give motivational pep talks to the students. She has held multiple board positions for non-profit organizations including the YWCA and the Chicago Music Association. Michelle is also a member of a Racial Equity Council in Chicago, Illinois.
Michelle is a dedicated mother of a daughter and son in college. She is a patron of the arts, and enjoys spending time with her grandson, as well as writing poetry, acting, and traveling. Michelle currently resides in Chicago, Illinois in the Streeterville neighborhood. 
Cheryl Gansauer
Director
Cheryl retired from Thornton District 205 (which includes Thornton, Thornridge and Thornwood High Schools) after close to 40 years and held several positions: Educator, Department Chairperson, Vocational/Technical Education Administrator, Special Needs Coordinator, and Guidance Counselor. Cheryl has always lived in the South Suburbs: growing up in Riverdale, and subsequently living in Harvey, Park Forest and Homewood. She earned a Bachelor's Degree in Retail Marketing and Education from the University of Illinois, Champaign. She also earned Master's Degrees in both Vocational/Technical Education and Administration and Supervision from the University of Illinois, Champaign as well as a Master's Degree in Guidance and Counseling from Governors State University. After retiring, Cheryl volunteered at One More Thing Resale Shop in Park Forest for 13 years. Proceeds from the shop assisted victims of Domestic Abuse.
Jessica Groen
Director
Jessica Groen has been a resident of Flossmoor Illinois since 2015, along with her husband and two children. She is a certified secondary teacher in Illinois and works on the guest teacher roster for School District 161, as well as staying active with the PTO committees at Flossmoor's Western Avenue Elementary and Parker Jr. High schools. Jessica has been a participating member of the Homewood-Flossmoor LWV since 2019 and has been serving on the Observer Corps for the last two years. In her spare time, Jessica enjoys gardening, biking, reading, and participating in spiritual and educational enrichment classes at her church. She joined the League of Women Voters to become more attentive to and vocal about local village and school board initiatives and challenges, and to support the processes for making local issues and candidates visible and accessible to voters in the H-F area.
Trinita Henry
Director
Trinita, a combat veteran, lives in Frankfort with her husband and three children. A graduate of Southern Illinois University, Trinita has been a successful Real Estate Broker and co-owner of a transportation company for over 15 years. Trinita is a dedicated volunteer in her community, spending many years on her childrens' Parent Teacher Organizations. Trinita comes to the League of Women Voters excited to contribute and continue the excellent work of The League. Presently, she serves on the Board of Directors as co-chair of the Membership Committee and looks forward to contributing in that role for the upcoming year.

Lorea Farley
Director
Lorea Farley has been an active member of the LWVHF Area since 2017. After serving as a volunteer on the Hospitality Committee, she later stepped into a formal leadership role as the Chairperson. Currently, she serves as Membership Chairperson. Contributing in these ways has been a very informative, exciting, and gratifying experience.
Lorea has a master's degree from National Lewis University in Early Childhood Education, Advocacy, and Leadership. After 39 years of educating students in the Chicago Public Schools system, she retired and became more involved with her volunteer work. Her passion for giving back has resulted in her happily dedicating time to service and interest groups focused on education, community building, health and wellness, spirituality, travel and reading. Some say she is even busier post-retirement than she was before! As a fun-loving, lifelong learner, Lorea enjoys spending quality time with her immediate family, family elders, extended family members, and friends. You can often find family and friends in attendance at events, all supportive of the pro-active way that Lorea uses her voice to protect our voting rights and help to spread the word about the work of the LWVHF Area.