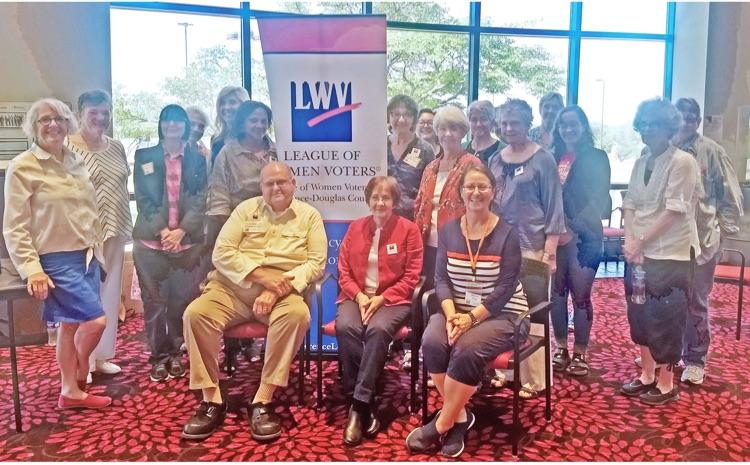 As I write this article I can already report 7 voter registration drives have occurred this month with another one scheduled for June 30, 2018. The Mid-terms are coming and with a lot riding on the outcome, many more people seem to be really engaged in the election process, starting with voter registration. We have conducted 4 drives at the Lawrence Farmer's Market, one drive at the How To Festival at the Lawrence Public Library, a pop-up drive at Love Garden Music Store on Mass St. and at the NAACP Juneteenth Celebration at Holcomb Park. We have processed 23 new registrations and 23 address changes.
Now that a Federal judge has ruled the Proof of Citizenship Law, championed by the Kansas Secretary of State, unconstitutional, registration will return to a smooth process taking less than 5 minutes. We have been advised by counsel to continue to use the Federal Form. Let every League member take a moment to celebrate this landmark voting rights decision.
Please join me in thanking all the LWV-LDC members who have tabled during the events this month. Not in alphabetical order: Lois OrthLopes, Janice Friedman, Marlaine Stoor, Ann Ozegovic, Krista Barbour, Cammie Healy, Jamie Benvenutti, Kristin Salmans, Robin Gingerich, Sue Himes, Leeann Fitzgerald, Teresa Malarky, Marjorie Cole, Gayle Machett, Jane Imber, Megan Moriarity, Sally Kelsey, Betty Bunce, Sonja Czarnecki, Pam Adams, Ellen Paulson and Marlene Merrill.
You too can come join the fun: email Melissa Wick or Lois Orth-Lopes to find out about upcoming events. Or, propose one of your own, there are many places and events in Lawrence, Baldwin City, Eudora & LeCompton that would be good venues for a voter registration drive.