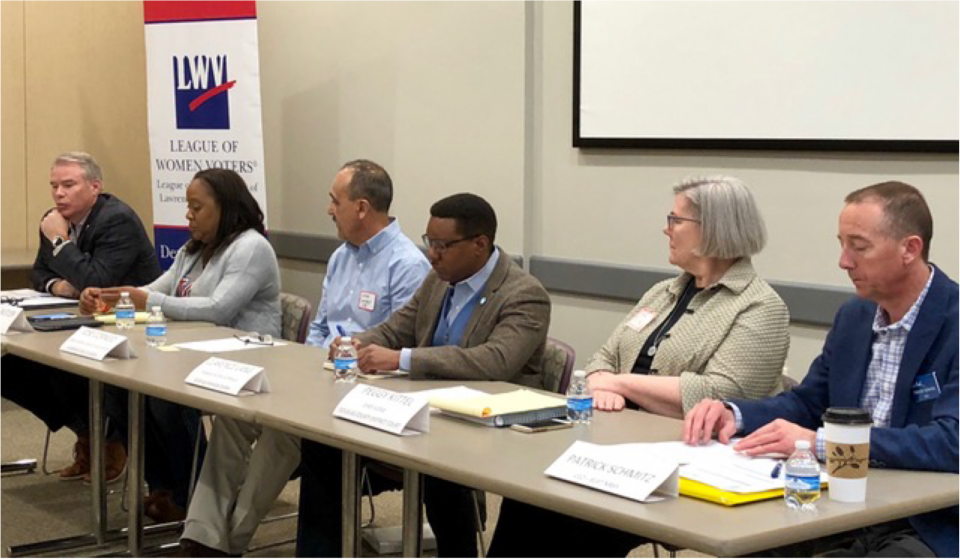 LWVL-DC sponsored this well-attended Forum on Restorative Practices.
More than 80 people attended the April 14 forum at the Bert Nash Community Health Center. Discussing "Restorative Practices: What's Next After the Vote?" were Chief District Court Judge Peggy Kittel, Patrick Schmitz, Bert Nash CEO, Mike Brouwer, County Jail Re-Entry Coordinator, Lawrence Attorney Julia Butler, and Jose Cornejo, mental health facilitator for Lawrence School District. The forum was moderated by Dr. Clarence Lang, who serves as chair of the African and African-American studies department at KU and was recently named interim dean of KU's College of Liberal Arts and Sciences.
Judge Kittel discussed how funding has dried up for restorative measures. There is an effort throughout the country, she said, to do away with monetary bonds as poor people cannot afford them. Kansas still requires them. In discussing the role of the court, she spoke about being fair and impartial. "We need to think what it would be like if the roles are reversed."
Cornejo spoke about working with students and their families, along with social services and counselors. "Educating teachers on the importance of restorative practices—all these things take time." He also discussed racism and how it plays differently, mentioning a two-day workshop called "Beyond our Whiteness."
"It's time to step up and take action" on the needs of the vulnerable people in our system Brouwer said. Lack of funding resulted in cancelling some programs, including Women's Fresh Start. "With a population of 102,000, Lawrence has four Oxford Houses (for drug and alcohol rehab) compared to Hutchinson (55,000) which has 10," he said.
"Housing at the jail for women is grossly inadequate," Butler exclaimed. "They deserve to be in a safe environment." Both Judge Kittel and Butler addressed the need for affordable housing and day care. Butler gave the example of one of her clients who had a monthly income of $900 and childcare expenses of $768.
Schmitz worries that "we (at Bert Nash) risk losing the ground we achieved during David Johnson's administration but then the state started slashing funding for mental health. We are looking at a population of 150,000 in 20 years," he said. "There is money being spent to oppose this referendum that could be spent on addressing the improvements needed. Let's work together on this issue,"Schmitz added.
"Social policy vs. criminal justice, it's a vexing thing with the ballot issue." Dr. Lang said. Judge Kittel added, "Don't read the blogs and comments. But I do, she said." 
Organizers of the forum were Tamara Cash, Jamie Benvenutti, Marlene Merrill and Melissa Wick.