Prepare to Vote in November, 2022
Watch Videos of Candidate Forums: Click HERE
2022 Ballot Initiatives Explained: Watch Video 
Register to Vote
Are you registered to vote? Do you want to change your party, your address, your name?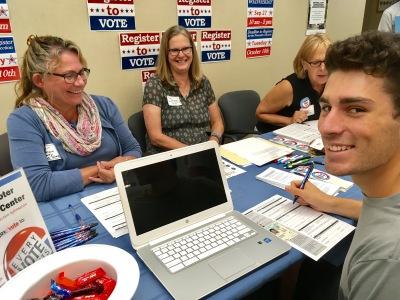 Am I Registered to Vote? Use the easy form to check with the Michigan Secretary of State's office if you're registered to vote, the location and map for your polling place, and your sample ballot.
How to Register to Vote in Michigan Information from the Secretary of State on who may vote, how to register to vote, and how to vote
Elections in Michigan Find out important information, including dates, for upcoming elections from the Michigan Secretary of State's website.
The League of Women Voters, a nonpartisan political organization, encourages informed and active participation in government, works to increase understanding of major public policy issues, and influence public policy through education and advocacy.
National Election Taskforce on Election Crises
The National Election Taskforce on Election Crises has a thorough memo on the Electoral Count Act. Pages 4-8 provide a detailed explanation of what we expect will take place on Wednesday, January 6. https://www.electiontaskforce.org/s/Electoral-Count-Act.pdf
LWVUS will be working closely with coalition partners and the task force to counter disinformation in an effort to rebuild confidence in the electoral process and trust the outcome.
Useful Voter Information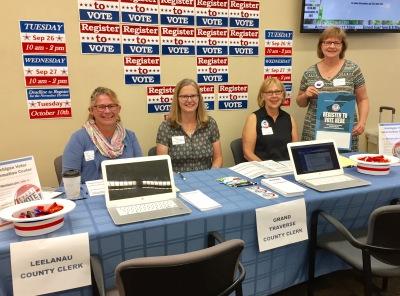 In Leelanau County, fewer than 50% of people in the 18-24 age group actually vote! Voting is a right and a responsibility to voice your opinion for which people in previous generations died. Get informed and vote. This information will help you do just that. 
To register to vote, you must be at least 18 years old by Election Day and be a U.S. resident.  You must also be a resident of Michigan and of the city or township in which you wish to register. 
Voters may register in person or by mail.   
To check your registration status, visit the Michigan Election and Voter Information.  Residents will be able to find information on voting by absentee ballot, using voting equipment, and how to contact your local clerk.  You can also find a map to your local polling place, as well as view and print out a sample ballot. 
Michigan does have a voter identification requirement at the polls. Voters are asked to present an acceptable photo ID such as a Michigan driver's license or identification card. Please note that voters who do not have an acceptable form of ID or failed to bring it with them to the polls can still vote. They simply sign a brief affidavit stating that they're not in possession of a photo ID. The affidavit is located on the reverse side of the Application to vote. Their ballots are included with all others and counted on Election Day. 
Any voter may vote by absentee ballot. 
You can register to vote through Election Day 
You must show proof of where you live. Documents must have your name and current address. You can show a digital copy of any document. Acceptable documents include: 
Michigan driver's license or State ID card 

Current utility bill 

Bank statement 

Paycheck or government check 

Other government documents 
After registering, you can request an absentee voter ballot online or at the clerk's office or you can vote at your polling place on Election Day. 
Military and overseas civilian voters have additional options to register. For more information, visit this page. 
To be eligible to register to vote you must be: 
A Michigan resident (at the time you register) and a resident of your city or township for at least 30 days (when you vote) 

A United States citizen 

At least 18 years of age (when you vote) 

Not currently serving a sentence in jail or prison 
Questions about Voter ID?
Voters with picture ID: Voters can satisfy the ID requirement by showing a Michigan driver's license or a Michigan personal identification card.
Voters who do not possess either document may show any of the following forms of picture ID as long as it is current:
Driver's license or personal ID card issued by another state.
Federal or state government-issued photo ID.
U.S. passport.
Military identification card with photo.
Student identification with photo from a high school or an accredited institution of higher education.
Tribal identification card with photo.The ID does not need your address, but it must be valid. 
Voters without picture ID: Michigan election law anticipates that not all voters will have picture ID. Voters who do not have acceptable picture ID or forgot to bring acceptable picture ID to the polls can vote like any other voter by signing an affidavit on the back of the voter application when you go to the polls on election day.
Questions regarding the voter identification requirement can be directed to your local city or township clerk's office. For more election related information, visit the Secretary of State website.
Getting a State ID Card
If you do not have a driver's license or other acceptable photo identification, you can get a state identification card at your local Secretary of State branch office for $10. State ID cards are free to individuals who are 65 or older or who are blind. Cards are also free to those who have had driving privileges terminated due to a physical or mental disability. Proof of identity and residency are required when applying for a state ID card. The fee can also be waived for individuals who present other good cause for a fee waiver. Visit the Secretary of State website for details on what forms are acceptable in order to prove identity and residency, or call (888) SOS-MICH (767-6424).
Especially if an elderly person is no longer driving, they may need to get a State ID card to vote. Check with your family, friends and neighbors. Be sure they have the proper ID so they can exercise their right to vote without confusion or embarrassment at the polls. Election officials are required to ask for a photo ID. So know your rights, be prepared, and make every vote count!
If you have moved or changed your name, you must change your driver's license and voter registration which you can do at the Secretary of State's office. Always sign your name the same way.
Absentee Voting
Voters may request an absent voter ballot by completing an online application at Michigan.gov/Vote. Alternatively you may request an absent voter ballot in writing and submit it to your city or township clerk, (For assistancthe address of your city or township clerk, see Michigan.gov/Vote) You must request an absent voter ballot by submitting the application, large print application, a letter, a postcard, or a pre-printed application form obtained from your local clerk's office. Requests may be returned by hand, via postal mail, fax, or email, as long as a signature is visible.  
Requests to have an absent voter ballot mailed to you must be received by your clerk no later than 5 p.m. the Friday before the election. If you're already registered at your current address, you can request an absent voter ballot in person at your clerk's office anytime up to 4 p.m. on the day prior to the election. If you're registering to vote or updating your address by appearing at your clerk's office on Election Day, you can request an absent voter ballot at the same time you register. If you request your AV ballot the day before the election or on Election Day, you must vote the ballot in the clerk's office.  
Once your request is received by the local clerk, your signature on the request will be checked against your voter registration record before a ballot is issued. You must be a registered voter to receive an absent voter ballot, but you can register and apply for an absent voter ballot at the same time.  Requests for absent voter ballots are processed immediately. Absent voter ballots may be issued to you at your home address or any address outside of your city or township of residence. 
After receiving your absent voter ballot, you have until 8 p.m. on Election Day to complete the ballot and return it to the clerk's office. Your ballot will not be counted unless your signature is on the return envelope and matches your signature on file. If you received assistance voting the ballot, then the signature of the person who helped you must also be on the return envelope. Only you, a family member or person residing in your household, a mail carrier, or election official is authorized to deliver your signed absent voter ballot to your clerk's office. 
If an emergency, such as a sudden illness or family death prevents you from reaching the polls on Election Day, you may request an emergency absent voter ballot. Requests for an emergency ballot must be submitted after the deadline for regular absent voter ballots has passed but before 4 p.m. on Election Day. The emergency must have occurred at a time which made it impossible for you to apply for a regular absent voter ballot. Please contact your local clerk for more information about emergency absent voter ballots. 
 Spoiling an absent voter ballot 
If a voter has already voted absentee and wishes to change their vote (because the candidate has dropped out of the race, or for any other reason), a voter can spoil their ballot by submitting a written request to their city or township clerk. The voter must sign the request and state if they would like a new absentee ballot mailed to them or if they will vote at the polls. This request must be received by 2 p.m. the Saturday before the election if received by mail. An absentee ballot may be spoiled in person at the clerk's office until 4 p.m. the Monday prior to the election. The voter can obtain a new absentee ballot there or vote at the polls. There is no option on Election Day to spoil an absentee ballot that has been received by the clerk. 
In this day of gerrymandering, voter suppression laws being passed in 41 states in the last three years and the Supreme Court decision regarding the Voting Rights Act, it is all the more important that you vote in every election, even ones you consider unimportant. Many local elections are won by only a few votes and the candidate elected may or may not have your best interest in mind. So voice your opinion by voting in every election. Don't give up your right to vote!
Vote411: Ballot Lookup Tool
Information about your National, State and Local races and referendums is available at VOTE411.ORG.   Simply put in your address, and you can obtain information on candidates and issues that will be on your ballot.