LWV Brookhaven Voter Publication
To read the full issue, click on the cover of LWV Brookhaven's Voter below.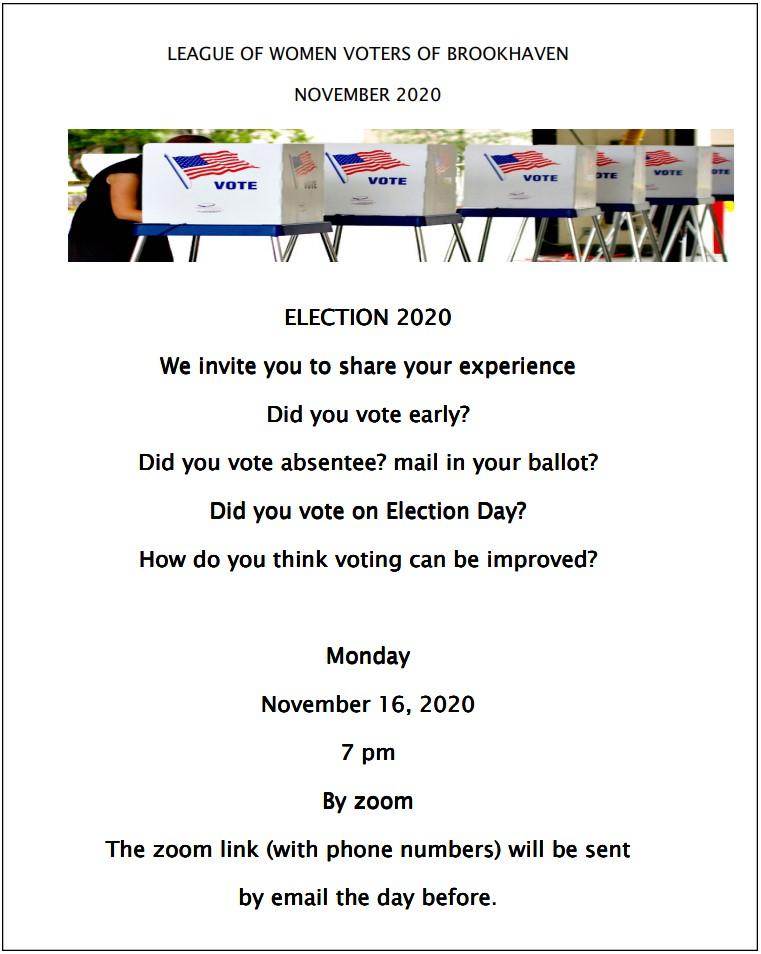 Past Events
Alexander Hamilton -- His Legacy in Images and Music
Monday, July 8, 1 to 4 PM - Longwood Library
Our exciting feature for the summer is "Alexander Hamilton's Legacy in Images and Music," produced by Marianne Als, a local lover of history who found herself inspired by the Broadway production. Faced with the questions in today's government, what better way is there to look back at our country's founding than to learn about those who worked hard to establish it. They struggled with many of the same questions we face today, and there were as many different approaches then as there are today. So what enabled them to forge the necessary compromises to make the country able to survive? Come to the Longwood Library to learn about Alexander Hamilton and what he stood for. What if he had not been sure that a national bank was important, or that credit was essential to the country's survival? Or what if Thomas Jefferson's hope for an agrarian economy had prevailed?
Find Out More About Gerrymandering
What Is It? Where Is It Happening? What Can Be Done To Prevent It?
SPEAKERS: Professors Neil Buffett and Nicholas Giordano from Suffolk Community College 
Monday, May 6, 7 pm, at Comsewogue Library, 170 Terryville Road, Port Jefferson Station
NOTE - This is an evening meeting for convenience of those who cannot attend afternoon meetings. 2019 is our 70th Anniversary.
Brookhaven in Suburbia - How Has It Changed?
SPEAKER: Lawrence Levy - Dean of National Suburban Studies at Hofstra University
April 13 at NOON at Harbor Crab Restaurant
Film Showing
Monday, March 18, 1:45 pm at the Patchogue Library
We will be showing the film FIX IT, which explains and comments on the single payer health plan proposed for New York State
A Review of the November Election
by Rick Brand, political journalist for Newsday 
Monday, December 10, 1:30 at Sachem Library, 150 Holbrook Road, Holbrook
The facts about ocean-drilling and a film "Shore Stories"
Presented by Brian Langloss, from Oceana
Longwood Library, 800 Middle Country Road at corner of Yaphank-Middle Island Road
Monday, November 12, 1:30 to 3 pm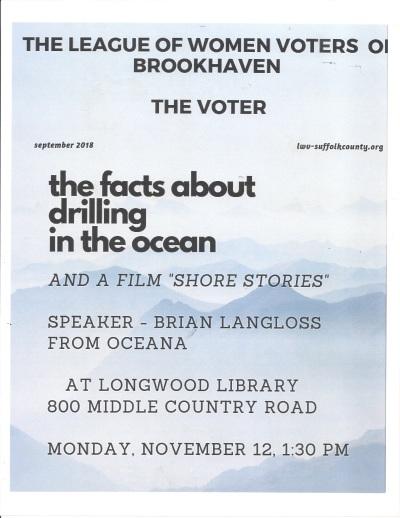 LWV of Brookhaven 1st CD Candidates Forum
Tuesday, October 30, 7:00 pm at Sachem Library
Candidates forum with Perry Gershon and Congressman Lee Zeldin, running for U.S. Congressional seat.
Discussion of Town referendum on term limits and length of terms
Wednesday, October 24, 7:30 pm 
Patchogue Medford LIbrary
Discussion about the referendum to change town officials' terms to four years and establish a limit of three four-year terms.
More About LWV Brookhaven
Who We Are
The League of Women Voters of Brookhaven covers the various communities in the town of Brookhaven. Our meetings are held usually the third Monday of the month at various sites in the town, in the evening or afternoon (depending on the weather).
Special Events
United Nations dinner in October 
Annual Luncheon in April
To find out more about membership, contact our Membership Chairperson, Jean Baker - jfbhi [at] optonline.net
Voter Service Program
We have an active committee for Voter Services, and provide voter education and registration at various sites around the town, including libraries, colleges, local events, and the Naturalization Ceremonies at the Central Islip Courthouse. 
For more information, contact Chairperson Judi Bird, 631 286-3810.
Plans For 2019-2020
During the year we will consider current local issues - water and environmental quality, affordable housing - and county and national issues on the League agenda - agriculture, campaign finance and Citizens United decision, voting rights, education, and access to health services.
We can provide a trained facilitator for candidates meetings sponsored by local organizations. For more information about the League or our program, contact Nancy Marr, co-President, at NMBrookhaven [at] lwv-suffolkcounty.org or call 631 730-6556.