Voting | Important Info for New Voters | Find Your Elected Officials | Electronic Voter Registration | Useful Websites | Who Can Vote? | Register to Vote | Newly Registered Voters | Absentee Ballot | Student Voting

Attorney General James Issues Voter Protection
Guidance Ahead of the November Election
Outlines Legal Prohibitions on Intimidation and Coercive
Conduct at Poll Sites; Reminds Voters of Rights  
NEW YORK 10-23-20   Attorney General Letitia James issued guidance to Board of Election offices and law enforcement entities throughout the state to protect New Yorkers from voter intimidation on, and before, Election Day.
"All New Yorkers must be able to exercise their fundamental right to vote without coercion or intimidation," said Attorney General James. "While voting in New York is safe and secure, I urge anyone who encounters barriers or issues to contact my office immediately. The guidance we are issuing outlines basic protections for voters and serves as a warning that will we not allow anyone to hamper people's access to voting, period."
Under state and federal law, it is illegal for anyone to intimidate, threaten, or coerce voters with the purpose of interfering with their right to vote. In the guidance, the Office of the Attorney General (OAG) highlights the following types of conduct as potentially constituting unlawful voter intimidation:
Individuals or groups patrolling outside of polling places and trying to scare people out of the voting line;
Poll watchers inside a polling place aggressively challenging large groups of voters, leading to long lines, and creating false fears that voters may be illegally voting;
Poll watchers standing in the vicinity of privacy booths, standing in unauthorized areas, videotaping and/or photographing voters within the polling place, following or harassing voters in the polling place;
Individuals spreading false rumors or making false statements that there are negative consequences to voting; or
Individuals or groups displaying weapons or foreign military uniforms or other military paraphernalia outside of polling locations.
Behavior that has been found to constitute voter intimidation under federal law in the past includes:
Threats of violence;
Following voters to poll sites and speaking loudly about prosecuting them for illegal voting;
Civilians dressing as law enforcement officers and harassing voters at poll sites;
Economic coercion, such as threatening to boycott in response to an individual exercising their right to vote;
Threatening to evict someone for exercising their right to vote;
Patterns of baseless arrests and prosecutions in the vicinity of voter registration meetings; and
Publicly disseminating individuals' names and addresses, or "doxing," in an effort to vilify those individuals.
The guidance also clarifies that the following actions are prohibited under New York state law:
State and local employees interfering with or affecting the election;
A member of the United States armed forces preventing, or attempting to prevent, a voter from fully exercising their voting rights through force, threat, intimidation, or advice;
Groups of people organizing as private militias without permission from the state;
Open carry of handguns, or the possession of machine guns and loaded or unloaded assault weapons, as well as the use of firearms or other dangerous instruments to intimidate or harass;
Invading the privacy of a voting booth used by a voter; and
Requiring an individual to show photo ID in order to vote.
Additionally, the guidance emphasizes that media and press are allowed to film or take pictures of individuals in the polling place if they have written authorization from BOE. 
If you observe any prohibited conduct, please immediately contact the OAG's Election Protection Hotline by calling 1-800-771-7755 or emailing election.hotline [at] ag.ny.gov. Any incidents involving potentially dangerous conduct should be reported to local law enforcement immediately.
Direct hotlines by language:
866-OUR-VOTE (866-687-8683) – English language hotline
888-VE-Y-VOTA (888-839-8682) – Spanish language hotline
888-API-VOTE (888-274-8683) – Chinese, Vietnamese, Korean, Bengali, Hindi, Urdu and Tagalog hotline
844-YALLA-US (844-925-5287) – Arabic language hotline
American Sign Language video call number: 301-818-VOTE (301-818-8683)



The League of Women Voters Education Fund developed VOTE411.org which provides election information for each state. VOTE411 is committed to ensuring voters have the information they need to successfully participate in every election. Whether it's local, state or federal, every election is important to ensuring our laws and policies reflect the values and beliefs of our communities.
By entering your address (no names needed) you will find a personalized guide to all races and candidates on your ballot. Candidates are provided tools to upload their photo and bio experience. They are also provided space to answer several issue-based questions developed by the League.
Members of the League of Women Voters throughout Suffolk County have devoted many hours to ensure that all races are listed, and contacted every certified candidate to encourage and facilitate their participation in the listings.
Even if candidates did not choose to reply, their names and party lines are listed on the ballot.
VOTE411 will cover races and propositions for the general election in 2020. PLEASE NOTE THAT VOTE411 goes live about 6-8 weeks before an election, depending on the Board of Elections certification of candidates. In 2020, we expect to be live during the 3rd week in September.
Use https://www.vote411.org in 2020!


General Election - Tuesday November 3, 2020
For up-to-date voter information including Voter Registration, Early Voting and Absentee Ballots, visit New York State Board of Elections http://www.elections.ny.gov.
You must be registered in order to vote. You may register if you will be 18 years of age by Election Day, a resident of the county for at least 30 days prior to the election, and a citizen of the United States. 16 and 17 year-olds can now pre-register to vote, but will not be able to vote until they are 18. You may only vote in one state. If you have moved within the state since the last time you voted, you will be able to vote via affidavit ballot in your new election district, but re-registering with your new address before Oct. 9 is advisable.
Registration forms are available at the Board of Elections, post offices and libraries. Online voter registration is possible via the DMV website if you are already in their database. You can call 1-800-FOR-VOTE hotline to request a voter application. You can download and print a form from the New York State Board of Elections (NYSBOE) homepage link Need a Voter Registration Form. The deadline to register is October 9, 2020.  (If mailed your registration form must be postmarked by that date.) The registration form includes a place where you can also immediately request an absentee ballot.
Suffolk County Board of Elections
P.O. Box 700, Yaphank Avenue Yaphank, NY 11980 (631) 852-4500
Important Information for New Voters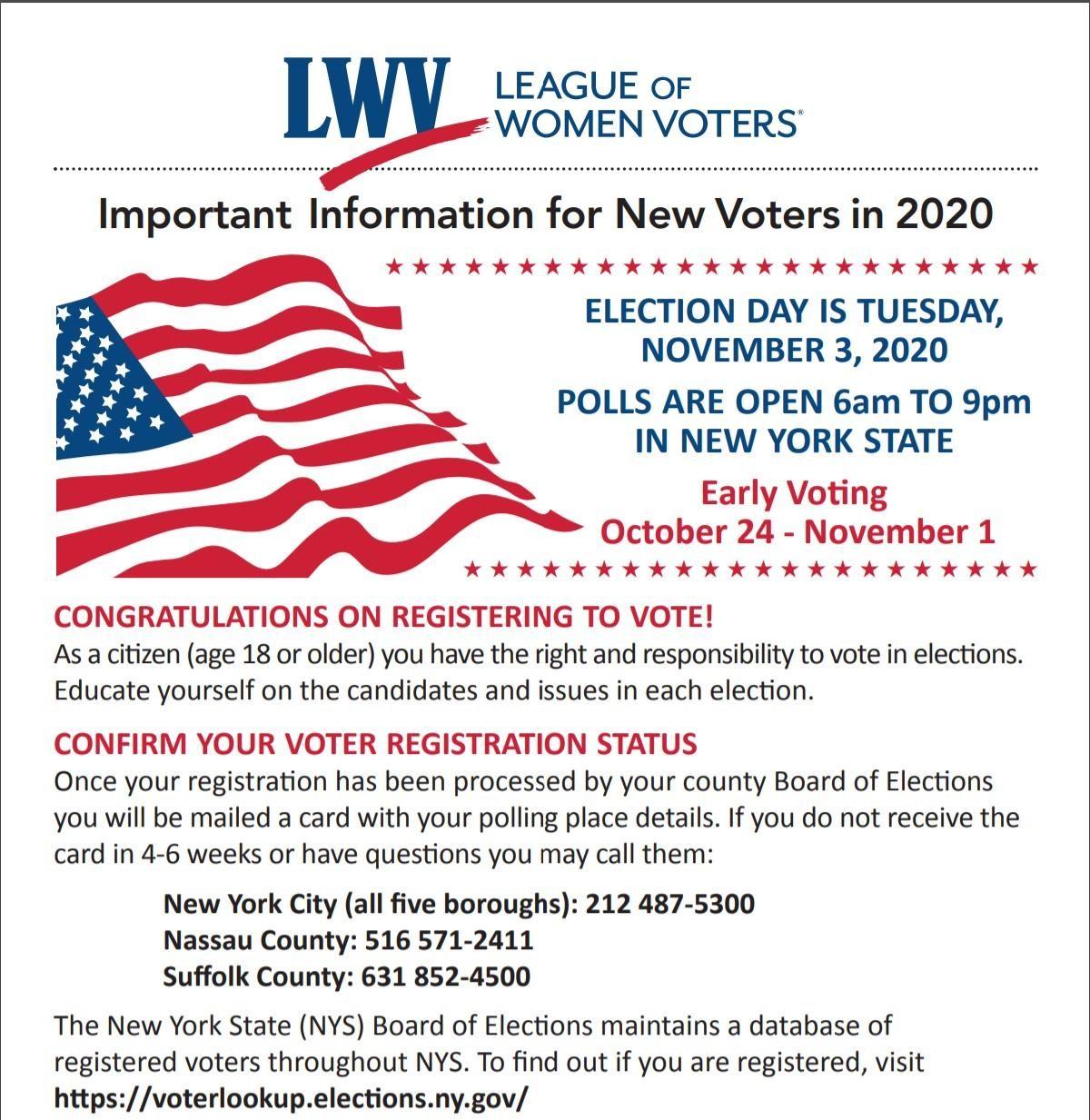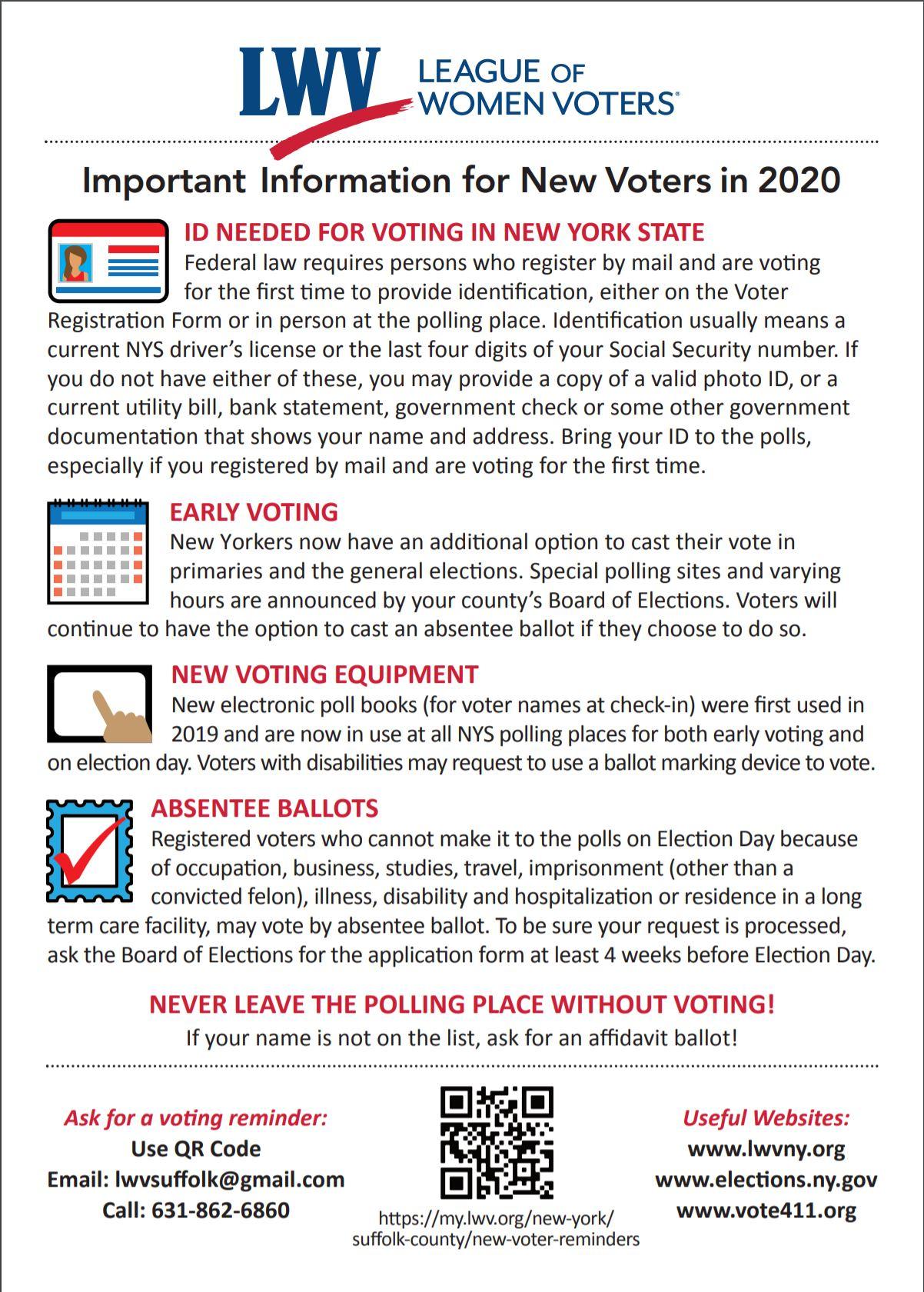 Find Your Elected Officials
A central part of the mission of the League of Women Voters is to encourage active and informed participation in government. 
Not sure who represents you? 
Click 
here
 to see your elected Federal, State, County and Local representatives.
Educate yourself, then advocate for issues that are important to you!
Click 
here
to view the League's 28 page Directory of Public Officials.
Electronic Voter Registration Application at DMV Website
The New York State Department of Motor Vehicles Voter Registration Application now offers the opportunity to complete an application to register to vote or to update the information you have on file with the Board of Elections.
Updated information could include providing your County Board of Elections with your new name, new address, or changing a party enrollment.
Applications completed on this website are forwarded to the appropriate County Board of Elections for approval and processing.
See the FAQs about Electronic Voter Registration.
Useful Websites
League of Women Voters of New York http://www.lwvny.org
New York State Board of Elections http://www.elections.ny.gov
Voter Information: Who Can Vote?
To register, you must:
be a U.S. citizen,
be 18 years old by December 31 of the year in which you file the voter registration form,
be 18 years old by the date of the general, primary or other election in which you want to vote,
not be in jail or on parole for a felony conviction,
not claim the right to vote elsewhere, and
have lived in the county, city or village for at least 30 days before the election.
Voter Registration: How do I register to vote?
You can register by mail. Pick up a voter registration form at the Board of Elections, or from the League of Women Voters, town hall, post office, library, or various state offices. A registration form may also be obtained from The New York State Board of Elections. The completed form should be mailed to:
Suffolk County Board of Elections PO Box 700 Yaphank Avenue Yaphank, NY 11980 (631) 852-4500
You may register in person at the local Board of Elections or any state agency participating in the National Voter Registration Act, such as the Department of Motor Vehicles, on any business day throughout the year. Organizations such as the League of Women Voters often set up voter registration tables at fairs, on college campuses, etc., and you may register at any of these events.
First-Time Voters 
Congratulations on registering to vote! As a citizen (age 18 or older) you have the right and responsibility to vote in elections. Educate yourself on the candidates and issues in each election.
Once your registration has been processed by your county Board of Elections you will be mailed a card giving your polling place. If you do not receive the card in 4-6 weeks or have questions you may call them:
Although only enrolled members of a party can vote in that party's primary election, registered voters may vote for any candidate of any party on Election Day in November.
If you will be out of your county, or are physically unable To get to the polling place, you may request an absentee ballot from your Board of Elections. To be sure your request is processed, ask for this form at least 4 weeks before Election Day.
ID Needed for Voting in New York State
Federal law requires persons who register by mail and are voting for the first time to provide identification, either on the Voter Registration Form or in person at the polling place. Identification usually means a current NYS driver's license or the last four digits of your Social Security number. If you do not have a current NYS driver's license, you need to provide the last four digits of your Social Security number. If you do not have either of these, you may provide a copy of a valid photo ID, or a current utility bill, bank statement, government check or some other government documentation that shows your name and address. It's a good idea to bring your ID to the polls, especially if you registered by mail and are voting for the first time.
NEVER LEAVE THE POLLING PLACE WITHOUT VOTING! If your name is not on the list, ask for a provisional ballot!
Absentee Ballot
Absentee ballots may be requested from your Board of Elections if you meet one of these criteria:
Absence from county or New York City on election day
Patient or inmate in a Veterans Affairs Medical Center
Temporary illness or physical disability. THIS INCLUDES CONCERN ABOUT COVID-19
Permanent illness or physical disability
Detention in jail/prison, awaiting trial, awaiting action by a grand jury, or in prison for a conviction of a crime or offense which was not a felony
Duties related to primary care of one or more individuals who are ill or physically disabled
Click here for a New York State absentee ballot application. 
This application must either be personally delivered to your county board of elections not later than the day before the election, or postmarked by a governmental postal service not later than 7th day before election day. 
The ballot itself must either be personally delivered to the board of elections no later than the close of polls on election day, or postmarked by a governmental postal service not later than the day before the election and received no later than the 7th day after the election.
Student Voting
The League encourages 18-year-old high school students to register to vote. 16 and 17 year olds may re-register in NYS using the regular voter registration form on the NYS Board of Elections website https://www.elections.ny.gov/