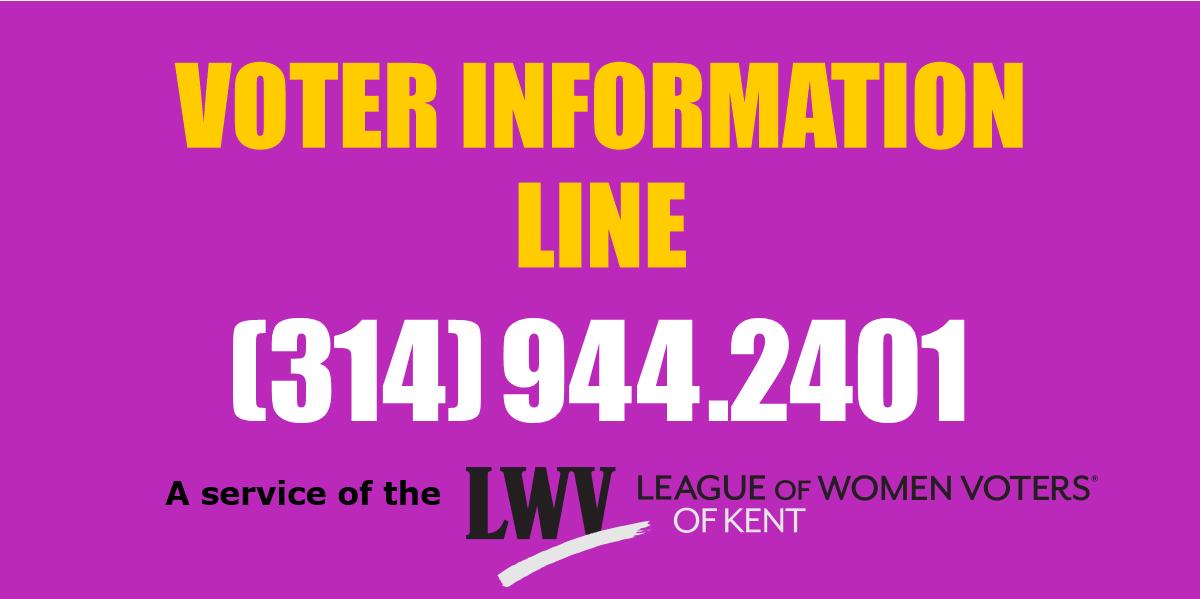 Tuesday, September 15, 2020 (All day)

to

Wednesday, November 4, 2020 (All day)
Volunteers from the League of Women Voters of Kent are here to help. Call the League's Voter Information Line at 314-944-2401 from now until November 4. You can expect a response time of no longer than 24 hours. Whether you question is simple or complex, don't hesitate to call the Voter Information Line.
Here are some of the questions our volunteer experts can answer about voting and the election process:
How do I register to vote?
Is it too late to register to vote in November general election?
If I've moved recently, can I still vote?
How can I be sure I'm registered? How can I be sure I haven't purged from the voting rolls?
How do I get an absentee ballot?
Do I need an excuse for voting absentee?
How do I return my completed absentee ballot? What if make a mistake on my absentee ballot before I send it in?
Is there anything that can cause my absentee ballot to be invalidated and thrown out?
How can I find out if my absentee ballot has been received by elections officials?
How can I be sure that my choices on my absentee votes have been counted?
When and where can I vote early in person?
Can I vote on election day if had already requested and received an absentee ballot but did not fill it out?
What is a provisional ballot, and when would I need or want to use one?
How do I find out where to go to vote on election day?
Am I required to bring ID to my polling location?
What can I do if I need help filling out my ballot because of a disability?
If you would rather search online for answers, your go-to source should be VOTE411. Launched by the League of Women Voters of Ohio's Education Fund in October of 2006, VOTE411.org is a repository chock full of nonpartisan information about all aspects of the election process.